One of the great things about living a DIY lifestyle in this modern era is that we have so many resources available to us. Rarely do we have to test completely uncharted waters. These resources are especially wonderful for the homesteading herbalist because the research and history give us a basis for our practice and improvement.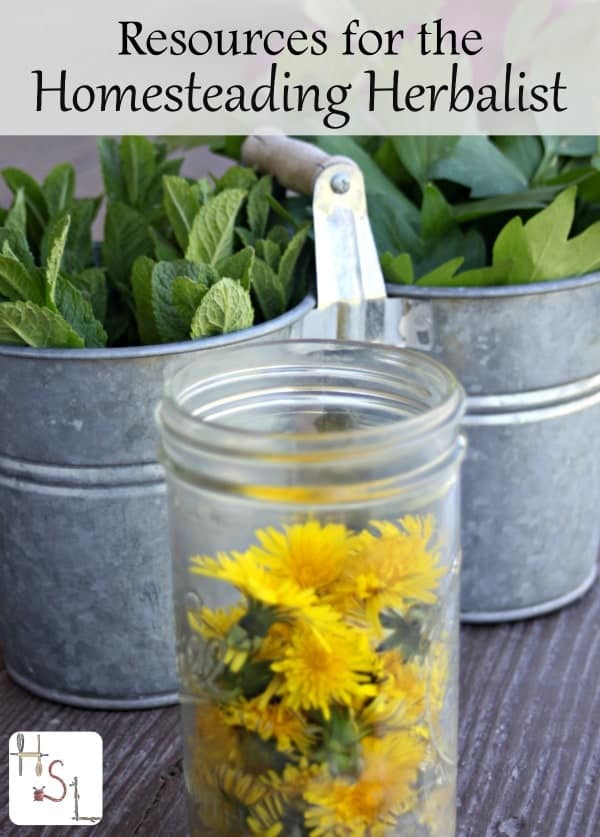 The homesteading herbalist is not necessarily the professional treating strangers (though certainly could) but is instead often caring for family members and close friends. The homesteading herbalist is often the person pulling every little weed from the garden and spending hours trying to figure out how to use it to keep a family well or using it to treat some kind of ailment. This kind of herbalist, this kind of homesteader and gardener needs a special tool box of resources.
Book Resources
A home library is a wonderful thing, that provides ideas for local herbs, remedies for particular ailments, instructions for creating medicines, meals, and more. I know, I personally turn to these favorite books over and over, in fact they rarely stay o their bookshelves and are instead on tables within easy reach.
The Herbal Kitchen by Kami McBride will help us all make the most of those spice racks. All those spices that are commonly used in cooking have medicinal benefits as well and this book will help you make the most of them. There's a giant section explaining the different spices and their benefits followed by recipes and ideas to put it all into practice.
Backyard Medicine by Julie Bruton-Seal is the book to have when trying to figure out what to do with all those things growing wild in backyards and parks. It contains identification tips, historical uses, medicine making tips, and much more making it a valuable foraging tool.
The Essential Herbal for Natural Health by Holly Bellebuono covers the basics of common herbs, and general medicine making techniques as well as many recipes for everyone in the family.
Rosemary Gladstar's Herbal Recipes for Vibrant Health is a great reference resource that will be tuned to over and over again. It's full of recipes, ideas for daily health, and a great reference for herbal healing.
The Beginners' Book of Essential Oils by Christine Dalziel is a perfect and practical place for the homesteading herbalist to get some essential oil education. The book is full of amazing tips, recipes, and advice for beginners and the more experienced while avoiding the rhetoric and trendiness so often associated with essential oils these days.
Courses and Membership Forums
The Online Herbal Medicine Making Course by Chestnut Herbs: This self-paced course is chock full of written resources, videos, lessons, and an incredibly supportive community. I started the course last week and am learning so very much.
The Herbarium is an online forum full of resources and access to other herbalists to help grow the home herbal practice. It gives you a chance to interact with other home herbalists and gain access to a numerous educational resources like monographs and more.
Seeds
While foraging is a great way to get herbs, there comes a time when we might need or want something specific, a time when we grow responsibly rather than harvest from the wild.
Horizon Herbs sells medicinal herb seeds for most every growing zone and their site and catalogs are full of great information for the gardening herbalist.
Seed Savers Exchange sells lots of heirloom vegetables, flowers, and herbs. These are not your standard varieties and are of the highest quality.
While this is not at all an exhaustive list available to homesteading herbalists, it is a great place to start for beginners and will probably offer many nuggets of wisdom to the more experienced. Use this winter to build some herbal knowledge to plan for those summer gardens and foraging trips.
What's your favorite herbal resource?