Cordial making is a great and simple way to create customized liqueurs and adult drinks at home. There's no need for carboys or other home brew equipment because it's simply an infusion process rather than a fermented one. A good home brew is a great thing, don't get me wrong, but it does require much in the way of equipment and bottles and not everyone has the space or desire to do all that. Cordials are simply taking some homegrown or store-bought ingredients and using that flavor to infuse some kind of purchased alcohol. Cordials make for great gifts, tasty party drinks, and another way to use up seasonal ingredients in our DIY kitchens. Use this simple method to learn how to make a cordial in your own home.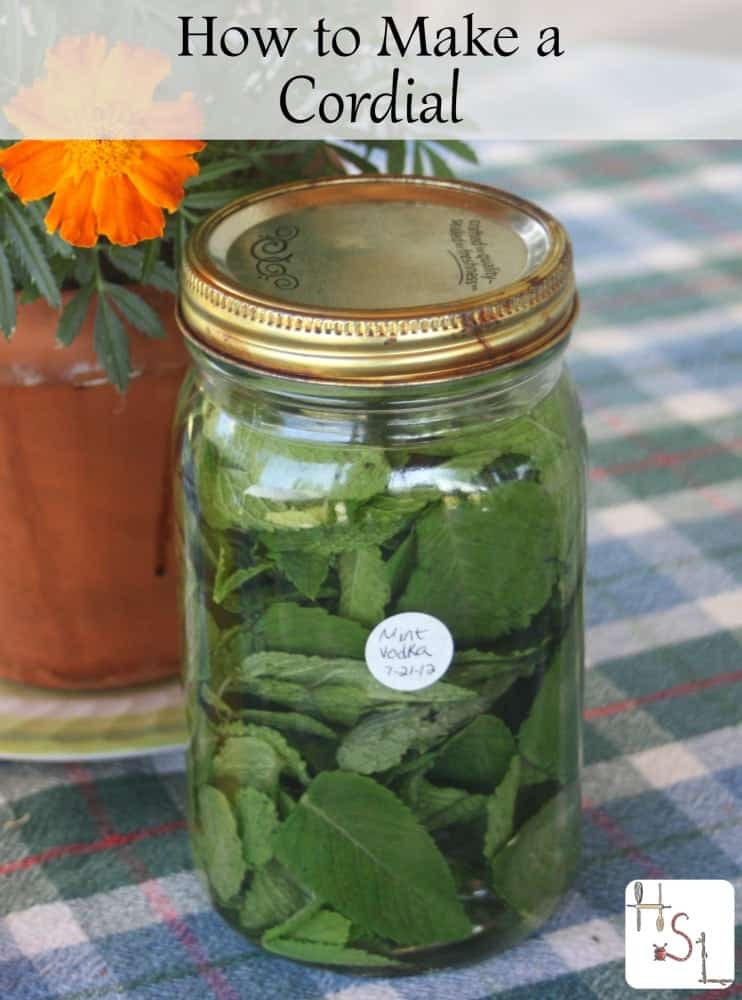 The Basic Process:
Start with favorite flavors or things that might in abundance from the garden or CSA. Fill a jar, of any size, about half full with fresh ingredients (chopped fruit, fresh herbs, vegetable peels, etc.) or 1/4 full with dried ingredients (dried fruits, dried herbs, etc.). Top off the jar with vodka, rum, or brandy, leaving 1/2″ headspace. Put the jar into a dark cabinet and let it sit for about a month. Give it a shake now and then (whenever you remember) to incorporate all the many flavors. At the end of the month, strain the fruits, nuts, etc. from the liquid. At the point you can sweeten the entire batch with a sugar syrup or leave it unsweetened and simply sweeten when making a cocktail. Keep the infused liquor bottled in clean container. As it's just flavored alcohol it should last a rather long-time, more than a year. It's really that easy.
Use cheap alcohol here – no need to buy the expensive vodka.
Some Flavor Combinations:
Fresh Mint Leaves & Vodka : This makes an excellent addition to hot chocolate on a cold winter night. Iced and sweetened just a tad it's great with iced tea in the warm months.
Dried Apricots, a Split Vanilla Bean, & Brandy: This is a great holiday cocktail when mixed with sparkling cider.
Cinnamon Sticks, Whole Nutmeg, Whole Cloves & Rum : A homemade spiced rum great for hot toddies.
When I'm looking at fresh produce or herbs, I often turn to The Flavor Bible for ideas for combining different spices, herbs, fruits, and vegetables. I use that book for a number of different purposes but it is especially great for cordial making and often presents ideas I wouldn't be likely to come up without a little nudge.
Mostly don't be shy. Start small use a pint jar and experiment with different flavors and combinations to figure out what you like most. Toss whatever is growing into a jar and see what turns up. I'm often picking edible flowers, tossing fresh herb leaves, even weeds into alcohol just to see what might happen.
Sweetening:
Whether or not to sweeten a cordial is a completely personal decision. It might be best to leave it unsweetened as a whole and just sweeten as individual glasses or cocktails are made. However, when giving it away as gift or to simply suit personal preferences sweetening the entire batch can be a very good idea.
To Make Sugar Syrup
Simply boil 1 cup of water with 1 cup of sugar and simmer for 10 minutes. Add a little at a time, keeping track of how much, until desired sweetness is reached. The only way to know for sure is to taste test, just do small bits at a time.
To Make Honey Syrup
Simply boil 1 cup of water with 3/4 cup of honey and simmer for 10 minutes. Again, add a little at a time, keeping track of how much, until desired sweetness is reached. The only way to know for sure is to taste test, just do small bits at a time.
Record Keeping:
Keep track of those recipes and amounts in a journal or record of some type, otherwise the results might be tough to repeat. I use a form to keep it all relatively uniform and easy to refer to later. I simply file alphabetically by main flavor in a 3-ring binder.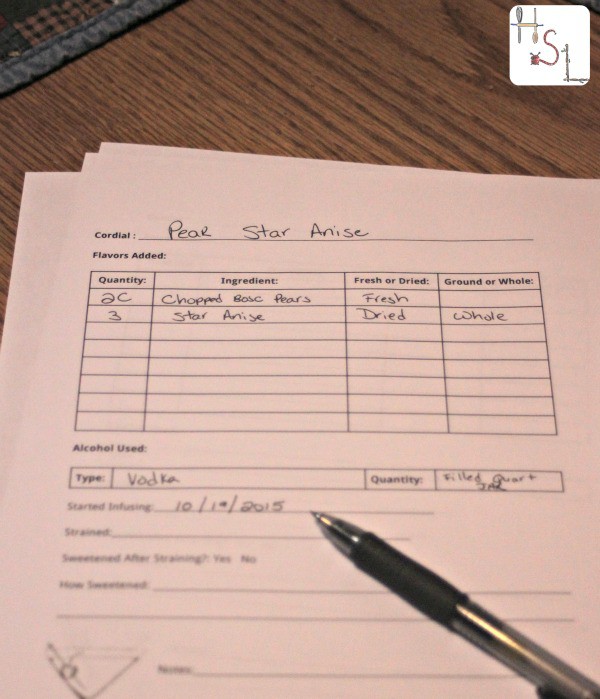 You can get a free printable download of my cordial making record, pictured above, by signing up for my newsletter.
Gift Giving:
Cordials are a great way to make gifts when the garden is producing well in the summer months. They don't take much in the way of hands-on time to create and can sit in a cupboard until you're ready to give them away for birthdays, holidays, and other occasions. Look for fancy bottles at thrift stores for an extra special looking gift but reusing canning jars, beer bottles, wine bottles, etc. is a very simple solution. You can often find corks in a wide variety of sizes at hardware stores to seal those reused bottles. Take the empty bottle with you and simply look for a cork size that will fit perfectly.