Homemade soup broth (stock) is one of those things that is currently very trendy and yet has been around pretty much since the beginning of human history. The current 'hipness' factor can sometimes make it seem extremely difficult or even elitist, when it is neither. Soup broth is a great way to make the most of vegetable scraps and animal bones stretching our own harvests and those items we've purchased. It is highly nutritious and the foundation for soups, stews, and can be used in many culinary dishes. Follow this easy, promise super easy process, and learn how to make soup broth in your own kitchen this fall.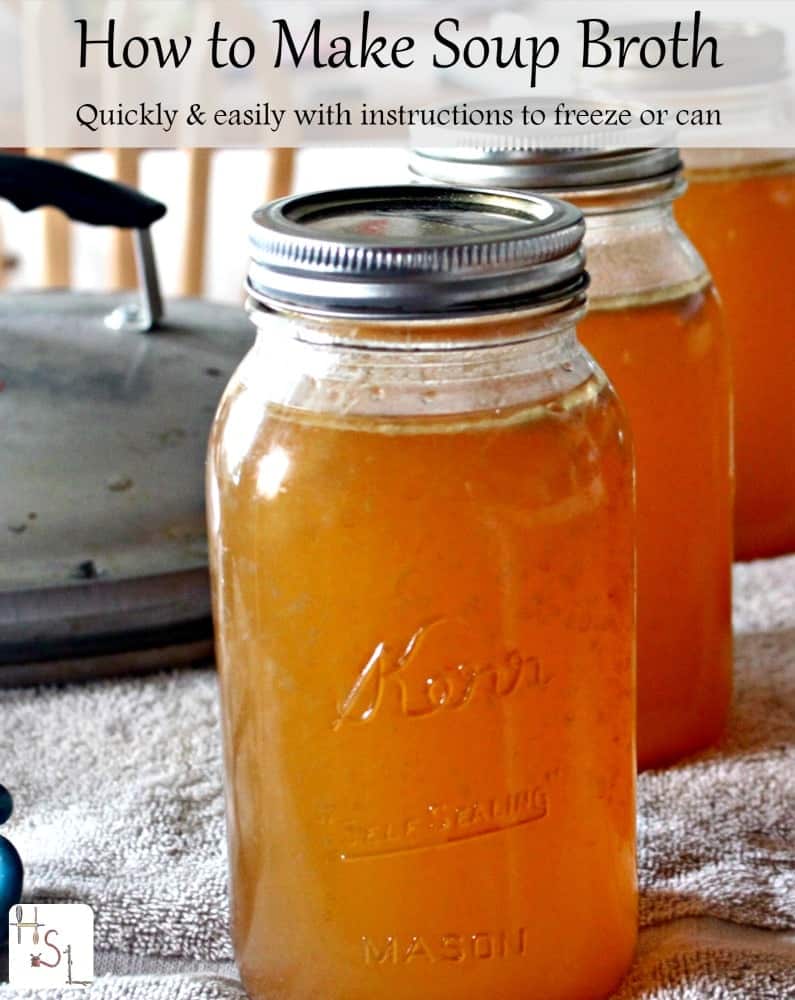 Step 1: Gather Scraps or Use Whole Vegetables
Because I compost my food scraps, I often use whole vegetables for soup making. However, it is completely feasible (and tasty) to just gather those onion peels, celery leaves, carrot peels, woody mushroom stems, etc. in a container and store in the freezer. When it's time to make broth, just use those instead of whole vegetables. If using whole vegetables, simply quarter whole onions, chop carrots and celery into large pieces, cut the tops off whole heads of garlic, etc. I personally skip strong flavored vegetables and herbs and chose to season individually with each dish but adding fresh parsley or chives to the broth can certainly be tasty.
Step 2: Gather Animal Bones (Vegetarians feel free to skip)
Those chicken carcasses, ham bones, the leftover bones from pot roast, etc. all make for great soup broth. Soup bones can be purchased but don't ever toss bones away. Keep containers in the freezer and put similar bones together – gather the bones from beef in one container, chicken in another, and so on. It is okay, even great, if there is still some bits of meat and/or fat on those bones. When enough is accumulated to fill a big pot. Start the broth making process.
Step 3: Throw Everything in a Pot
Put those bones in a pot, toss in the vegetables or scraps, a Tablespoon of whole black peppercorns, and a big bay leaf or two. Cover the bones with about 2 inches of fresh water (give or take, this does not have to be an exact science). Put that pot on the stove and let it simmer for 6 to 8 hours – longer is most definitely okay. Simmer, not boil the liquid. Essentially, we want the pot to reduce very slowly while pulling out the flavor and nutrition from the bones and vegetables.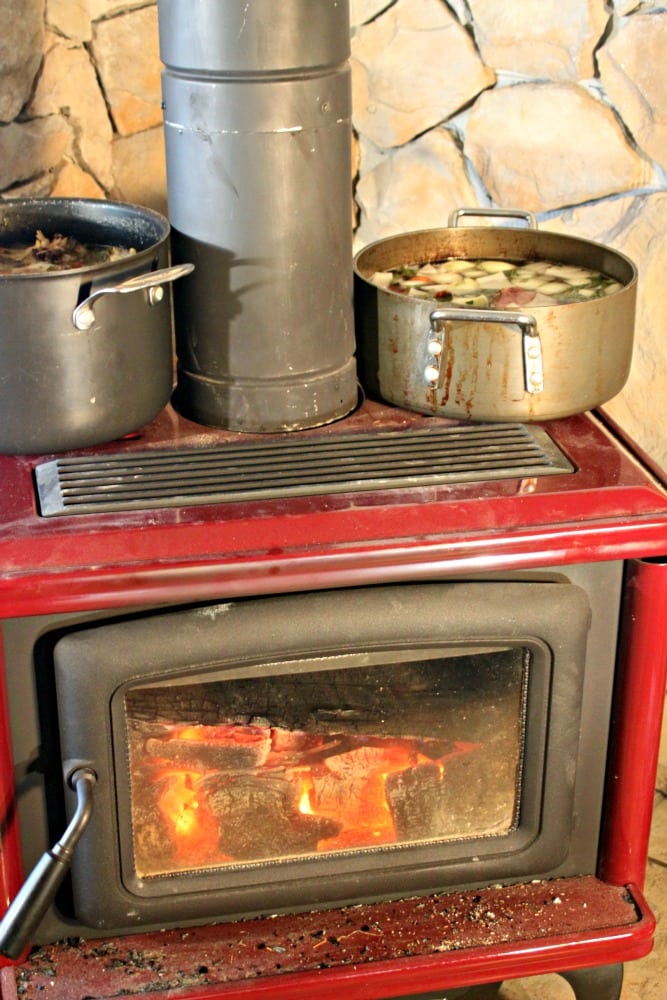 Note: If you heat with wood and have room, put those pots on top of the stove and let them simmer there on a cold day. PS: Yes, my wood stove is that dirty pretty much all winter long, no sense in giving any false impressions.
Step 4: Strain
Strain all the bones and vegetables scraps from the now flavorful soup broth. At this point, there are a few different options. 1) Use immediately: feel free to start a big pot of soup with the broth. 2) Refrigerate, freeze, or can for longer storage. 3) Chill to remove fat (this is more of a personal preference thing and does not apply to vegetable broth).
Step 5: Skim Off Fat
Now, it should be noted that fat is not the enemy in my view point. Still, I don't personally enjoy a greasy feel to soup broth and so I like to skim off a good bit off the fat. To do this, refrigerate the strained broth overnight. The next day, the fat should have risen to the top in a thick layer. Simply use a metal spoon and skim off that fat. You can save that fat for cooking or simply toss. Don't stress about every last bit but it is nice to remove a good bit of it.
Step 6: Prepare for Storage
Once the broth is strained and skimmed if desired, it's time to get it ready for long-term storage. Homemade broth can easily be poured into freezer containers, leave 1″ head space, and frozen until ready to use. I prefer to can my broth as freezer space always seems to be an issue for me, plus having it canned means I don't have to worry about thawing when I need some broth. To can broth (with no bits of meat or vegetables in there. This is important, it must only be the strained liquid for these processing times): Pour boiling broth into jars leaving 1″ head space (add salt if desired but it is not necessary – I usually skip it here and add salt to my dishes as I'm cooking later) and place in a pressure canner.
For Beef, Chicken & Pork Broth: Process pints for 20 minutes and quarts for 25 minutes at 10 pounds of pressure (adjust pressure for altitude).
For Vegetable Broth: Process pints for 30 minutes and quarts for 35 minutes at 10 pounds of pressure (adjust pressure for altitude).
It's really that easy and that simple. The time involved is long, I know, but it is hands-off time meaning it can be done while other things are happening at home. As the seasons change and the soup pot gets pulled out more in the coming months, please consider filling them and the stomach's at home with homemade soup broth and all your other fixings.