Dry skin can often become itchy and inflamed. That trifecta of skin issues can be a bugger to solve. Proper hydration plays a big role but there are times when we need some serious external care, too. This D.I.Y. herbal balm combines itch soothing herbs with nourishing oils and protective butters to bring relief naturally.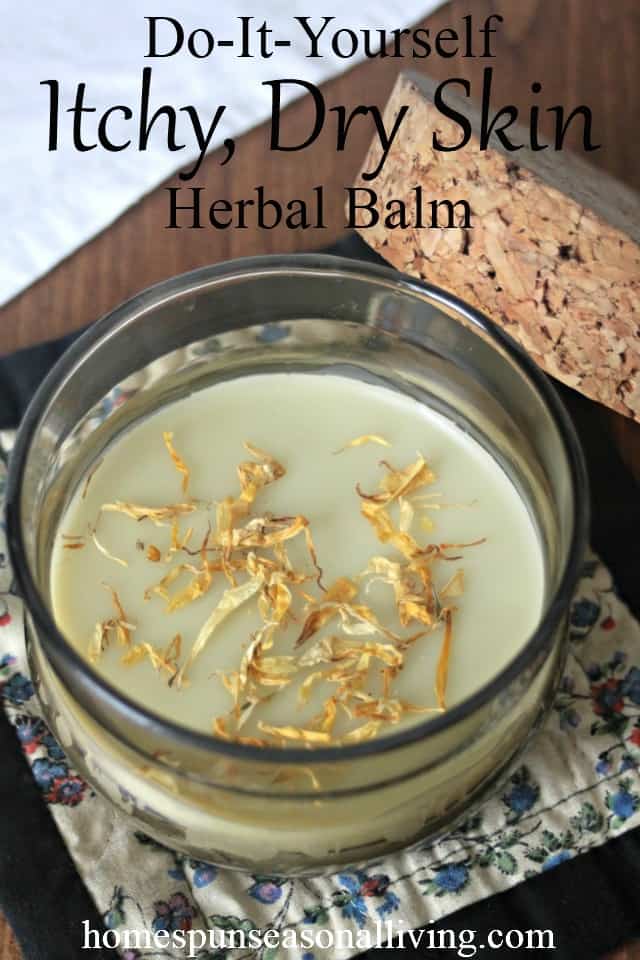 Skin Soothing Herbs
To treat my dry, itchy skin I started with simple things. I tried just rubbing in some olive or coconut oil. I tried using some Calendula balm. Still, I struggled and scratched my shins, honestly. When I was harvesting chickweed and balsam root last summer I remembered the healing properties both and decided to infuse some oil in hopes of getting some relief.
And truly this balm, has been the relief I so desperately needed.
Chickweed
This delicate plant that often grows as a weed in many backyards is perfectly suited to relieving itch. I've used it for years in the bath tub but figured that I could harness it's itch soothing power even more in an infused oil. I made the oil with fresh, wilted greens in the summer but dried chickweed can be purchased for making it as well.
Balsam Root
Arrowleaf Balsamroot is a native perennial in my neck of the woods. It's part of the sunflower family and is well known for treating skin conditions. I've used it in the past in infused oils and found it to be delightful and nourishing to the skin. I used the petals to make an infused oil for this balm.
If balsam root isn't available, use sunflower petals to make the infused oil or buy dried balsam root.
Allergy Note: If allergic to plants in the ragweed family (asteraceae) skip sunflowers and balsam root too. Substitute calendula or even rose petals instead of sunflower petals to avoid allergic reactions.
Make Infused Oil
The infused oil is key to this balm. My preferred method is to put fresh, wilted herbs in oil in a sunny window and let it sit for about a month before straining. Always an option, however; if you need relief quickly waiting a month might be torture. Here's a quick method:
1/2 Cup Oil (any will work – olive, grapeseed, almond, etc.)
1 Tablespoon Dried Balsam Root or Sunflower Petals
1 Tablespoon Dried Chickweed
Place the herbs in the oil in the top of a double boiler. Place an inch of water in the bottom and bring to a simmer. Keep the herbs and oil warm but not simmering (no frying here) for 30 minutes. Strain the herbs from the oil and proceed with the balm recipe below.
Shea Butter
A nourishing fat, shea butter smooths onto the skin without leaving a greasy feeling. It can reduce inflammation, has a natural spf, and boosts collagen. All of these amazing benefits make it the perfect choice for treating and soothing skin conditions.
Beeswax
A common ingredient to simply solidify oils into a balm, beeswax is so much more than hardening agent. Beeswax protects the skin and seals in moisture to help the skin stay hydrated. It's also an extra bit of anti-inflammatory to further aid in healing.
Essential Oil
I used a bit of lavender essential oil in my herbal balm. I like the scent of lavender and in general it's a very positive oil for the skin. However, you can use any scent you like or skip the scent all together if desired.
The Chickweed and Balsamroot Itchy Skin Herbal Balm Recipe
2 ounces (by weight) Chickweed and Balsam Root Infused Oil (approximately 1/4 cup)
1 ounce (by weight) Shea Butter
3/4 ounce (by weight) Beeswax
5 Drops Essential Oil (optional for scent)
Place the infused oil, shea butter, and beeswax in the top of a double boiler.
Heat 1 inch of water in the bottom of the double boiler and bring to a simmer.
Melt the beeswax and shea butter into the oil on top of the double boiler. Stir occasionally, just make sure everything is melted.
Remove from heat and let cool just slightly before adding the essential oils.
Whisk slightly just to get the oils mixed well and pour into a clean container.
Let cool and harden completely before sealing.
To Use Itchy Skin Herbal Balm
Slather the balm on itchy and dry skin as needed. Especially good to use after bathing to seal in that extra moisture.