Those of us living close to the land tend to be physically active people. Let's face it a garden requires many squats, chopping and hauling wood is a muscle-building experience beyond that of any the local gym could provide. Living D.I.Y. requires physical, hard-work and while it is work we choose and often enjoy, it can still make the body's muscles more than a little sore. Thankfully we can find relief in making birch leaf oil for sore muscles.
This is a super easy process and should be done in the late spring and summer months to take advantage of the birch tree's medicinal benefits. The leaves are likely to have less of their healing powers in the fall as they prepare to be shed from the tree for winter, so harvest now and make a big batch to last the year.
Birch leaves contain anti-inflammatory and pain-relieving properties which is why it's so helpful to use on those sore muscles. They also help detoxify the blood (they make a great tea too) and body, and are often used in commercial products to help with cellulite in the body. Cellulite isn't something I worry about personally but those sore leg muscles after a training run most definitely has my attention.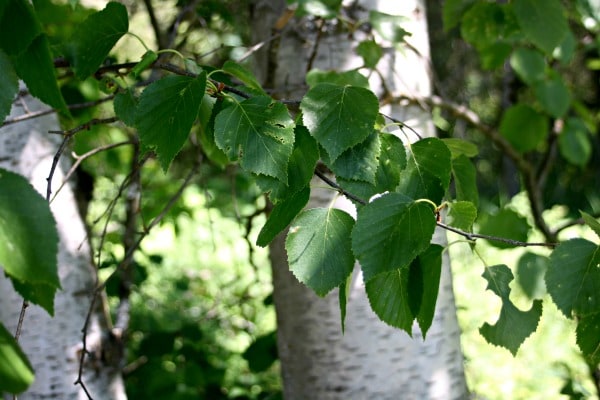 How to Make Birch Leaf Oil
Fill a clean glass jar to within 1/2″ of the top with fresh birch leaves. Use the best looking leaves – nothing wilted, brown, diseased, or infested with insects. Cover these leaves with oil (olive, grapeseed, almond, etc.) and be sure to remove any air bubbles. Secure a piece of cheesecloth or other breathable cloth over the opening of the jar with a rubber band instead of using a lid. This breathable covering means that any moisture in the leaves can evaporate rather than cause mold in the jar on top of the oil.
Put the jar in a sunny window and leave to infuse for 1 month. Check the leaves now and then and make sure they stay submerged under the oil. At the end of the month, strain the leaves from the oil and store the oil in a clean jar. Once the oil is done infusing, keep the oil out of direct sunlight by storing in a dark bottle or in a dark cabinet.
Using Birch Leaf Oil
The great thing about this medicine is that it requires no other preparation. Simply massage the infused oil into sore muscles as needed and allow the body to rest a bit and recover.
Before the leaves need raking and the snow flies, collect some birch leaves and infuse some oil for all those sore muscles that are bound to come from work and play later.

Disclaimer: I may receive compensation for products mentioned in this post. All opinions expressed are my own. I am not a doctor, always seek trained medical advice. No statements should be considered approved by the FDA or as a diagnosis or treatment for any illness. See my Full Disclaimer Here.