Winter Squash can be such an amazing boon for the home gardener. When it does well, it leaves the home cook with a bounty and sometimes a huge bounty. We had well over 300 pounds of winter squash from our garden in 2013. We traded and sold much of it, but have been keeping plenty for us in an unheated bedroom these many months. Over the weekend, we decided it was time to cut into one of the massive Hubbard squashes. We had two, a 22-pound behemoth and a 17-pound giant. We tackled the bigger one first and as I worked on it, I knew I wanted to make the most of my winter squash and share those ideas with you.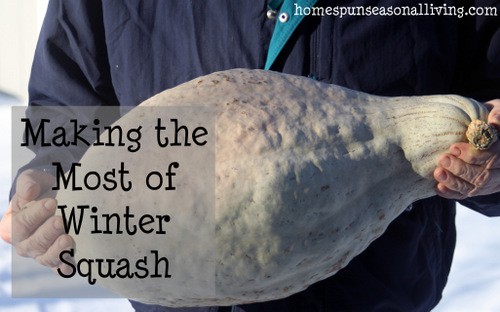 Cook the Squash
Bake – Cut the squash in half (you'll need a good sharp knife for this), scoop out the strings and seeds. Place the squash cut side down on a rimmed baking sheet and bake in a 350 degree oven until the squash can be pierced easily with a fork. Depending on the size and squash the time can vary up to an hour or more. When doing large squash, I cut the squash into large chunks. You can see the Hubbard took up all the available space in my oven.
Alternatively, you can peel and cube the squash to roast as you would potatoes or to toss into soups and stews. Some winter squash is easier than others to peel. Pick a smooth sided winter squash like butternut, over something deeply ridged.
Save the Seeds
You can spread those seeds out on a towel to dry and plant them in next season's garden or you can roast them for healthy snacking.
Use or Freeze
Once your squash is cooked, you can scoop it from the rind and mash it for use in soups, baked goods, and more. You can use it right away, store it in containers in the fridge for about a week, or store in the freezer. I freeze the squash in pint containers in the freezer. This means I have 2 cups ready to thaw and use in a future recipe.
Recipe Ideas
In my experience, most any winter squash can be substituted for one another. If a recipe calls for butternut and all you have is Hubbard or vice versa, go for it. Also, canned, store bought pumpkin will also work in any recipe that calls for mashed winter squash.
What's your favorite way to use winter squash?
[sc:Useadsenselarge ]