I like granola. Mostly I tend to eat it for breakfast or on top of yogurt for lunch. I have a basic recipe that I like and usually just play with it – substitute seeds, nuts, etc., rarely do I try a new recipe. However, a while back David Lebovitz's granola recipe caught my eye. I was intrigued mostly because of his use of applesauce which I always seem to have plenty. But beyond that my mind wandered to using other fruit and vegetable sauces or puree and that is how this Squash Granola was born.
Over the weekend, I decided to try my hand at his recipe, though with quite a few changes:
While I was first drawn to this recipe because of its use of applesauce, I decided to use some roasted & pureed winter squash instead.
I'm not a huge fan of nuts in my granola, so I decided to leave out the almonds and used some raw pumpkin seeds instead.
I cut out the brown sugar entirely, but did up the honey a bit. I figured not using a fruit puree would cut back on sugar content too, in the end my granola had just a bit of sweetness which I found lovely.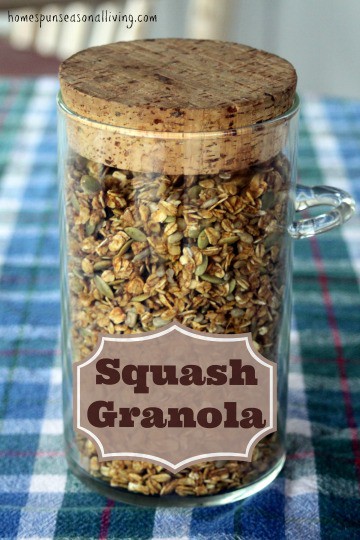 Squash Granola
Use pureed winter squash or canned pumpkin for homemade Squash Granola - the perfect fall breakfast cereal.
Ingredients
5 Cups Rolled Oats
1 Cup Raw Pumpkin Seeds
1 Cup Raw Sunflower Seeds
1 Cup Raw Sesame Seeds
2 teaspoons Ground Cinnamon
1 teaspoon salt
¾ Cup Winter Squash Puree (canned pumpkin will work)
⅓ Cup Brown Rice Syrup
½ Cup Honey
2 Tablespoons Olive Oil
Instructions
Preheat oven to 300.
Combine the dry ingredients in a large bowl, mixing well.
Heat the winter squash puree, brown rice syrup, honey, and olive oil in a saucepan and heat – just until everything is well combined.
Pour the liquid into the dry ingredients and mix until everything is coated.
Spread onto a jelly roll pan or two and bake in preheated oven for 45 minutes, stirring every 10.
Allow to cool on baking sheet before storing in an airtight container.
[sc:Useadsenselarge ]