Over the weekend, we hit our local fruit stand and we scored a great deal on 40 pounds of organic, freestone nectarines. A great majority of those nectarines were canned. A few were saved for fresh eating, too. I knew I wanted to bake with some. I toyed with an idea of pie but didn't feel like tackling a crust, a fruit crisp is usually welcome around here but for some reason that wasn't speaking to me either. Finally, I decided on a nectarine cake.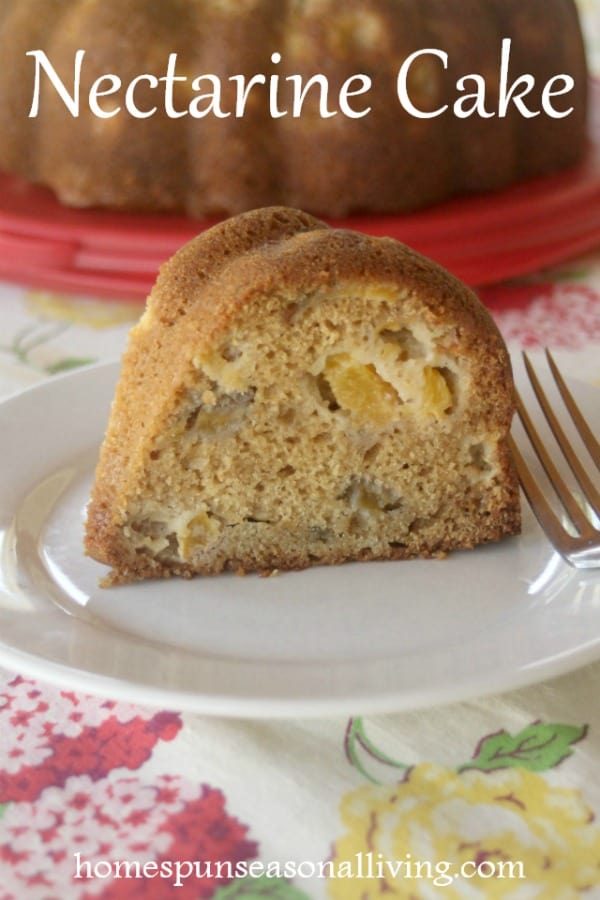 Bundt cakes are always a favorite. They're less fussy than layer cakes, rarely require or need frosting or glazes and are fairly lovely straight from the pan. Bundt cakes are easy to dress up at buffet tables too – serve them with some chocolate sauce or fresh fruit and of course ice cream or whipped cream is always a nice touch.
[mailerlite_form form_id=8]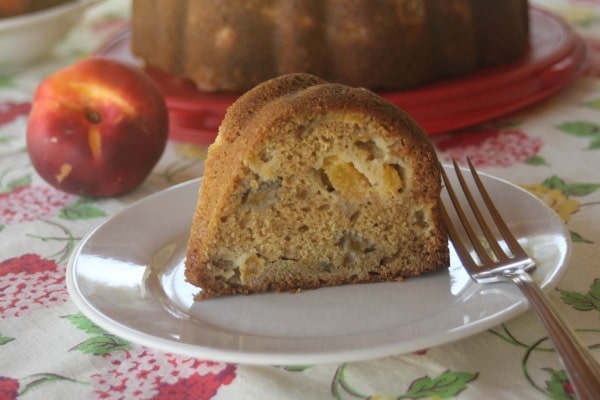 This lightly sweet cake comes together quickly. Like all bundt cakes, the baking time is long but the actual prep is quick. Melted butter means there's no need to soften or cream the butter first. I didn't even peel my nectarines before chopping for this recipe. If you're opposed to the peel or planning to serve it at a fancier function, peel the nectarines before chopping.
Yield: 10 Servings
Nectarine Cake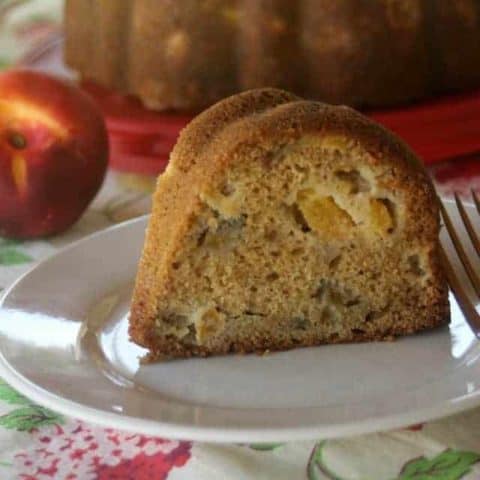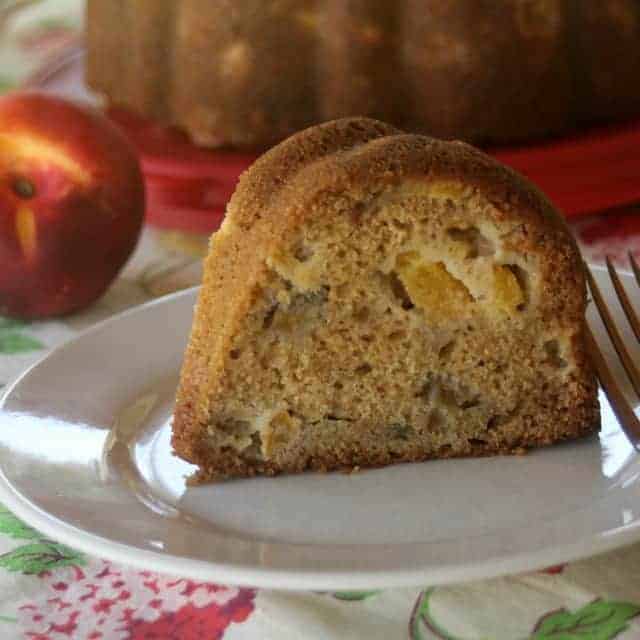 Make the most of late summer fruit with this easy to whip up nectarine cake. Moist and lightly sweet it is a beautiful and delicious dessert.
Ingredients
4 Cups Chopped Nectarines, peeling is optional
1 Cup Brown Sugar, packed
3 Cups Unbleached All-Purpose Flour
1 teaspoon Salt
1 ½ teaspoons Baking Powder
2 Eggs
½ Cup Milk
⅔ Cup Butter, melted
Instructions
Preheat oven to 325 degrees.
Grease a 10" bundt pan..
Sift together the flour, salt, and baking powder. Set aside.
Whisk together the brown sugar, melted butter, eggs, and milk until completely combined.
Pour the wet ingredients into the dry and mix until almost incorporated. The batter will be a little dry at this point.
Fold in the chopped nectarines and mix until batter is smooth.
Pour the batter into the prepared pan and spread evenly.
Bake in preheated oven for 1 hour 10 minutes or until an inserted toothpick comes out clean.
Cool in pan for 10 minutes before removing from pan to cool completely.