Purslane is seen as a weed by many of us. I see it as a weed more often than not, too. Let's face it generally, purslane wants to choke out the vegetables, I want to grow in the garden. Still, purslane is an edible weed and a tasty one at that. Pull it from the garden so that vegetables thrive but save some for a jar of pickled purslane.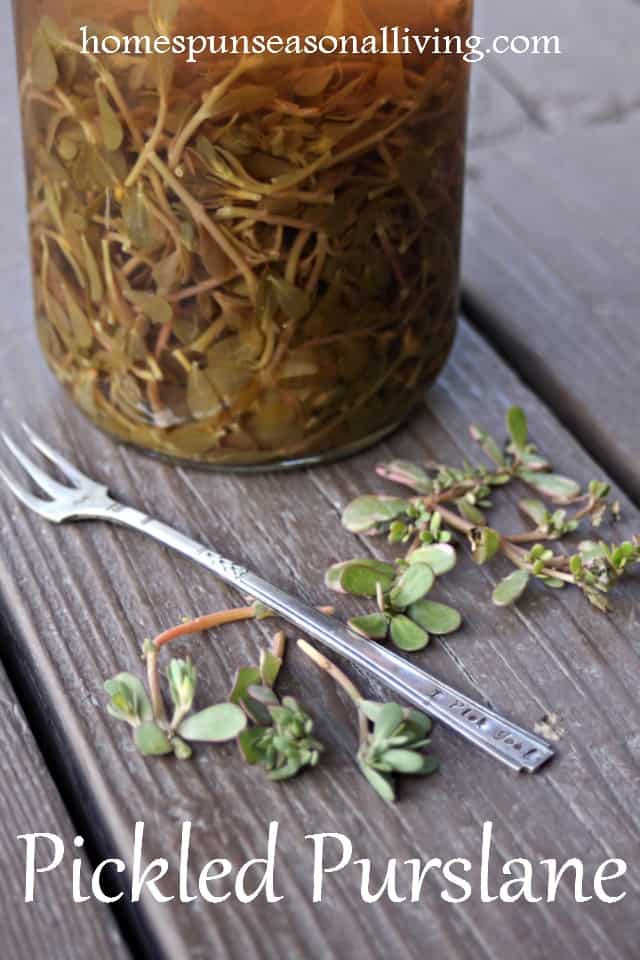 Purslane is packed with nutrition and flavor making it an often free source of healthy, tasty food. It's great raw, on salads and in sandwiches but I often have tons of fresh, raw greens around this time of year and rarely lack for things to throw in a salad. Purslane's flavor and sometimes tough stems lend themselves well to being pickled however making it an ideal snack in our house. These are a quick, refrigerator pickle. The tender purslane leaves will not stand up to the canning process but these do make a delightful addition to sandwiches and salads.
[grwebform url="https://app.getresponse.com/view_webform_v2.js?u=BsyZQ&webforms_id=14871504″ css="on" center="off" center_margin="200″/]
Pull the plant, roots and all, and put into a basket while weeding. Soak the whole plant in water to remove loose dirt and drain it very well. Next, snip the roots from the plant. Give the leaves and stems another soaking and rinsing before spinning in a salad spinner to remove excess water. Dry the leaves and stems by spreading them out on a towel for about an hour to remove excess water.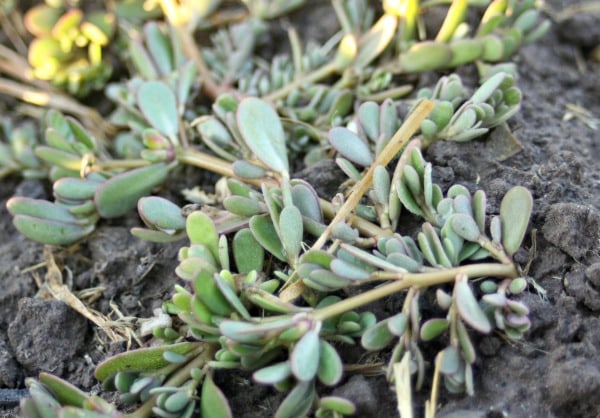 Pack the purslane loosely into a jar. Next, add a pickling brine, submerging the purslane completely. Use the brine in the recipe below or any other favored brine recipe. Seal the jar and place in the fridge. Let sit for at 3 least days before eating for optimum flavor.
Yield: 1 Quart
Pickled Purslane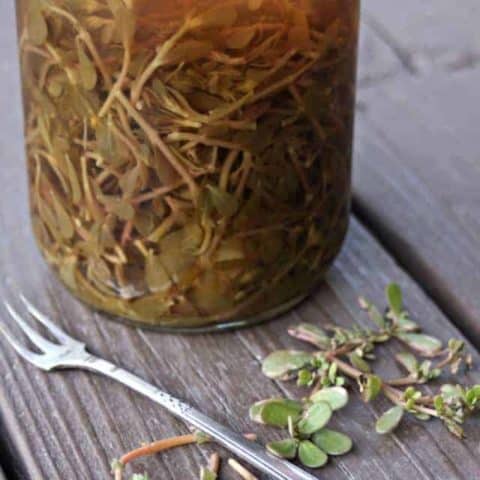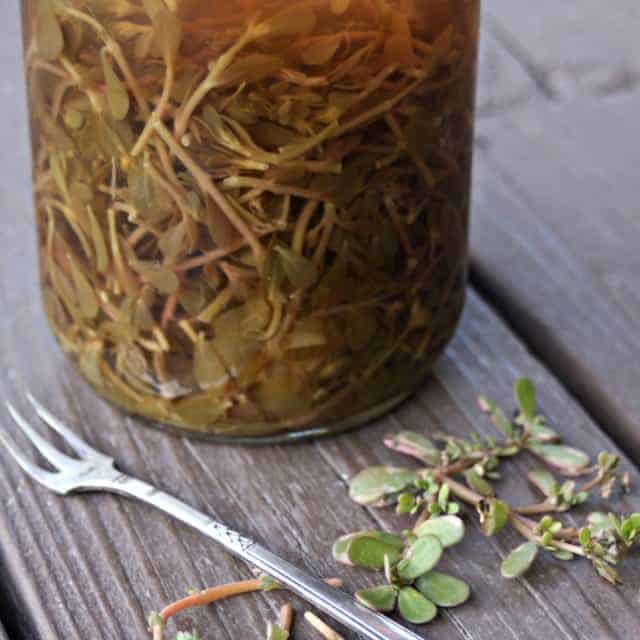 Make the most of those nutritious and flavorful garden weeds with the easy Pickled Purslane recipe for a delicious sandwich fixing, snack, and more.
Ingredients
1 Quart Washed & Rinsed Purslane, Stems & Leaves
1 ½ Cups Water
1 ½ Cups Apple Cider Vinegar
1 Tablespoon Pickling Salt
2 Tablespoons Sugar
1 Clove Garlic, peeled
Instructions
Put the garlic clove into the bottom of a quart jar. Pack the purslane on top of the garlic.
In a saucepan, combine the water, vinegar, pickling salt, and sugar. Bring to a boil.
Pour the brine over the purslane, making sure to submerge all the purslane under the brine.
Seal the jar and place in the refrigerator for at least 3 days before eating.