Purslane is an edible, nutritious, bit of wild greenery that many of us see as a weed. When pulling it from the garden, consider bringing it into the kitchen and making pickled purslane as a tasty side dish or sandwich topper.
The great thing about this recipe is that it's super quick to make, easily customizable, and keeps for a long while in the fridge.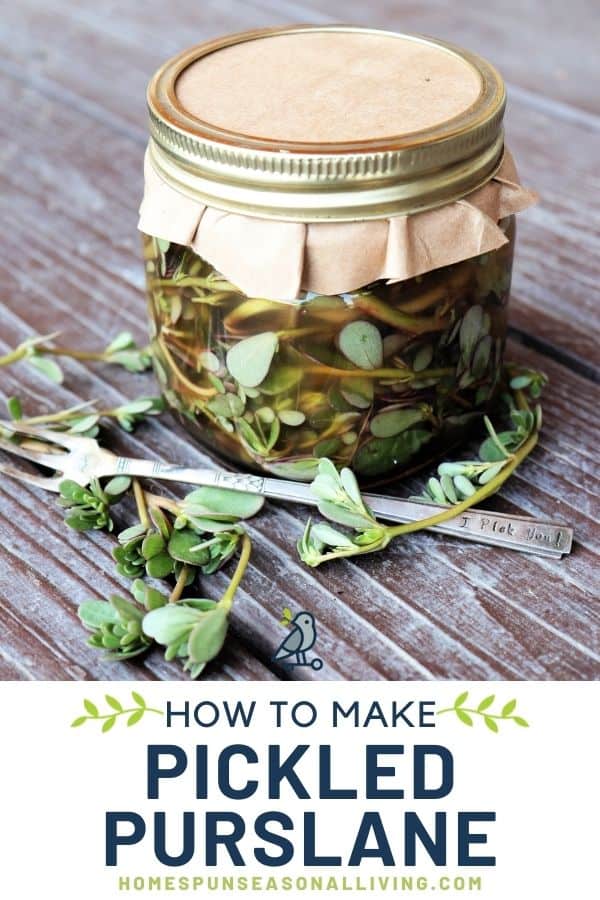 A Nutritious Forage
Purslane is packed with nutrition and flavor making it an often free source of healthy, tasty food. It's loaded with natural and healthy Omega-3 fatty acids.
It's great raw, on salads and in sandwiches.
Purslane's flavor and sometimes tough stems lend themselves well to being pickled however making it an ideal snack in our house. These are a quick, refrigerator pickle. The tender purslane leaves will not stand up to the canning process but these do make a delightful addition to sandwiches and salads.
Identifying Purslane
As always be 100% sure of identification before ingesting any wild plant.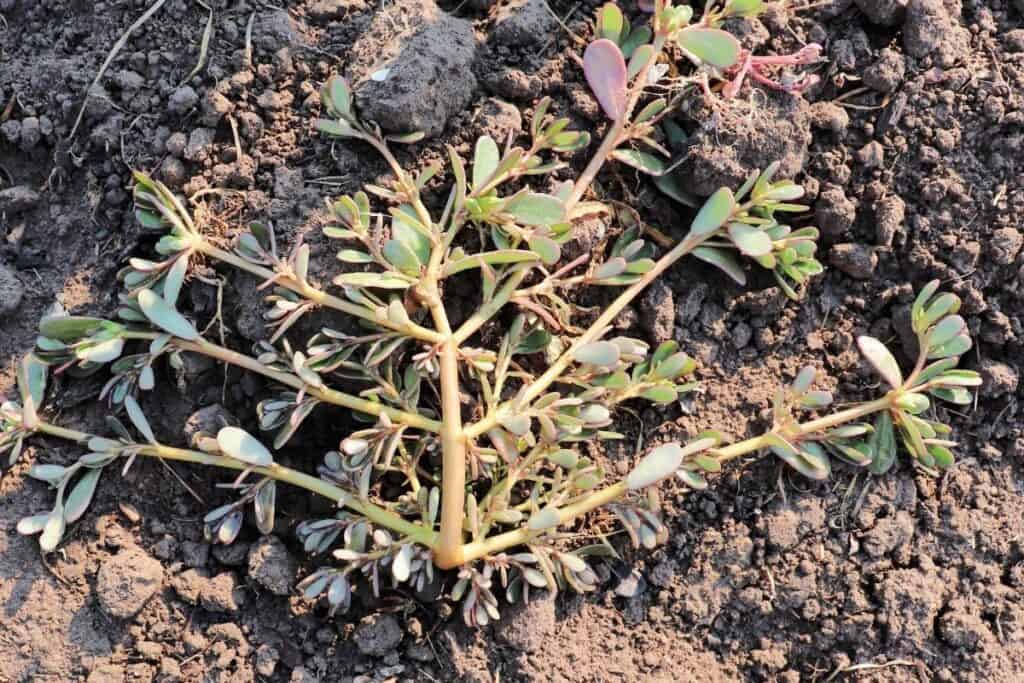 Purslane has thick jade like leaves on slightly woody stems. It is very much a succulent plant in look and feel.
There is a similar lookalike plant that is poisonous. Spurge. Spurges leaves are not succulent. The easiest way to tell the difference if you are unsure is to break the stem in half. Spurge will ooze a white latex substance – purslane will not. Do not ingest spurge.
Harvesting Purslane
If you're weeding the garden and it's growing where you don't want it, simply pull the plant, roots and all, and put into a basket while weeding.
If harvesting but want to keep it growing, simply snip off long stems of the purslane and place into your foraging basket.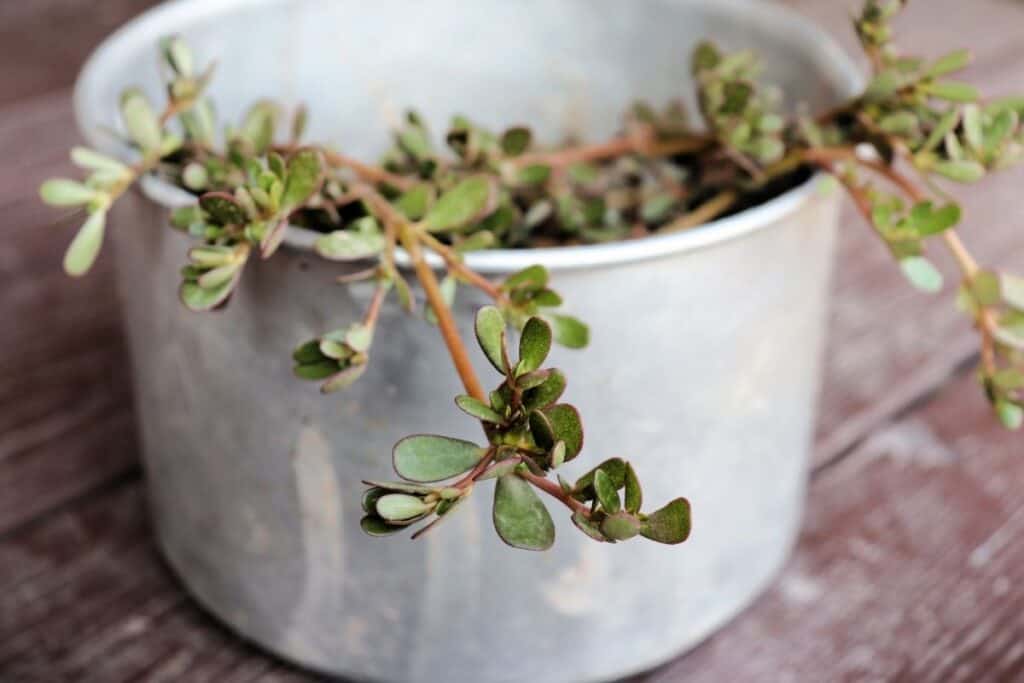 Cleaning Purslane
As purslane tends to grown very close to the earth it is going to be quite dirty.
Soak the whole plant in water to remove loose dirt and drain it very well.
Next, snip the roots from the plant. Give the leaves and stems another soaking and rinsing before spinning in a salad spinner to remove excess water.
Dry the leaves and stems by spreading them out on a towel for about an hour to remove excess water.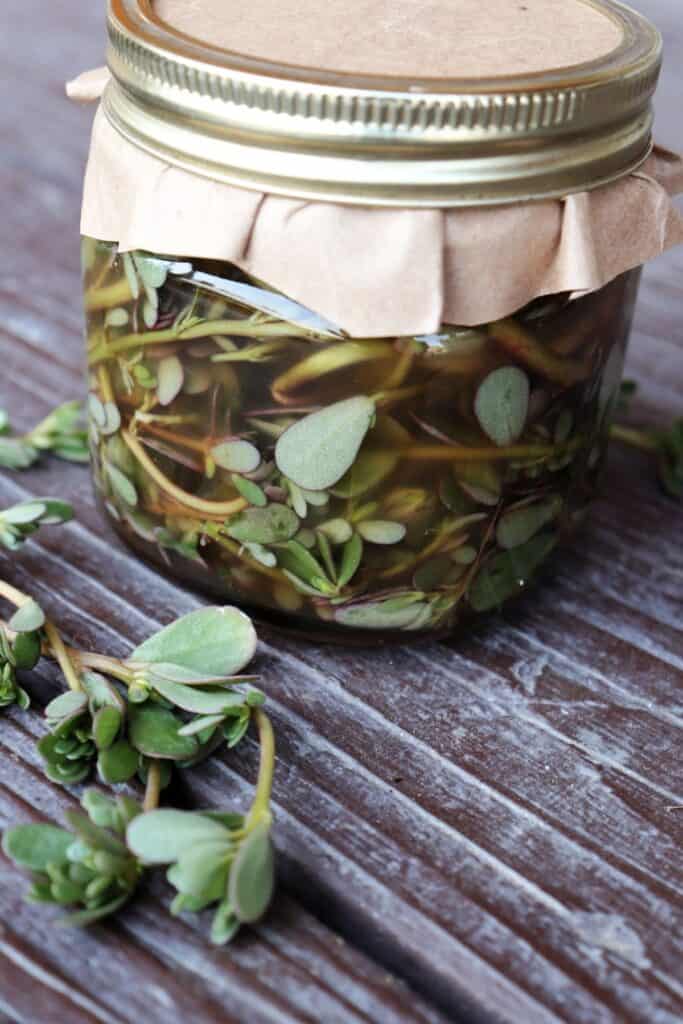 Optional Additions
The recipe is fairly basic but there are ways to make it different should you desire:
Toss in a teaspoon of mustard seeds
Add a hot pepper or two for heat
A teaspoon of celery seed adds nice flavor
A bit of ginger root can be nice
Truly, feel free to add whatever bit of extra flavor you like in your pickles. Make smaller sized jars of different flavors, if desired.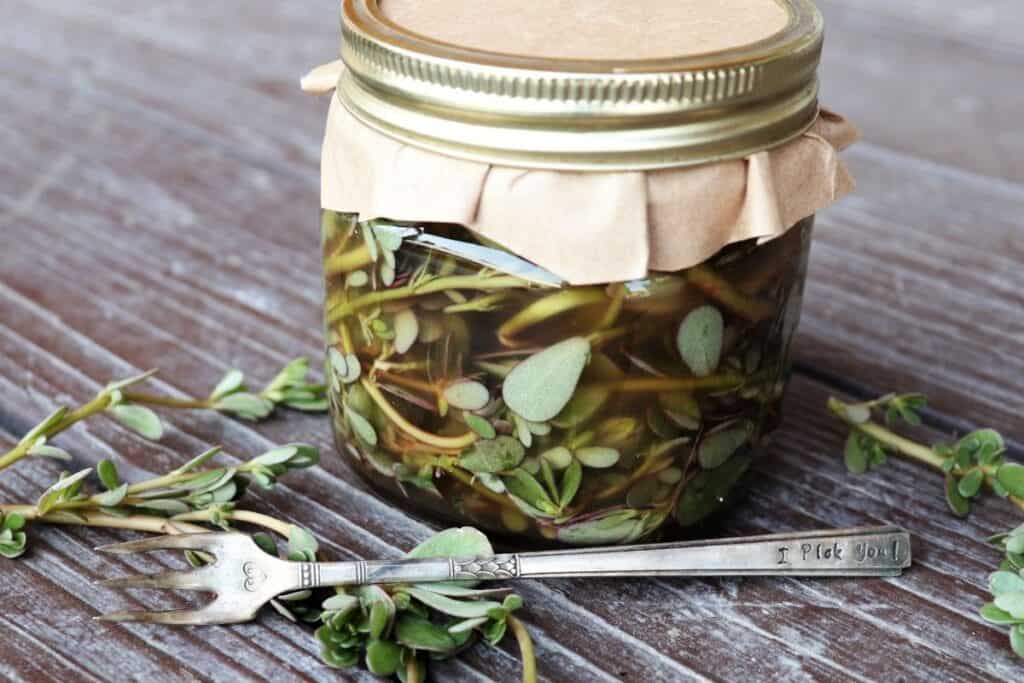 How to Serve Pickled Purslane
It's wonderful on a pickle tray as part of an easy summer meal.
I quite like it on simple sandwiches with hearty, grainy bread.
Serve it as a simple side dish alongside grilled meats.
Yield: 1 Quart
Pickled Purslane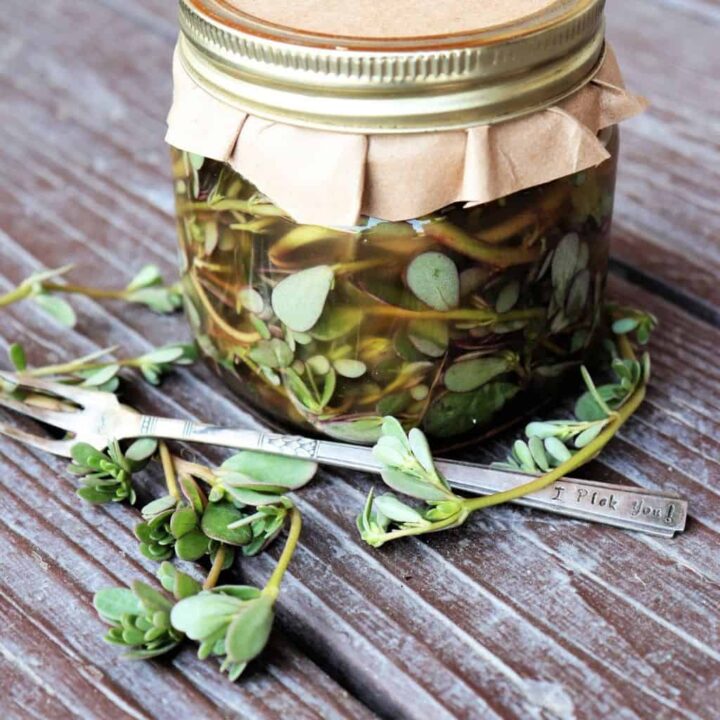 Make the most of those nutritious and flavorful garden weeds with the easy Pickled Purslane recipe for a delicious sandwich fixing, snack, and more.
Ingredients
1 Quart Washed & Rinsed Purslane, Stems & Leaves
1 ½ Cups Water
1 ½ Cups Apple Cider Vinegar
1 Tablespoon Pickling Salt
2 Tablespoons Sugar
1 Clove Garlic, peeled
Instructions
Put the garlic clove into the bottom of a quart jar. Pack the purslane on top of the garlic.
In a saucepan, combine the water, vinegar, pickling salt, and sugar. Bring to a boil.
Pour the brine over the purslane, making sure to submerge all the purslane under the brine.
Seal the jar and place in the refrigerator for at least 3 days before eating.
Recommended Products
As an Amazon Associate and member of other affiliate programs, I earn from qualifying purchases.
Nutrition Information:
Yield:
16
Serving Size:
1/4 cup
Amount Per Serving:
Calories:

16
Total Fat:

0g
Saturated Fat:

0g
Trans Fat:

0g
Unsaturated Fat:

0g
Cholesterol:

0mg
Sodium:

51mg
Carbohydrates:

3g
Fiber:

0g
Sugar:

2g
Protein:

0g
We try our best but cannot guarantee that nutrition information is 100% accurate.