Potica is a Serbian nut bread. It's a yeast and egg bread dough that's heavy and rolled thin upon which a sweet and gooey ground walnut filling is spread. The dough is then rolled up like cinnamon swirl would be and baked. Potica was a Christmas season tradition in my house growing up and continues to be a tradition Jeff and I share with many friends each and every holiday season. When the other bloggers and I talked about themes for cookie month, we decided the first week was going to be family favorites. I knew I wanted to share Potica as my family favorite even though it's technically a bread. I set about trying to do it in cookie form. These cookies would be similar to Rugelach but the filling is quite true to my Christmas loaves of Potica. These Potica Cookies are light and fluffy and full of flavor.
My grandmother was my baking teacher for the most part. I remember baking loaves of Potica with her and my father as well as huge batches of cut-out sugar cookies each and every year. She would say that a good rubber spatula is necessary for the home cook. Product of GIR sent me one of their spatulas and I have to say Grandma would be jealous of these symmetrical silicone spatulas. They are sturdy and amazing. I happen to have one in the skinny, as well as the Ultimate, and they're both incredible for baking cookies, scraping out peanut butter jars, spreading filling and much more. The other great thing about these spatulas is that they're all one piece, so no gunk getting up under the part where the spatula meets the handle. I've always hated trying to get that super clean.
The great things about these cookies is that they can be in multiple steps over the course of multiple days if necessary. The dough needs chilling after being made, so whether you wait two hours or two days it won't matter much. Make the dough, scrape down the bowl, wrap in wax paper and store.
The filling too, can be made ahead of time and simply brought to room temperature when you're ready to assemble. When you are ready to assemble it's easiest to roll out and cut with a cookie cutter. I used these round cutters from KaTom, but you could also do rectangular shapes by just cutting the dough with a butter knife. I liked the cookie cutters because it kept the cookies a uniform size.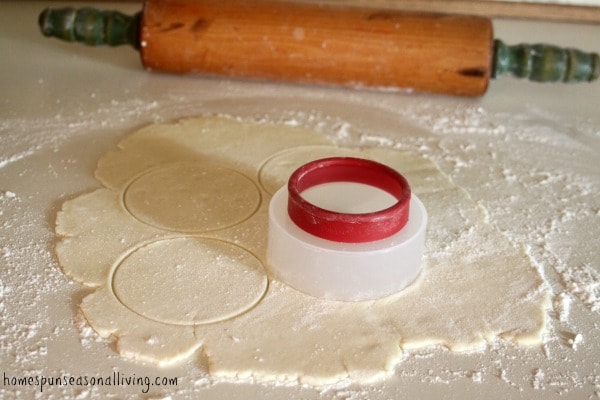 Spread the filling around the center of each cut-out, but don't quite go to the edge. This isn't an exact science, if some filling does get to the edge, it's not a big deal. After filling, roll up like a mini-loaf of cinnamon bread and put on a baking sheet. Tucking the ends in is optional, I tried some with the ends tucked under and some open. In the end, I personally liked seeing the swirl on the ends better and won't tuck the ends in the future.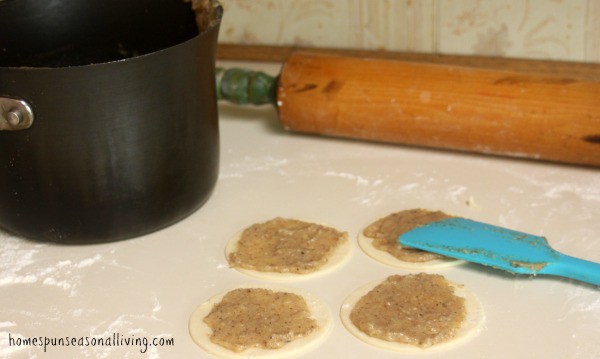 Use a nice heavy duty cookie baking sheet for these. I'm going to be honest, I'm not a huge fan of aluminum cookware, but this baking sheet from KaTom was incredible, heavy duty and baked so very evenly. The cookies do need to sit on the baking sheet for just a couple minutes after coming out of the oven before cooling completely on a wire rack.
Finally, I was given a bag of King Arthur Flour's All-Purpose Flour. I have a plan for their flour and a few other ingredients coming your way in a few weeks, but I also used it in these cookies. The flour was light and gave the cookies an amazing texture. I haven't used King Arthur Flour before but I now understand just what an amazing product it is and I'm thrilled to recommend its use in these cookies or any other for that matter.
Potica Cookies
Ingredients
Cookie Dough
1/2 Pound Butter, softened (2 sticks)
8 Ounces Cream Cheese, softened
1/4 Cup Sugar
1 Tablespoon Vanilla Extract
2 Cups Flour
1/2 teaspoon Baking Powder
Filling
1 Egg White
1 Tablespoon Butter
1/2 Cup Milk
1/3 Cup Sugar
2 1/2 Cups Ground Walnuts
Instructions
Make the Dough
Cream together the butter and cream cheese until light and fluffy. Beat in the sugar and vanilla extract until thoroughly incorporated. Slowly add in the baking powder and flour until a soft dough forms. Divide the dough in half, wrap in wax paper or plastic wrap and chill for at least 2 hours (longer is just fine but use within 2 days).
Make the Filling
In the top of a double boiler, place the egg white. Heat the double boiler so that the water in the bottom is simmering (not a hard boil), place the top with the egg white over the simmering water and whisk constantly until the egg white becomes foamy and opaque. Remove from heat.
In another saucepan, combine the butter, milk and sugar. Heat until the butter melts and the sugar dissolves remove from heat. Fold in the egg white. Add the walnuts and allow to cool. You can put this in the fridge for a couple of days to assemble if desired. Bring to room temperature before spreading on dough.
Assembling & Baking
Preheat the oven to 350 degrees.
Roll the dough out to 1/8" thickness and cut into even pieces. Spread a small amount of filling on each piece of dough and roll up like miniature cinnamon rolls. Place seam side down on baking sheet.
Bake in preheated oven for 20 minutes or until edges turn golden brown.
Cool on baking sheet for 2 minutes before removing to wire racks to cool completely.
Sprinkle with powdered sugar just before serving, if desired.
Store uneaten cookies in an airtight jar.
Notes
These will stay fresh for about a week but the cooked cookies freeze well if you want to make up a big batch for those cookie swaps or parties later on.
If you'd like my recipe for traditional Potica, it is included in my cookbook, Gift It From Scratch.

Disclaimer: I may receive compensation for products mentioned in this post. All opinions expressed are my own. I am not a doctor, always seek trained medical advice. No statements should be considered approved by the FDA or as a diagnosis or treatment for any illness. See my Full Disclaimer Here.