Potica is a Serbian nut bread and a holiday tradition of my family. It's an involved recipe, however. Potica cookies are less involved and still provide similar flavor and memories.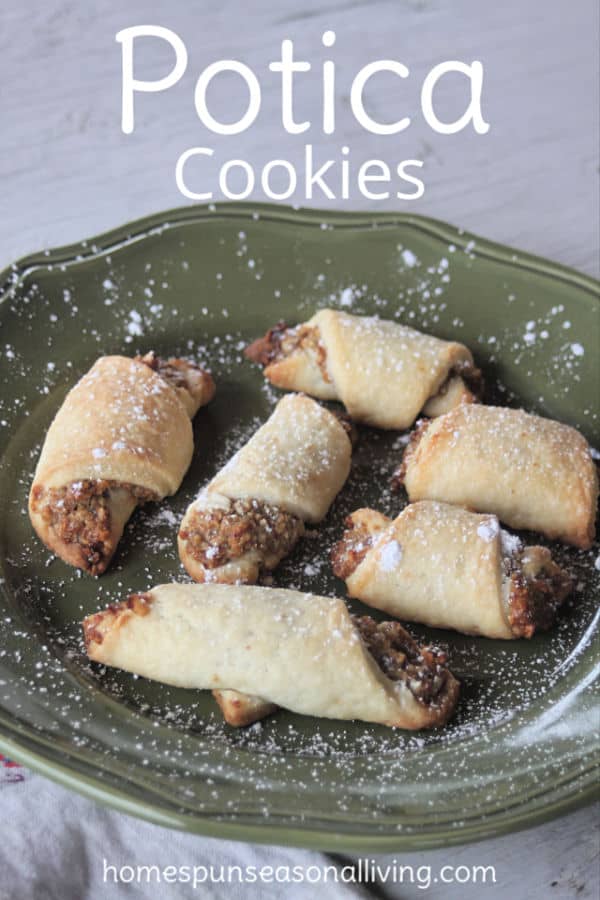 Break Up The Making over Several Days
The great things about these cookies is that they can be in multiple steps over the course of multiple days if necessary. The dough needs chilling after being made, so whether you wait two hours or two days it won't matter much. Make the dough, scrape down the bowl, wrap in wax paper and store.
[mailerlite_form form_id=8]
The filling too, can be made ahead of time and simply brought to room temperature when you're ready to assemble. When you are ready to assemble it's easiest to roll out and cut with a cookie cutter. I liked the cookie cutters because it kept the cookies a uniform size. However, one could simply cut the rolled out the dough into triangles and roll up like crescent rolls.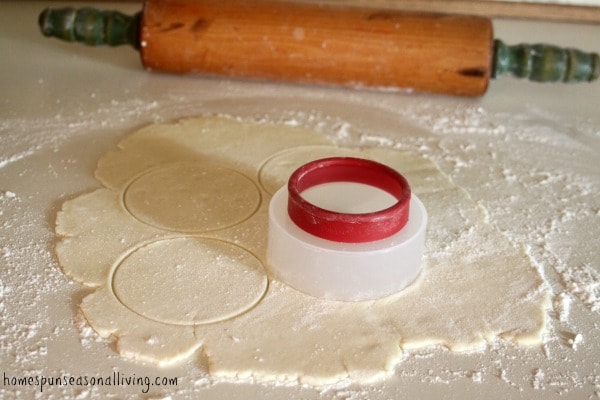 Spread the filling around the center of each cut-out, but don't quite go to the edge. This isn't an exact science, if some filling does get to the edge, it's not a big deal. After filling, roll up like a mini-loaf of cinnamon bread and put on a baking sheet. Tucking the ends in is optional, I tried some with the ends tucked under and some open. In the end, I personally liked seeing the swirl on the ends better and won't tuck the ends in the future.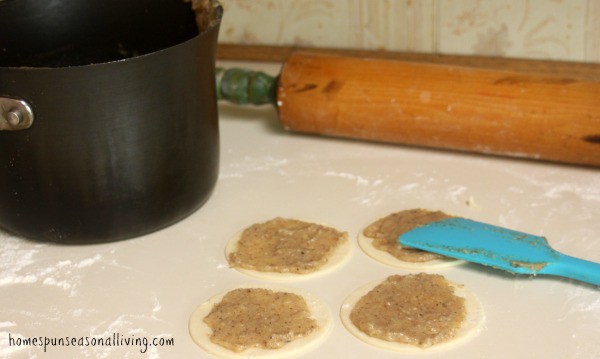 Freezes Well
Potica cookies freeze extremely well. This makes them an ideal cookie to make in big batches and save for holiday parties and gift giving later.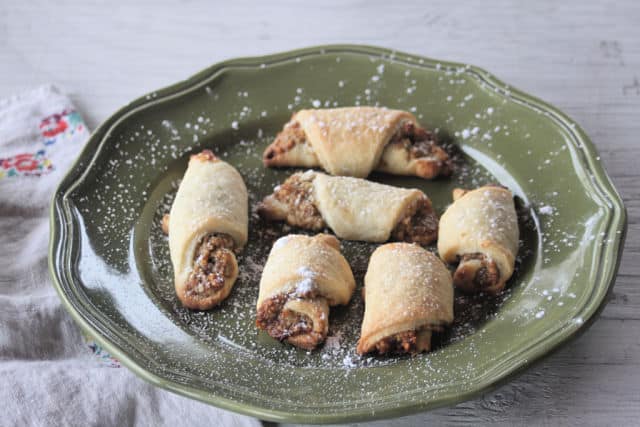 Yield: 3 Dozen Cookies
Potica Cookies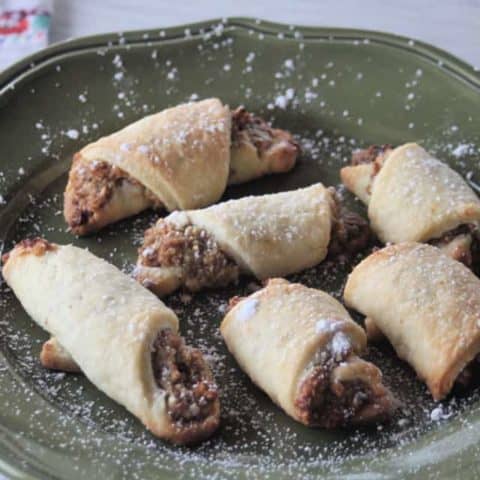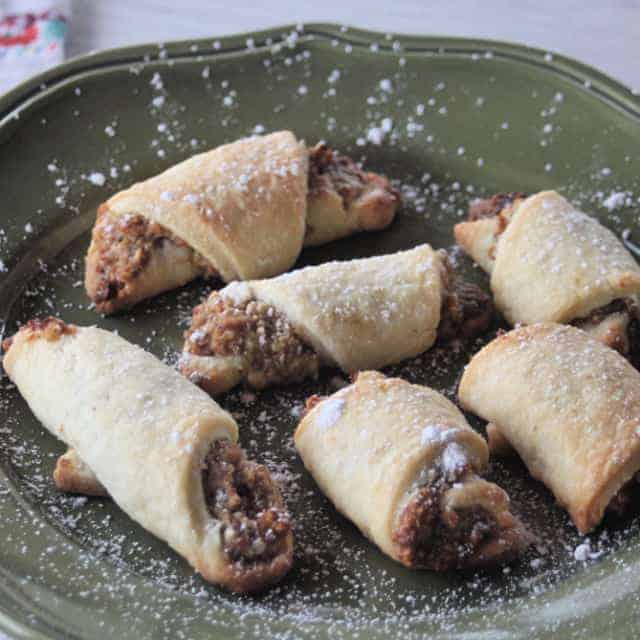 A spin on the traditional Serbian Nut Bread, Potica cookies give all the flavor and feel of the bread in a tiny hand-held, delicious style.
Ingredients
Cookie Dough
½ Pound Butter, softened (2 sticks)
8 Ounces Cream Cheese, softened
¼ Cup Sugar
1 Tablespoon Vanilla Extract
2 Cups Flour
½ teaspoon Baking Powder
Filling
1 Egg White
1 Tablespoon Butter
1/2 Cup Milk
1/3 Cup Sugar
2 1/2 Cups Ground Walnuts
Instructions
Make the Dough
Cream together the butter and cream cheese until light and fluffy. Beat in the sugar and vanilla extract until thoroughly incorporated. Slowly add in the baking powder and flour until a soft dough forms.
Divide the dough in half, wrap in wax paper or plastic wrap and chill for at least 2 hours (longer is just fine but use within 2 days).
Make the Filling
In the top of a double boiler, place the egg white. Heat the double boiler so that the water in the bottom is simmering (not a hard boil), place the top with the egg white over the simmering water and whisk constantly until the egg white becomes foamy and opaque. Remove from heat.
In another saucepan, combine the butter, milk and sugar. Heat until the butter melts and the sugar dissolves remove from heat. Fold in the egg white. Add the walnuts and allow to cool. You can put this in the fridge for a couple of days to assemble if desired. Bring to room temperature before spreading on dough.
Assembling & Baking
Preheat the oven to 350 degrees.
Roll the dough out to 1/8" thickness and cut into even pieces. Spread a small amount of filling on each piece of dough and roll up like miniature cinnamon rolls. Place seam side down on baking sheet.
Bake in preheated oven for 20 minutes or until edges turn golden brown.
Cool on baking sheet for 2 minutes before removing to wire racks to cool completely.
Sprinkle with powdered sugar just before serving, if desired.
Store uneaten cookies in an airtight jar.
Notes
These cookies stay fresh for about a week in a cookie jar. They freeze delightfully if you want to make extra for giving and eating later.
If you'd like my recipe for traditional Potica, it is included in my cookbook, Gift It From Scratch.