As those herbs start producing mightily this spring and summer, it can be a bit overwhelming trying to find uses for them all. We can dry them, of course, and that's always an excellent option but once several jars of oregano fill up we begin to wonder just how much we truly need of any one particular herb. With a little planning and just a tiny bit of work this spring and summer, those herbs can become the foundation of tastier things later this year, including all those holiday baking and gift giving needs. Spend some time now preserving herbs for all baking needs with these ideas: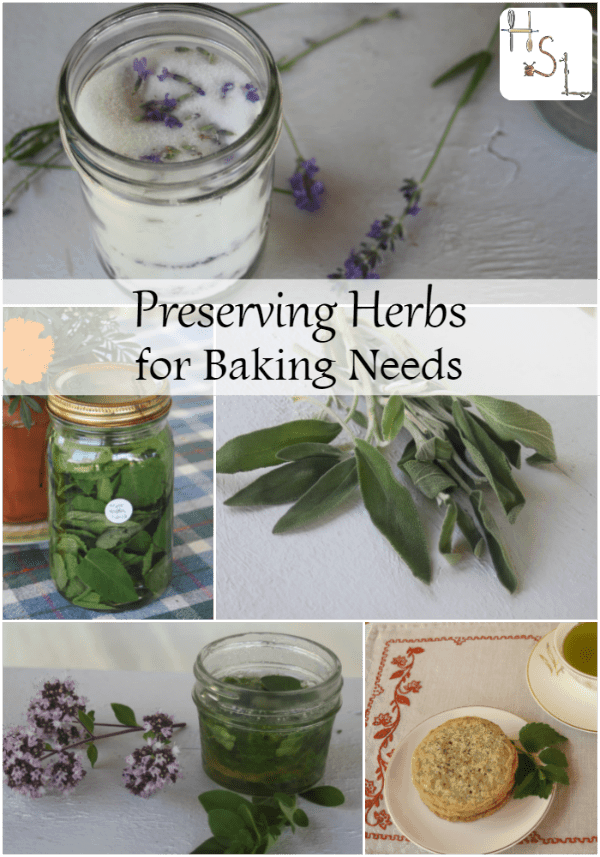 Make Extracts
Put those fresh or dried herbs in some vodka or rum to make homemade extracts of numerous flavors. Make small batches for your own baking needs or consider making large batches and giving them away later to foodie friends. The alcohol content will prevent spoilage meaning you can make that extract now and keep it in a dark cabinet until the holiday season comes in November. If you need a few ideas, check out these tutorials, but feel free to experiment with any herbs you have on hand – think anise hyssop, lilac, bee balm, etc.
Use homemade extracts in the same way you would use commercial extracts as a flavoring to baked goods and frosting. Having homegrown extracts allows for more creative recipes and flavors later on.
Infuse Honey
Tuck some herbs into a jar, cover it with honey, and let it sit for a few weeks to a month. Strain the herbs and just like that you have flavored honey. The infused honey can be secret baking ingredient, used simply to sweeten and flavor tea, used in lip balms, depending on the herb can be medicinal, and much more. Honestly, this is one of my favorite ways to preserve herbs. Here are a few creative ideas to make and use infused honey:
Honey is obviously a sweet ingredient but has a place in savory applications as well. Use the flavored honey in yeast breads for a hint of flavor, use it barbecue sauces, and in any recipe that calls for unflavored honey for an extra bit of homegrown flavor. Be sure to check out the book The Herbal Kitchen for lots of creative ideas for making infused honey.
Flavor Sugar
Mix those herb leaves with sugar to create flavored sugars perfect for all your baking needs. This process is simple and can take advantage of most any herb you have growing in the garden:
Use the flavored sugar just like you would use any plain sugar in a recipe in a one-to-one substitution.
Make Homegrown Sweetener
If you happen to be growing stevia, you can make your own all-natural sweetener:
Dry Herbs
Drying herbs is an obvious method of preservation. It's easy and doesn't take up much room. Dry lots for your own baking needs and keep extras around for gift giving later. Dried herbs tuck nicely (and cheaply) into care packages and when packaged in pretty jars make for a great gift for local friends. Be on the lookout this summer for interesting jars that can often be found quite frugally at yard and rummage sales. Need some new ideas for all those dried herbs, consider these recipes.
So as those herbs start flourishing, get them back for multiple harvest and preserve them for homegrown baked goods later this year. You'll be glad you did!
Do you have a favorite way to preserve herbs? How about a favorite way to use herbs in baked goods?