We're still working our way through our abundant winter squash harvest. I try to mix up the ways we eat it so that it doesn't get terribly old. We eat it in soup, with grits, even in our granola, as well as just baked with butter, salt and pepper. Recently, I had a little craving for some cornbread to go alongside some soup and that seemed like a great way to use up some leftover baked winter squash too. This pumpkin cornbread is a perfectly moist yet crunchy side dish that isn't too sweet or dry.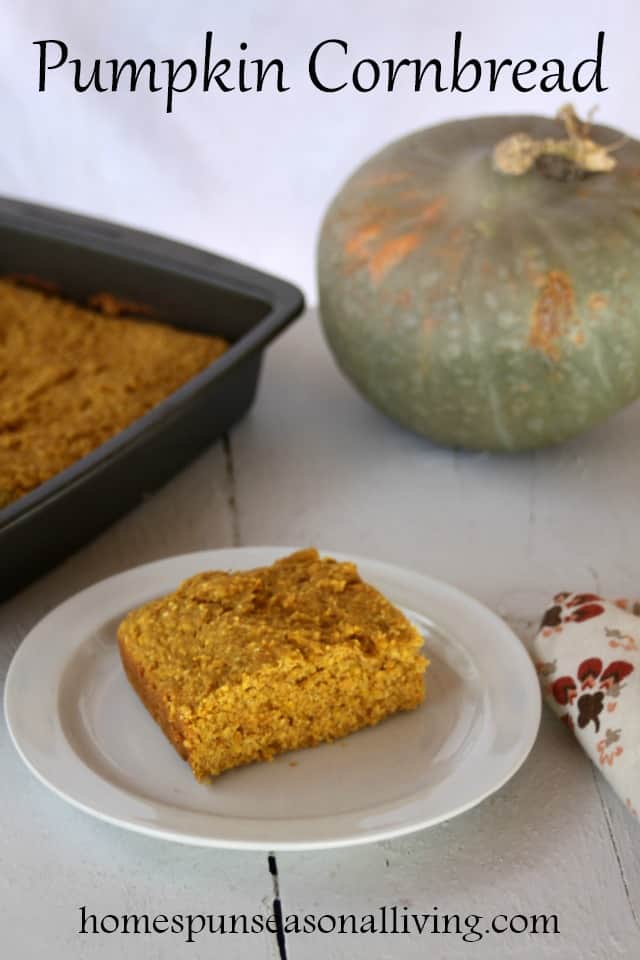 Canned Pumpkin or Baked Winter Squash
Canned pumpkin will work perfectly in this recipe. However, so will most any other cooked and mashed/pureed winter squash. This is a great way to use up any leftover bits for a tasty and different side dish.
Breakfast, Lunch, or Dinner
Serve this cornbread with eggs and bacon for a perfectly simple and delicious breakfast. It's great with soup or salad for lunch. Cornbread is a humble, simple quick bread but it's always welcome at a feast for dinner. Double the recipe and bake in a 9X13″ pan for a crowd.
Pumpkin Cornbread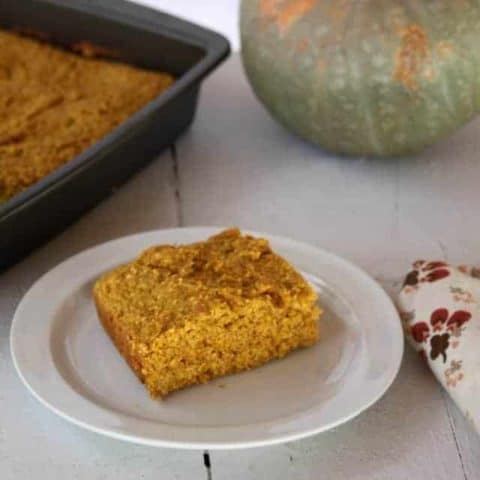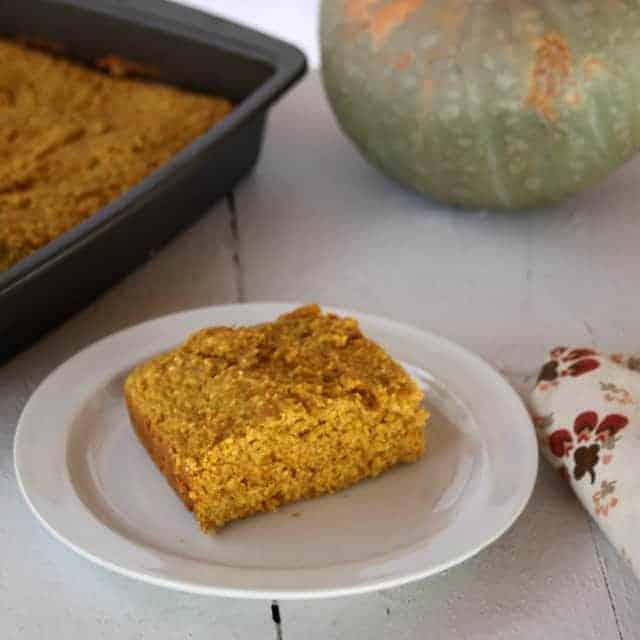 Pumpkin cornbread is a tasty and moist side dish that is as comfortable with breakfast eggs and bacon as it is as a side dish on a holiday dinner table.
Ingredients
1 Cup Whole Wheat Flour
1 Cup Cornmeal
1 teaspoon Baking Powder
½ teaspoon Baking Soda
Pinch Salt
2 Tablespoons Sugar
2 Eggs
¼ Cup Butter, melted
1 Cup Pumpkin Puree
Instructions
Preheat oven to 350. Grease a 9" square cake pan.
Whisk together the flour, cornmeal, baking powder, baking soda, salt, and sugar. Set aside.
In another bowl, whisk together the eggs, pumpkin purée, and melted butter. Pour this into the dry ingredients and stir just until combined.
Spread evenly in the prepared pan. Bake for 20 minutes or until an inserted toothpick comes out clean.
Cool on a wire rack.