Chocolate combined with pumpkin is a favorite treat around here. Add some nuts and spice for a quick and easy no-bake dessert and well, we're smitten. These dark chocolate hazelnut pumpkin pie truffles are a great fall candy for even the most novice candy maker.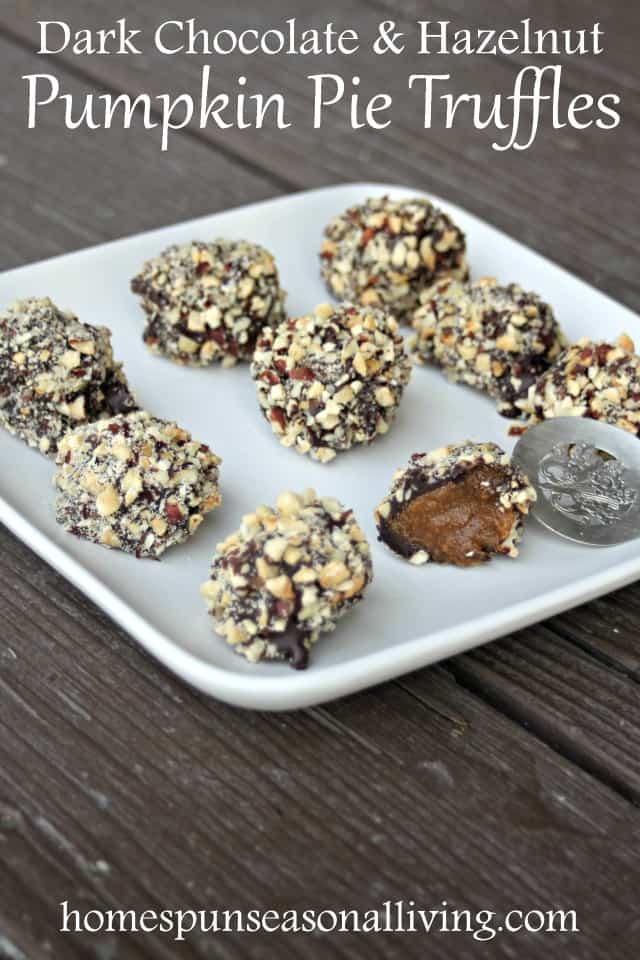 Pumpkin Pie Spices
There is a lot of spice in this filling. Go lighter or skip completely, if desired. These are sweet and the spice helps even that out a bit, in my opinion.
Any Nut Will Do
Hazelnuts and pumpkin seem to be a great Autumn combination but don't feel locked into hazelnuts. Pecans, walnuts, even peanuts would be amazing in these truffles. Don't like or allergic to nuts, skip the nuts and simply roll in the chocolate alone.
A good mix of finely ground and small chunks of especially nice in the coating. I use a hand-crank nut grinder to make this happen quickly and easily.
Chocolate of Any Variety
Dark chocolate is especially good here because of the sugar and natural sweetness of pumpkin in the filling. However, milk or white chocolate would also be good though sweeter. Mix and match the chocolate for special touches: dip the filling in dark chocolate, roll in nuts, then drizzle with a touch of white chocolate.
Chocolate Hazelnut Pumpkin Pie Truffles
Ingredients
1/4 Cup Pureed Pumpkin
2 Tablespoons Coconut Oil, melted
1/2 Cups Powdered Sugar
1/2 teaspoon Vanilla Extract
1/2 teaspoon Ground Cinnamon
1/4 teaspoon Ground Cloves
1/4 teaspoon Ground Allspice
Pinch Salt
4 ounces Dark Chocolate
3/4 Cup Chopped Hazelnuts (toasted & skins removed before chopping)
Instructions
Make the Pumpkin Pie Truffle Filling
Combine the pumpkin puree, coconut oil, vanilla extract, and spices in a mixing bowl. Add powdered sugar, beating until combined.
Pour the mixture into a shallow baking dish and place in freezer. After 20 minutes check mixture, if bands of coconut oil begin to separate - stir it all back together. Let freeze until mostly solid (about an hour).
Using a small spoon or a cookie scoop/melon baller, drop bits of the filling onto a wax paper lined tray.
Freeze these balls until solid, a couple of hours.
Toast & Skin Hazelnuts
Preheat oven to 375 degrees. Spread the hazelnuts in a thin layer onto a baking sheet. Bake in the preheated oven for about 10 minutes, shaking the pan occasionally to prevent scorching.
While the nuts are toasting, dampen a tea towel.
Remove the nuts from the oven and immediately cover with the damp towel. Place another larger tray over the towel covered nuts. Let cool for 5 minutes before running the towel covered nuts in between your palms. This will get most (but not all) of the skins off. Chop the nuts finely and place onto a plate.
Assemble the Truffles
Melt the dark chocolate in the top of a double boiler. Once it's melted. Pull the pumpkin balls from the freezer. Working quickly, dip the balls into the melted chocolate and then roll into the chopped hazelnuts. Place the nut covered balls back onto wax paper. When finished, place the completed truffles back in the fridge to harden completely.
Notes
Store these in the fridge or freezer. They won't stay solid at room temperature.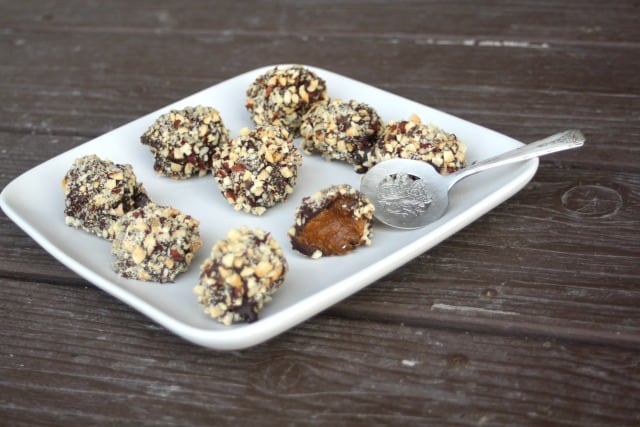 Disclaimer: I may receive compensation for products mentioned in this post. All opinions expressed are my own. I am not a doctor, always seek trained medical advice. No statements should be considered approved by the FDA or as a diagnosis or treatment for any illness. See my Full Disclaimer Here.