This is the time of year when radishes are plentiful in my northwest Montana garden. We like having them around so we succession plant them almost every 2 weeks throughout our short growing season. They're a great snack, we both like just munching on them with a touch of a salt but I like to get creative every now and then too. Over the weekend, I pulled out my copy of The Flavor Bible and learned that mint and radishes were considered a very tasty combination. That made sense to me and I happen to have plenty of mint along with my radishes. Wanting to eat up what we had on hand and keep it all very much in season, I came up with this Radish Salad with Creamy Goat Cheese & Mint Dressing. The dressing is so tasty I could almost eat it by the spoonful.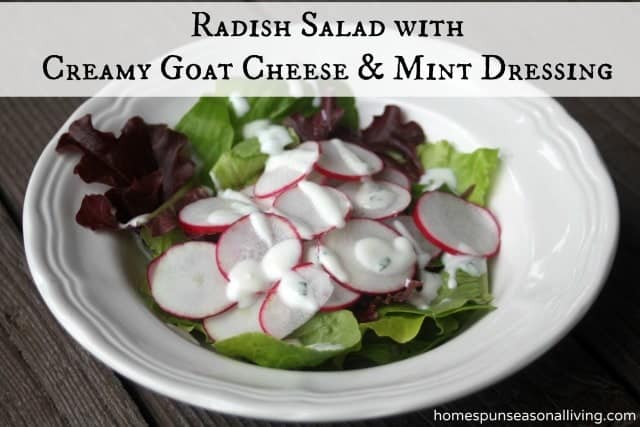 Radish Salad with Creamy Goat Cheese & Mint Dressing
Ingredients
8 Cups Baby Salad Greens
4 Cups Radishes, thinly sliced
4 ounces Goat Cheese, crumbled
1 Tablespoon Milk
1 teaspoon Honey
1 teaspoon White Wine Vinegar
2 Tablespoons Olive Oil
1 Tablespoon Mint, minced
Salt & Pepper to taste
Instructions
Divide the greens and radishes between 4 serving bowls.
Whisk together the goat cheese, milk, honey, vinegar, olive oil, mint, salt, and pepper until smooth. If you'd like a thinner dressing add a little more milk or some warm water. Drizzle over the salads and serve with extra dressing.
Notes: Keep the dressing thick and use as dip for radish and carrot strips. Use mint infused honey to kick up the mint flavor even more.
[sc:Useadsenselarge ]