Make this easy brown sugar scrub loaded with rosehip and honey to refresh, soothe, and soften skin naturally.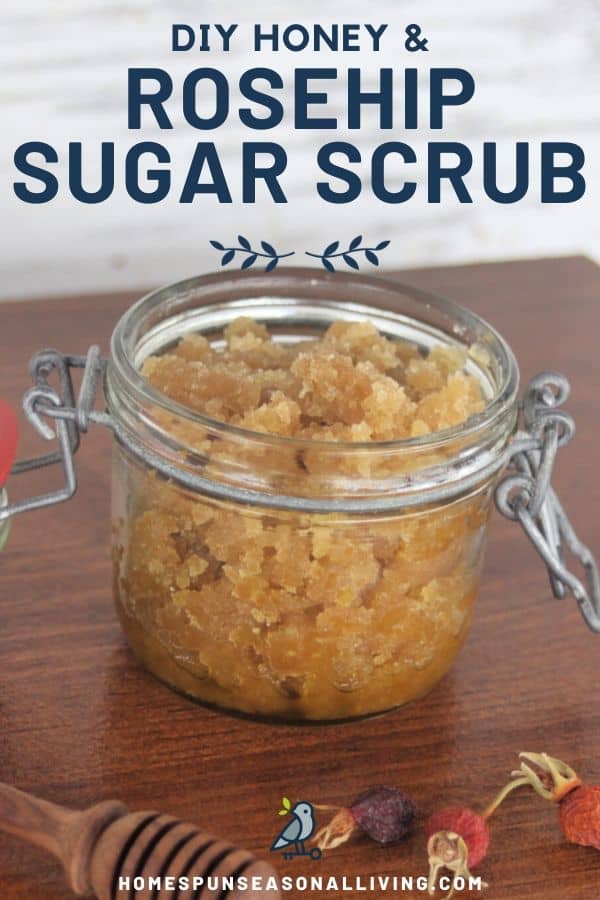 A regular sugar scrub recipe with simple oil and sugar is great for removing dead skin and softening at the same time. This particular recipe adds extra benefits with manuka honey and rosehips for extra benefit.
Rose Hip Infused Oil
Rosehip oil purchased from the health food store is made by actually by pressing and extracting oil from the rosehip and seeds much like olive oil is made from olives.
It is expensive and I figured a bit of homemade rosehip infused oil can provide some benefit as well. And it is so easy to make:
Make Rose Hip Infused Oil
Combine 1/4 cup dried rosehips with 1/2 cup olive oil (or other preferred oil) in the top of a double boiler.
Simmer the water in the bottom of the double boil for about 30 minutes, keeping the oil warm but not frying the rosehips for the entire time.
Strain the rosehips from the oil and bottle the oil for use.
Manuka Honey for the Skin
Manuka honey has been studied extensively for its power to heal wounds and burns. A bit of the honey in this sugar scrub goes a long way and ups the benefits for any scratches or other wounds on the body.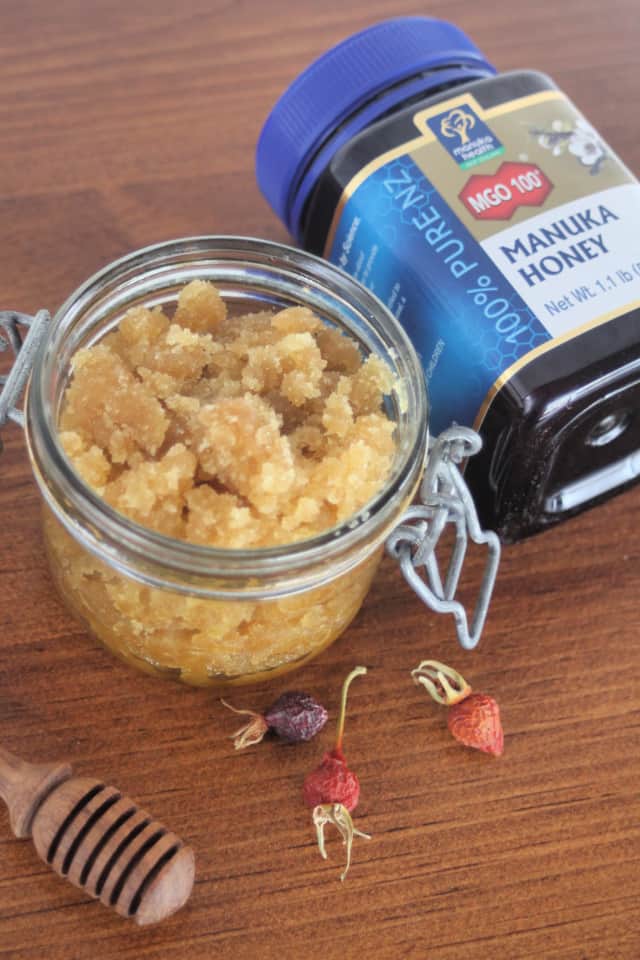 Manuka honey is expensive, without a doubt, but a little goes a long way. Use any honey you have on hand if manuka is simply not in the budget.
Simple Sugars
There's nothing fancy in the sugars of this recipe. Simply use the brown and granulated sugars already in your pantry.
The sugars are coarse and help remove dead skin without scratching or causing any damage.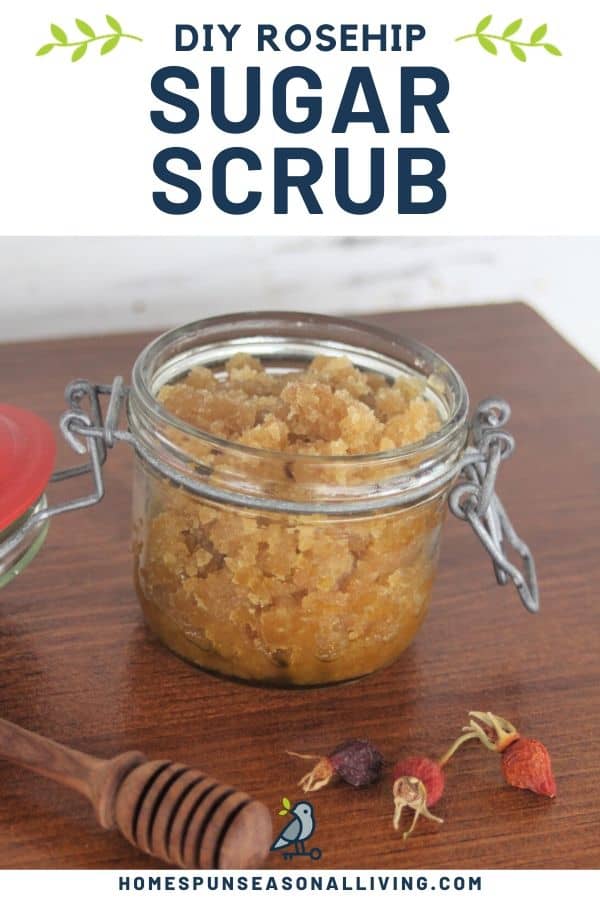 Essential Oil for Scent
To give the scrub and the skin a hint of scent, add some drops of essential oil to the scrub. This is completely optional and the actual scent is a very personal choice.
How to Use the Sugar Scrub
Simply moisten the skin in the shower or bath, then rub the sugar scrub onto skin. Rinse and repeat as necessary.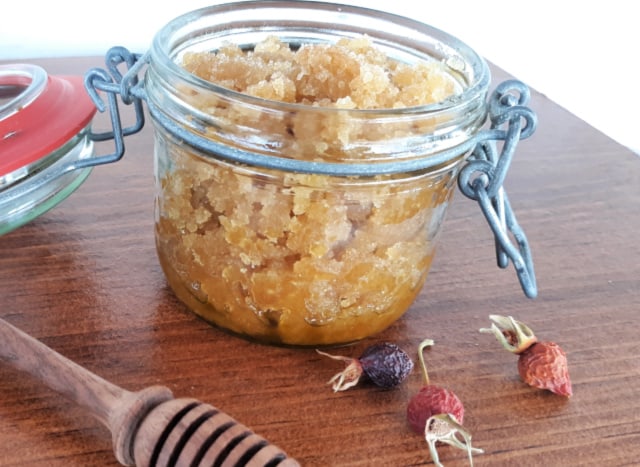 It's especially nice on very rough and dry skin like feet, knees, elbows, etc.
Also use to remove dirt and grease after gardening or doing some car repair.
Storing & Giving
Store the complete homemade sugar scrub in an airtight jar and keep in the shower for easy use.
This is an ideal sugar scrub for gift giving as well. Make big batches and divide up into small jars to give to loved ones, simply add a little label.
Yield: 1 1/2 Cups
Rosehip Brown Sugar Scrub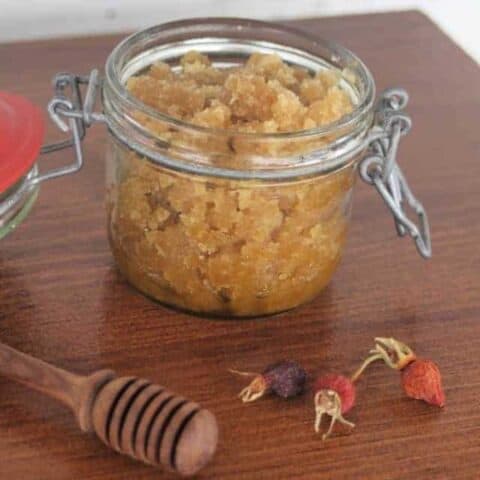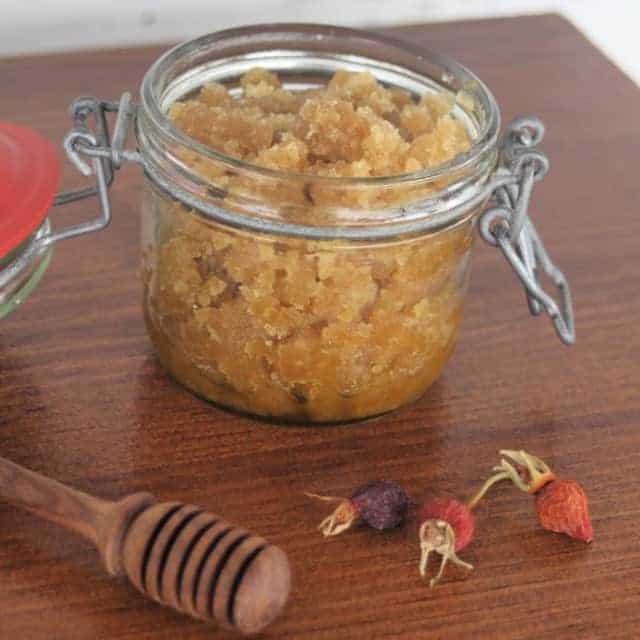 Scrub off dead skin and soothe dryness and irritation with this rosehip manuka honey scrub recipe.
Materials
1/2 Cup Brown Sugar
1/2 Cup Sugar
1/3 Cup Rosehip Infused Olive Oil
Tools
Mixing Bowl
Spatula
Measuring Spoons
Instructions
Mix everything together in a bowl, stirring until well combined.
Pack into storage containers and seal tightly.
Notes
Scrub onto moistened skin in the shower and bath. Rinse thoroughly.
Recommended Products
As an Amazon Associate and member of other affiliate programs, I earn from qualifying purchases.
About the Author