Stop hot beverages from damaging surfaces and catch drips by making a simple and beautiful mug rug.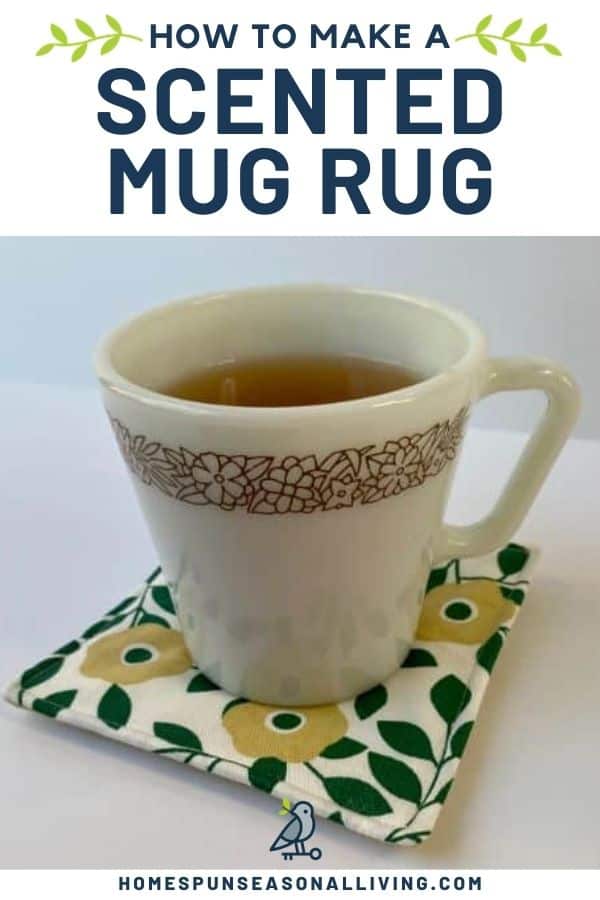 This particular mug rug pattern is unique because it is scented! Ground spices are hidden between the layers of fabric. When a cup full of a hot drink is placed on it, the scent of the spices fills the air.
We chose cinnamon, clove and allspice to insert in our mug rugs – one spice in each coaster. They release a pleasant scent of fall.
Any ground spice you prefer will work. Lavender would be lovely. Just make sure it is ground or flat so that it doesn't create bulk. You want a secure surface for the mug to safely rest on.
For the perfect gift, bundle some coffee beans and/or tea bags with a set of mug rugs in a reusable produce bag made with coordinating fabric.
The free mug rug pattern detailed below is a great project for beginners who are learning to sew. It only requires straight, short lines of sewing and very little fabric and supplies.
In fact, this is a great scrap busting project for both fabric and batting. Here are some other awesome sewing projects for beginners that we love.
Supplies
Fabric Quarters or Scraps
Batting Scraps
Coordinating Thread
Various Ground Spices – Cinnamon, Clove, All Spice
Rotary Cutter and Mat
Sewing Clips
Turning Tool or Chopstick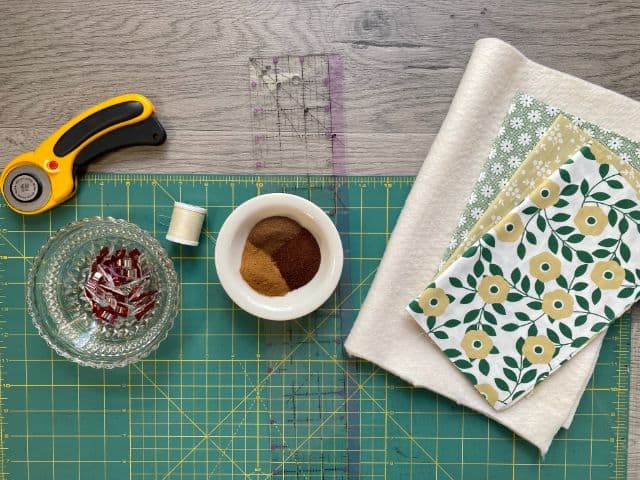 A set of fabric quarters is perfect for this project since they all coordinate. Scraps from a quilt are also a great choice. You can use leftover batting too.
How to Make a Mug Rug
Before you begin, it is a good idea wash, dry and press your fabric. Then cut it to 5.5″ x 5.5″ squares. A rotary cutter and cutting mat make quick work of this step.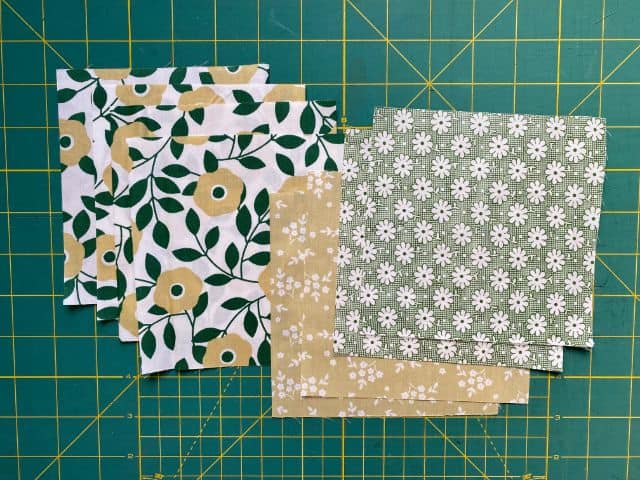 Cut squares of batting the same size too. You will need two squares of fabric and two squares of batting for each coaster.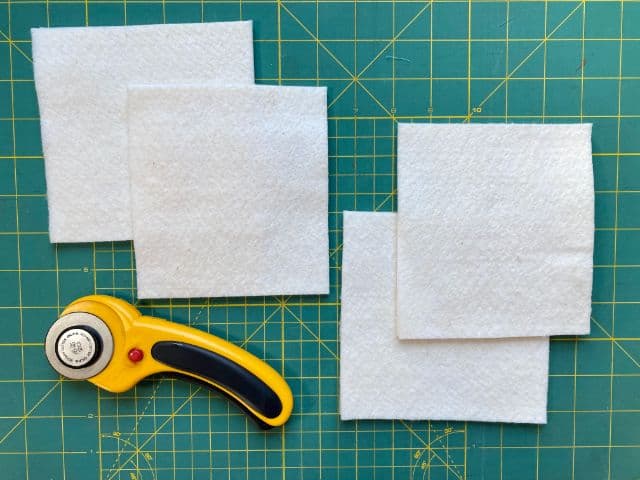 Choose one fabric square for the top of the coaster and one for the bottom. They can be the same fabric or different, coordinating fabrics. Grab two squares of batting too.
Sprinkle your spice(s) of choice all over one of the batting squares.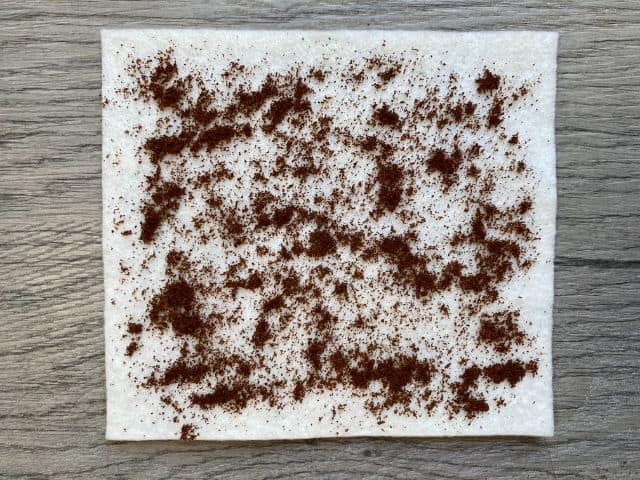 Then stack the squares with the spices on the bottom, followed by the other piece of batting and two fabric squares, right sides together.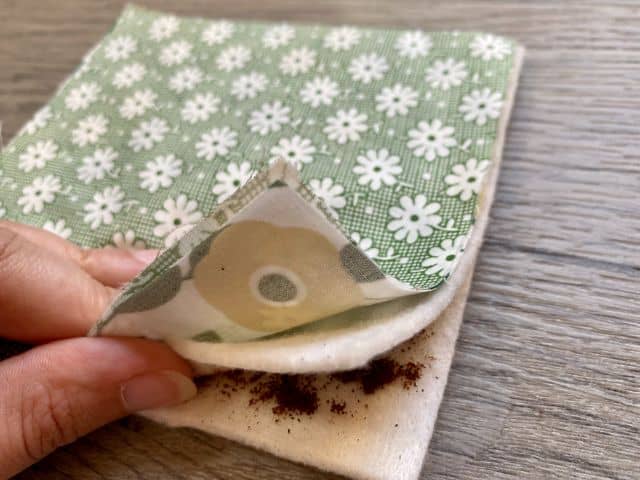 Now use sewing clips to hold all the layers together. Use two pins on one side to mark where to start and stop sewing that it leaves an opening for turning.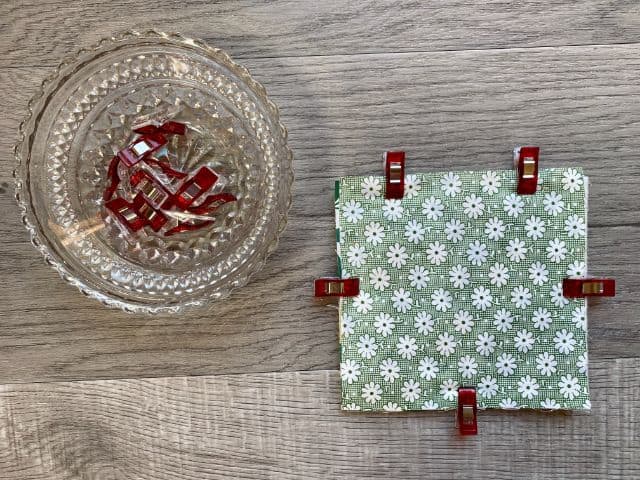 Next, sew around all four sides of each coaster with a 3/8″ seam allowance. Remember to leave a 2″ opening on one side.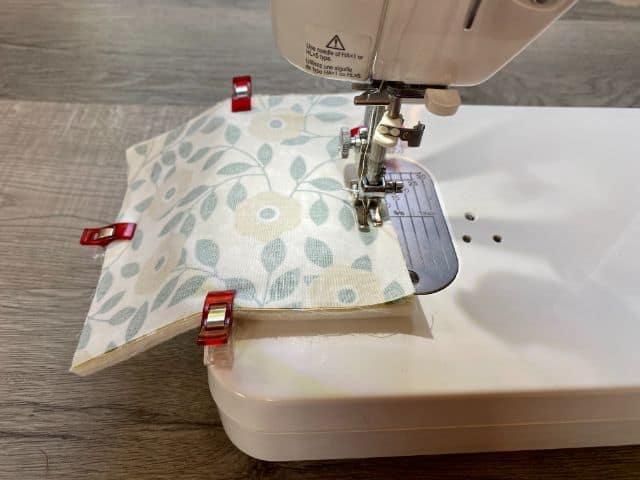 When approaching a corner, stop 3/8″ from the edge, lift your presser foot, and turn the square so that you can continue sewing down the next side.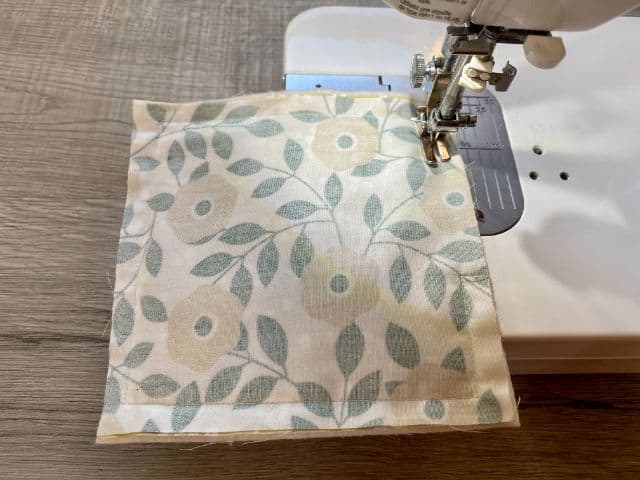 Now trim the sides and corners to reduce bulk in the seams after turning. DO NOT trim the side with the opening. This will make it easier to sew closed later.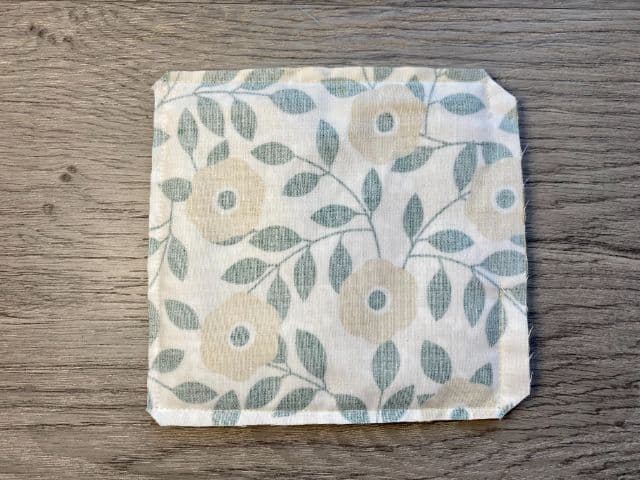 Insert your fingers through the opening and pull all but the top layer of fabric through the opening.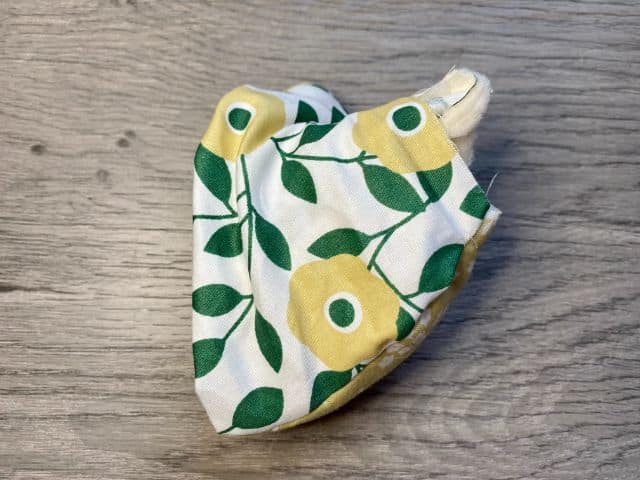 Use a point turner or chopstick to gently press out the corners. Take care not to press through the fabric.
At the opening, fold the fabric inside the coaster so that it is flush with the edge. Use a few sewing clips to hold it closed.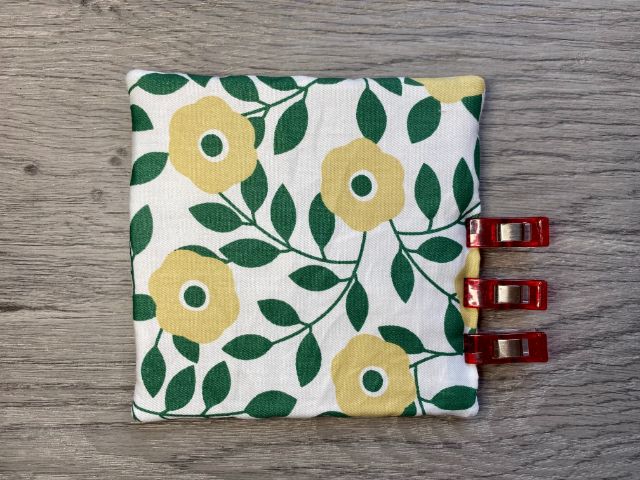 Then top stitch around the perimeter of the square as close to the edge as possible. Make sure you close the opening as you sew.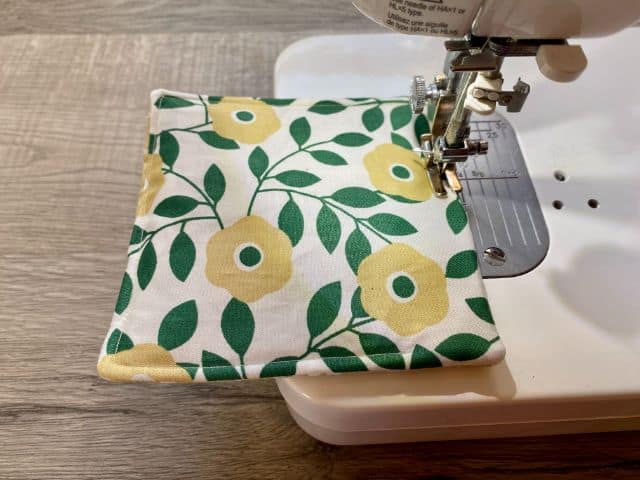 Add some quilting stitches to the center of the coaster to prevent the layers from shifting during use or washing.
You can sew any design you'd like to accomplish this. We placed a simple "X" in the center.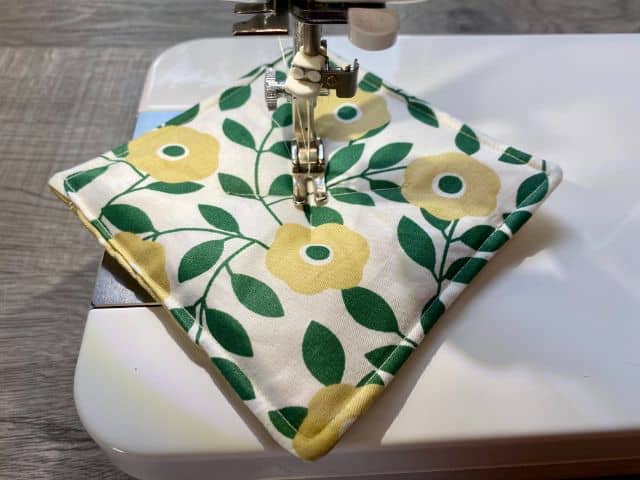 Use thread snips to trim any threads. Pressing can also help if your coasters do not lay flat. In our case, it was not necessary.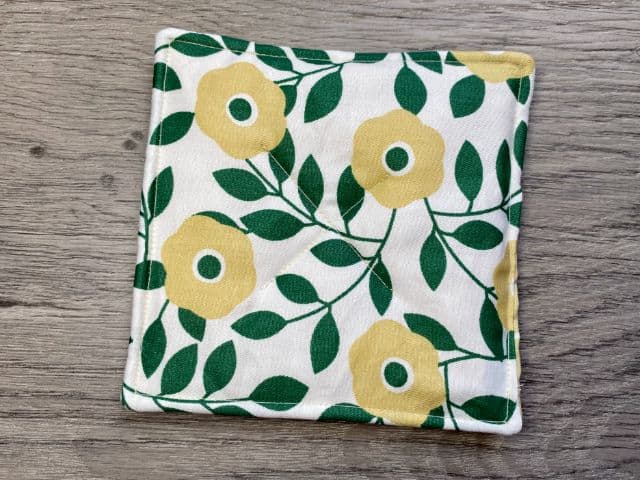 You made a scented mug rug!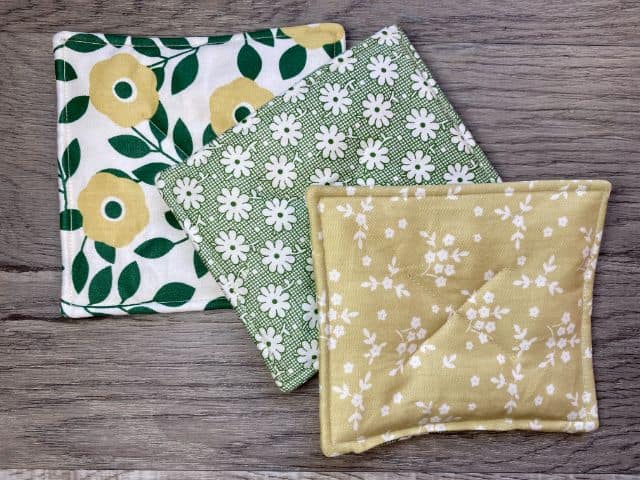 Use and Care
The warmth of a hot mug of coffee or tea will activate the spices to reveal a pleasant aroma.
They can be machine laundered as necessary. Give them a press if needed.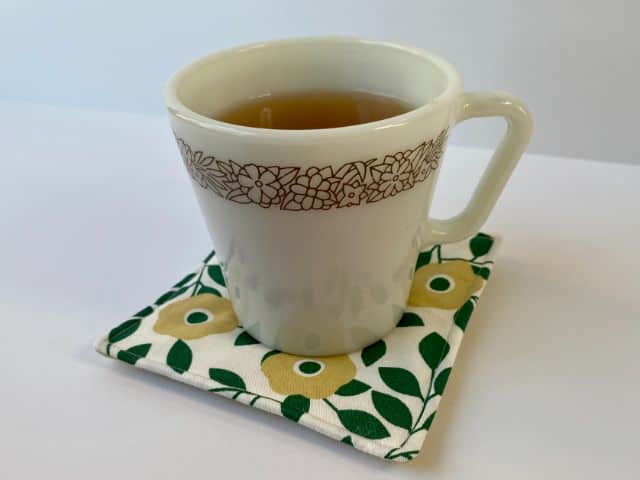 Yield: 3 Scented Mug Rugs
How to Make Scented Mug Rugs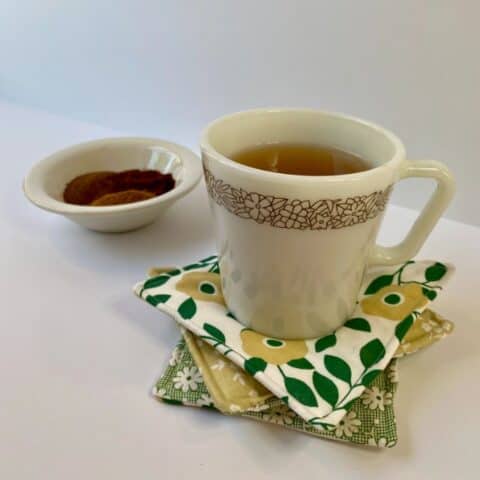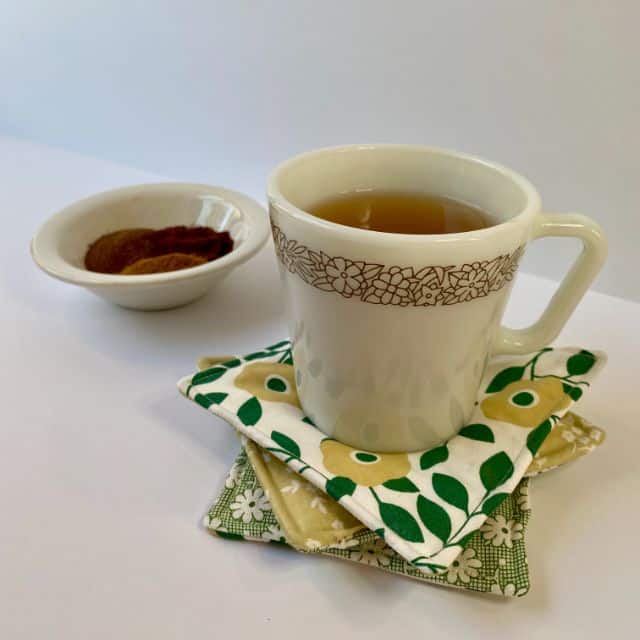 How to make scented mug rugs with the aroma of spices.
Materials
Fabric Quarters or Scraps
Batting Scraps
Coordinating Thread
Ground Spices (Cinnamon, All Spice, etc.)
Tools
Rotary Cutter and Cutting Mat Set
Sewing Clips
Turning Tool or Chopstick
Instructions
Cut fabric and batting into 5.5" squares (two each for every coaster)
Sprinkle spices all over one of the batting squares
Layer two squares of fabric on top of two squares of batting with the spices sandwiched in between
Clip
Sew around perimeter with 3/8" seam allowance leaving 2" opening on one side
Trim sides and corners to reduce bulk
Turn right side out
Press out corners with point turner
Turn fabric of opening under 3/8"
Clip
Top stitch around perimeter as close to the edge as possible
Sew an "X" in the center
Recommended Products
As an Amazon Associate and member of other affiliate programs, I earn from qualifying purchases.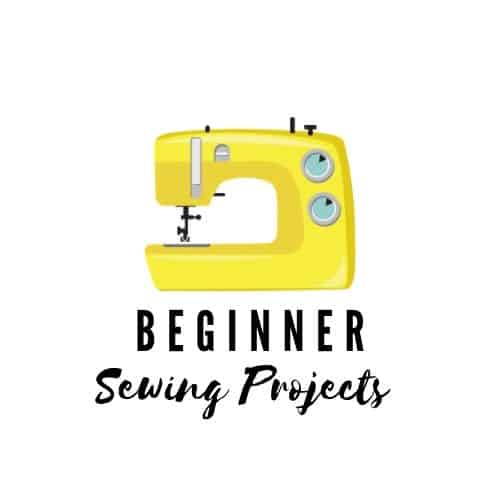 Beginner Sewing Projects is a site filled with quick and easy sewing projects that anyone can make. In addition to sewing projects for beginners, you will find crafts made with felt and sewing tips and techniques. Every post contains easy to follow instructions and photos for you to successfully complete the project.