It seems to me that these fiercely DIY and homesteading lifestyles benefit from some time spent thinking about today while also planning r tomorrow. That's probably true for any lifestyle, actually. This bit of time has a way of giving us perspective on the day while prioritizing our goals for the next day or so. I use a nightly or late afternoon tea time to create a habit that provides me a sense of contentment and drives my DIY determination to wake up invigorated.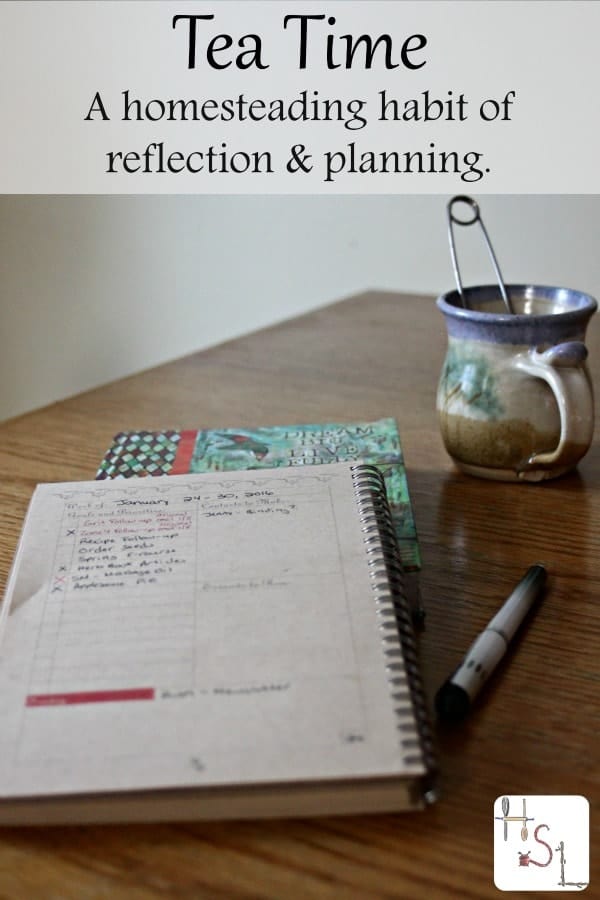 If you're trying to find some gratitude while also recording important homestead happenings and getting more organized, try creating a tea time habit for homesteading reflection and planning.
Start with a Cup of Tea (or other drink of choice)
I usually have a cup of mint tea while I'm doing this but whatever drink helps relax the mind and muscles is just fine. Hot chocolate is always nice and a cordial is sometime even better. The important part here is too create a habit for the brain to switch gears from doing to reflecting.
Find a Comfortable Spot
Sit in a favorite chair with cup in a hand or sprawl notebooks out on the kitchen table. Essentially find a spot that provides a little quiet and comfort.
Sip and Reflect
Take a sip from that cup and reflect on the day. Jot down important notes in a homesteading journal or general thoughts in a blank book. I use this time to keep track of all my important happenings in a day and give myself the opportunity to find the good even on bad days. This is the time in which I find gratitude even on a day when seemingly everything went wrong.
Continue Sipping and Start Planning
That time spent in reflection puts us in a great space to plan for tomorrow and beyond. Take everything from today and roll it into how it helped or hurt the long term goals. What needs done tomorrow? Make a to-do list if that's your thing. This is the time to be relaxed but focused, this is not supposed to be stress-inducing but rather a time to rejuvenate.
Finish the Drink and Be Done
Finish that cup, put the journals away, and wrap up the day. Enjoy a hobby, relax with a book, cuddle up with the family. Use the rest of the evening to disconnect from work and get rested up for the next day.
This tea time habit doesn't have to take hours. It can be as long or short as needed. Some days there is much to think about and record, much to plan. Other nights there might not be much. Either way make this tea time habit a normal part of the day just see how it helps keep things organized and even how much easier it is to find contentment.
Do you have a nightly ritual or habit to reflect and plan? If so, do you find it helpful? If not, are you willing to give it a try?