It's that time of year when my mind turns to gardening. I won't be starting seeds for another week or so but my mind is already planning and dreaming of how great the garden of 2014 is going to be. While I can't get my fingers in the dirt just yet, I can do a little prep work. That prep work right now is making upcycled canning lid plant markers. This is a project I've done for years and briefly discussed in the past. It's simple and makes great use of all those single use canning lids.
You need: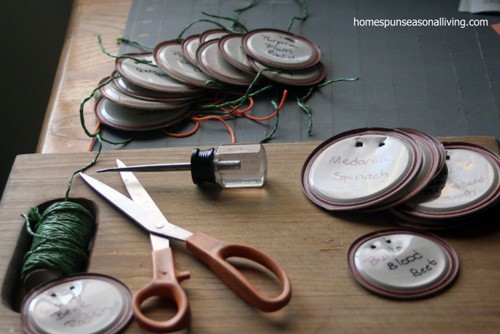 Simply punch two holes in each of the canning lids, just 1/2 inch apart. Thread yarn through the holes, leaving a long tail. Write the name of your plant variety on the white part of the lid with the permanent marker. Tie the loose ends of your twine around stakes, tomato cages, trellises, etc. to keep track of your plant varieties. I use bamboo stakes at the beginning of each row for things that don't need support. Things like tomatoes or peas that have trellising, simply get markers tied to their supports.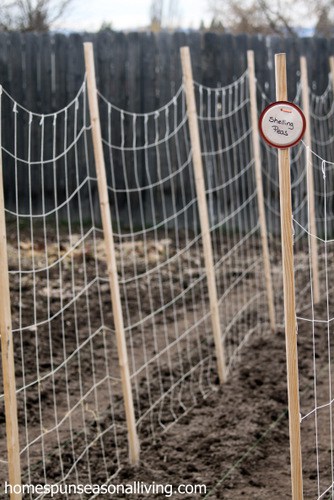 If you're interested in using canning lids as plant markers but don't want to use an awl to punch holes or allow it to be a project safe for kids, check out this tutorial from Untrained Housewife.
As you're eating your way through your pantry, I hope you'll consider saving those lids and making some upcycled canning lid plant markers to keep track of all those amazing plants in your upcoming garden!
Disclaimer: I may receive compensation for products mentioned in this post. All opinions expressed are my own. I am not a doctor, always seek trained medical advice. No statements should be considered approved by the FDA or as a diagnosis or treatment for any illness. See my Full Disclaimer Here.