As we work our way through the summer garden abundance, there's a lot of preservation work happening. There's the traditional canning, dehydrating, freezing, jam making, etc. going on but there's also some whole meal and dessert preservation being accomplished as well. It's a great way to preserve the harvest and prepare for quick meals later on at the same time. These types of preservation tasks also help take advantage of the smaller bits of produce coming available at any given day versus large gluts that need immediate attention. In case, you're looking for ideas here are 5 more ways to preserve the harvest: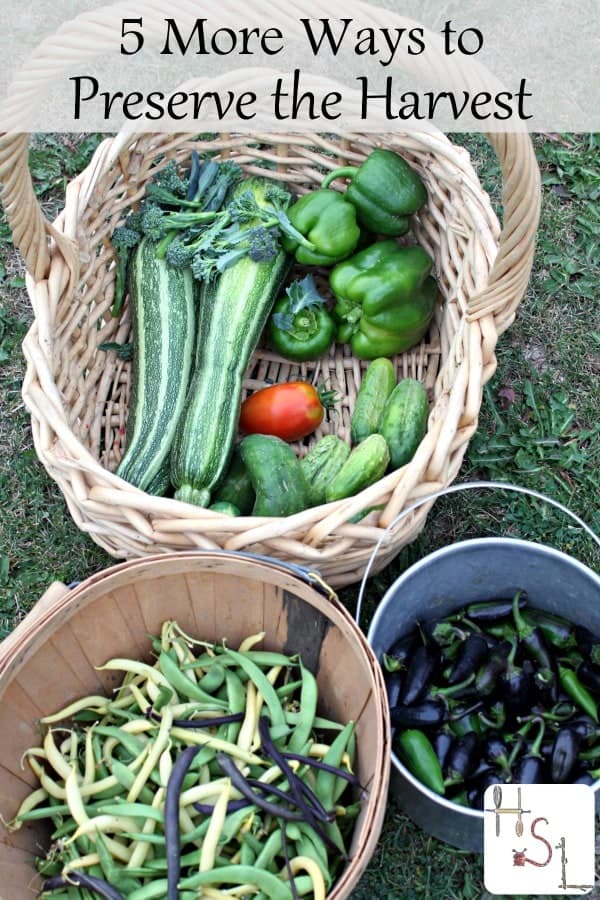 1. Freeze Fruit Pies
If you've done some berry foraging or just harvesting fruit in your own backyard. Make two pies, one to eat now and one to freeze for later. Frozen fruit pies in the middle of the winter is a little slice of heaven. Think of the time savings at the holidays. Make those pies now when the fruit is super fresh and just thaw and bake at Thanksgiving.
2. Make Ahead Freezer Meals
Make a vegetable lasagna from all those garden or CSA veggies, heck make two. Freeze one for later and eat one now. I make cabbage rolls and freeze the rolls in dinner size portions in plastic bags for later. The possibilities are endless here and obviously can be suited to your family's tastes.
3. Can or Freeze Soup
I, personally, don't eat a lot of soup in the summer. I do, however; make a lot of soup and can it for the winter. I use up all the bits of the garden produce that I just can't keep up for jars full of mixed vegetable soup. You can add meat or not to these soup batches and again it makes for a quick winter meal. If you don't have a pressure canner, freeze it in jars for the winter. Simply let the jars thaw, then dump into a pot to reheat.
4. Smoothie Packs
Toss fresh greens (kale, chard, spinach, etc.) even chunks of zucchini into freezer bags with some fresh fruit in the amounts you would use to make a smoothie. When you're ready for a smoothie, you can just toss the entire container in a blender with yogurt or water or juice and blend until smooth. Garden fresh even in a blizzard.
5. Baked Goods
When making muffins or breads, make a double batch and freeze those extras for quick morning breakfasts. Wrap muffins individually and just pull a few out of the freezer before bed for a home-baked breakfast on the go in the morning. Great for those days when you know the day is going to be unusually hectic or busy. This is a great way to use up things vegetables like zucchini or carrots and of course most any fruit in quick bread, muffins, even cookies.
What's one of your favorite ways to preserve the harvest?