Fresh sweet cherries are a joy of the summer season. Thankfully, there are easy ways to preserve sweet cherries for the rest of the year. So stock up when you find a good deal and use those jewels for tasty preserves and gift giving too.
1. Brandied
Obviously this is an adult only treat but brandied cherries is one we enjoy quite a bit and making them is super easy.
[mailerlite_form form_id=3]
Fill hot canning jars with cherries (pitted or not), leaving 1/2″ headspace. Add 1/2 teaspoon raw sugar to half-pint jars, 1 teaspoon to pint jars. Top the jars off (leaving the 1/2″ headspace) with brandy. Put on lids and rings and process in a boiling water bath for 10 minutes. Store the jars in a cool, dark cabinet for at least 1 month (longer is even better) before eating. Use a cheap brandy here, no need for the good stuff.
These make for great gifts. Can them now and they're ready for the holiday gift giving season. We pour the brandied cherries over cake and ice cream or simply munch on them and drink the cherry infused brandy as an after dinner cordial.
2. Canned
We pit the cherries, first and then process quarts of them in an extra light sugar syrup. Extra light is 1 1/4 Cups of Sugar to 5 1/2 Cups of Water. You could, of course, use a heavier syrup if you so desire.
You also don't have to pit, though the cherries might crack in the canning process. It's just convenient for us to pit prior to canning. I always raw pack cherries because I find that easier but hot pack is for sure doable, if you're inclined to do it that way.
Cherries should be processed in a water bath: raw pack pints & quarts for 25 minutes and hot pack is 15 minutes for pints and 20 minutes for quarts – adjust for altitude. We quite literally just drain off the sugar syrup and eat the cherries straight from the jar all winter long.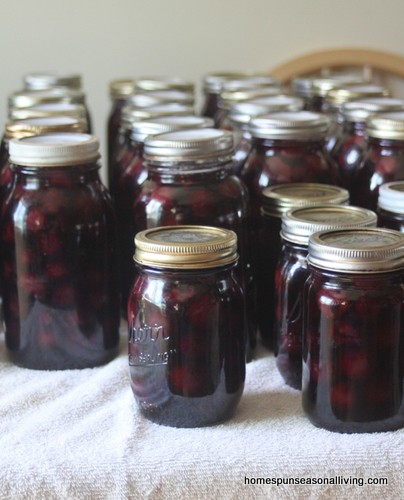 3. Frozen
Place pitted cherries in a single layer on a baking sheet and place in the freezer for 2 hours or until frozen. Remove from the tray and store in bags or jars for the long term. Freezing them on the tray first prevents them from being one giant lump that is hard to separate without thawing the entire container at once. This way you can scoop out just what you need for a recipe and put the container back in the freezer for another time.
These get used in smoothies and fruit crisps in our house.
4. Dehydrated
Obviously, fresh cherries can just be pitted and placed in a single layer on dehydrator trays and dried. They can take a long time to dry, however. A trick I learned from a local cherry orchard owner: freeze the pitted cherries first for a day (longer is fine), then thaw the cherries completely in a colander in the sink, letting all that excess water drain off.
Dry these thawed cherries in a single layer in the dehydrator. The drying process will go much faster after the water has been released from the freezing / thawing process.
We toss these chewy bits into into oatmeal and baked goods all winter long.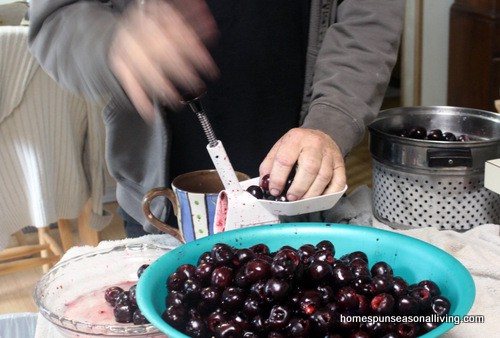 5. Miscellaneous Jams and Sauces
Before we had maple trees to tap, I used to make a lot of cherry conserve that we used as a syrup on breakfast pancakes. I don't make it as much these days but it is mighty tasty and again, a great gift. I love the recipe for Black Forest Preserves in The Ball Complete Book of Home Preserving – cherries, coconut, and chocolate – yes please.
What's your favorite way to preserve sweet cherries?