Homemade chocolate raspberry cake is simple, delicious, and yet so very impressive if serving guests.
Rich and decadent this summer raspberry cake with raspberry cream cheese frosting is sweet enough for kids and yet complex and flavorful enough for adults to enjoy as well.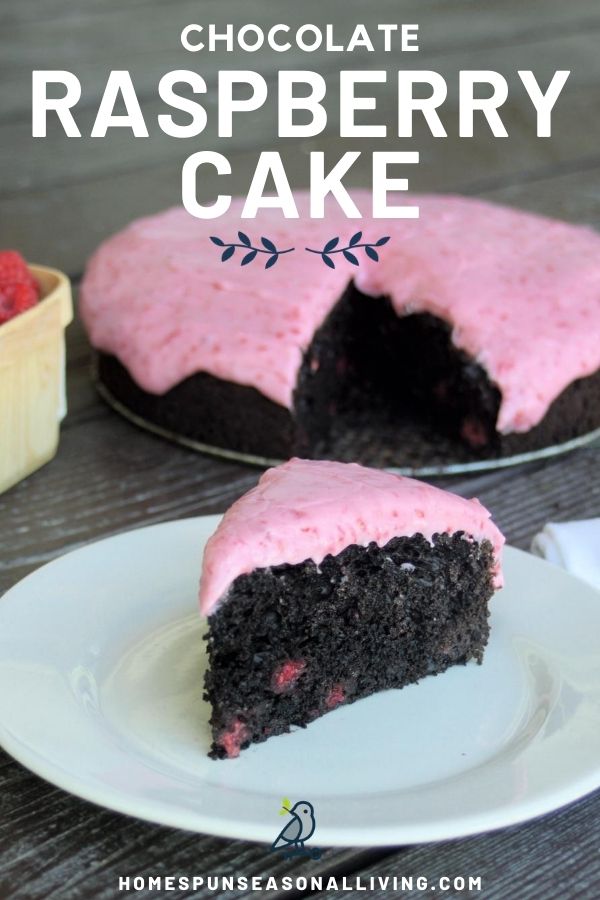 The cake is also a great way to share the fruits of your summer berry picking adventures!
Dark & Rich
The recipe calls for black cocoa which is indeed quite dark and black for a truly dark chocolate raspberry cake. If you're new to baking with black cocoa know that the color and chocolate flavor will be much darker than regular cocoa.
Don't have black cocoa? Use regular cocoa powder just know the results will be less intensely colored than those in the photo.
The contrast between the dark cake and bright frosting truly does make this a beautiful chocolate raspberry cake.
Keep It Simple
The simple ingredients here combine for a very easy chocolate raspberry cake recipe.
Because the ingredients are simple, use the best of everything. Use fresh, sweet, ripe, raspberries, good cocoa powder, etc.
I also kept it in a single layer. So it's a nice slice of cake with some frosting, rather than becoming something exquisitely and thickly frosted.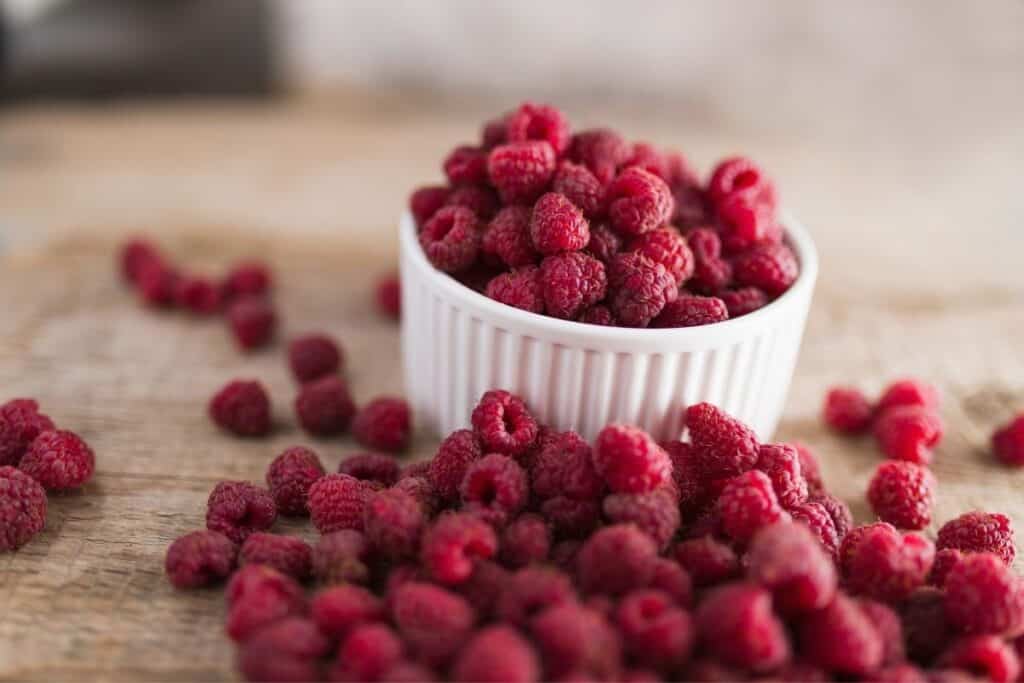 You could opt for a chocolate layer cake by splitting the batter between two 8″ round pans. Check for doneness sooner if you do this.
You could also simply bake in the springform pan and slice the one thick cake into chocolate cake layers.
Mini-Chocolate Chips
The mini chocolate chips almost completely disappear in the baking process. This means you'll get little pockets of flavor but no actual chips to chew or to add crunch to the cake.
One could substitute regular chocolate chips just know they may leave bits of chocolate pieces to chew after baking – not necessarily bad at all, just different. White chocolate chips would also be acceptable and the color would stand out.
Don't have any chocolate chips easily at hand? Skip them, no reason to run to the store.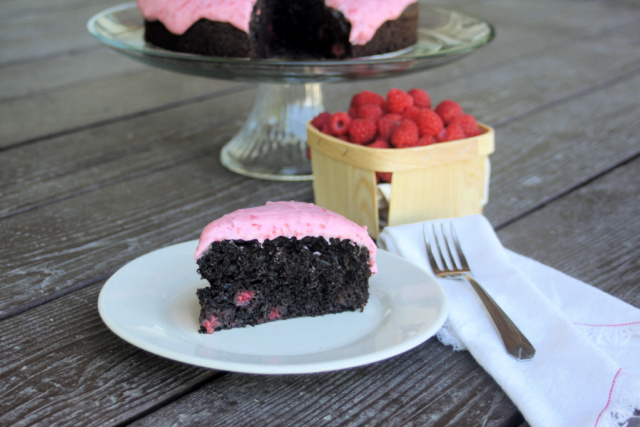 Refrigerate Leftovers
The sour cream, eggs, and berries make for a very moist cake. One that has an incredible texture but will also need to be refrigerated. This is not the best cake to leave sit out at room temperature.
Optional Additions
While the cake is delightful just as it is, there are some other ways to mix it up if desired.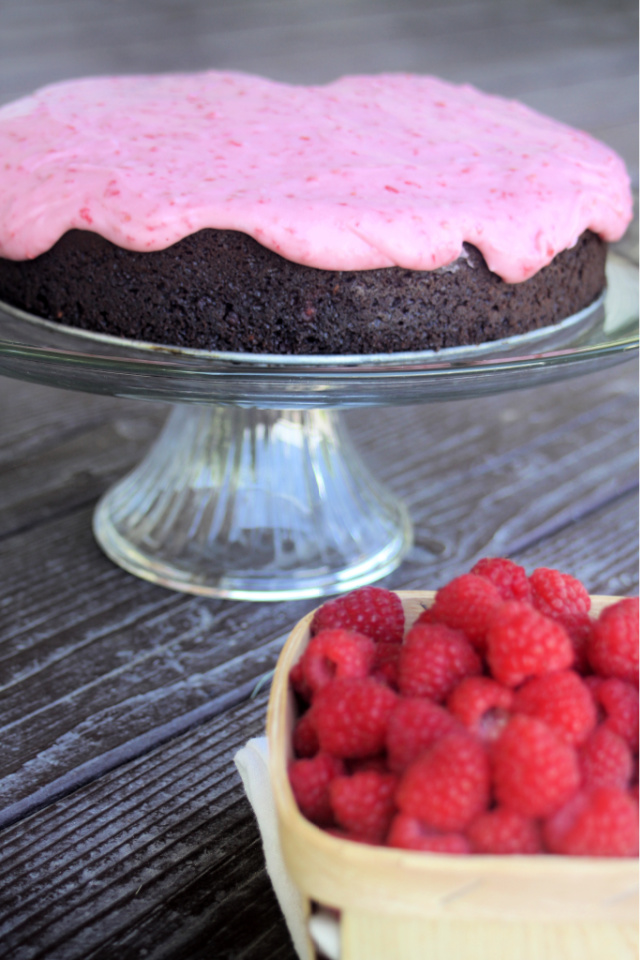 Substitute almond extract for the vanilla extract for a delightful flavor combination.
Add some chopped or slivered almonds to the cake batter.
Frosting Choices
Included in the recipe is a raspberry cream cheese frosting which is a delicious way to top the cake. However, it is not the only option.
Use a plain chocolate or vanilla frosting
Regular cream cheese frosting is amazing
Pour a chocolate or white chocolate glaze over the top
Skip the frosting entirely and drizzle with just a bit of melted chocolate instead.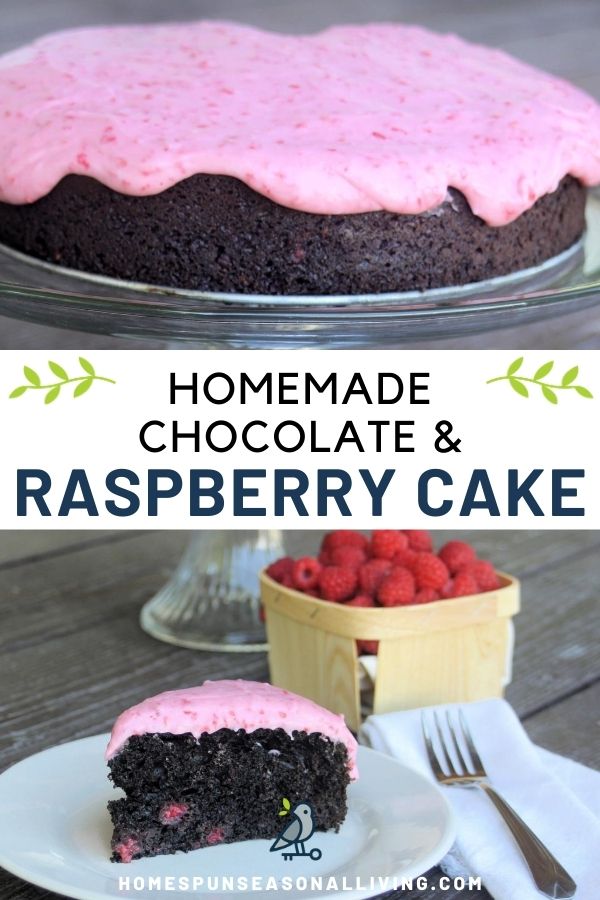 How to Serve
Because the delicious cake is so very rich on its own, simple might be best. Serve slices with a simple hot or cold drink and be done. This simplicity makes it perfect for an easy summer cake dessert.
A bit of vanilla or chocolate ice cream might be nice as well but keep the slices small.
A few fresh raspberries on the side or top of the cake would be nice as well.
While this is a simple cake, definitely use it for a special occasion because it is so lovely and tasty.
Yield: 10 Servings
Chocolate Raspberry Cake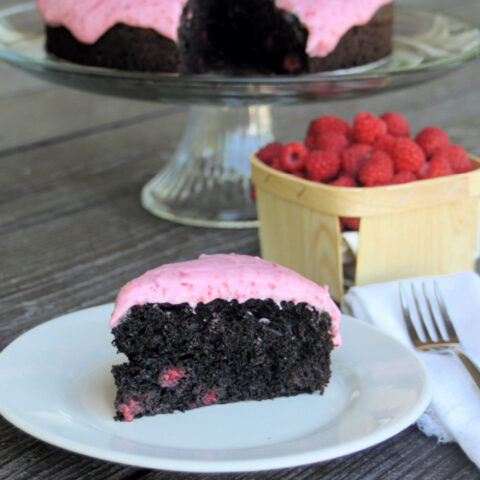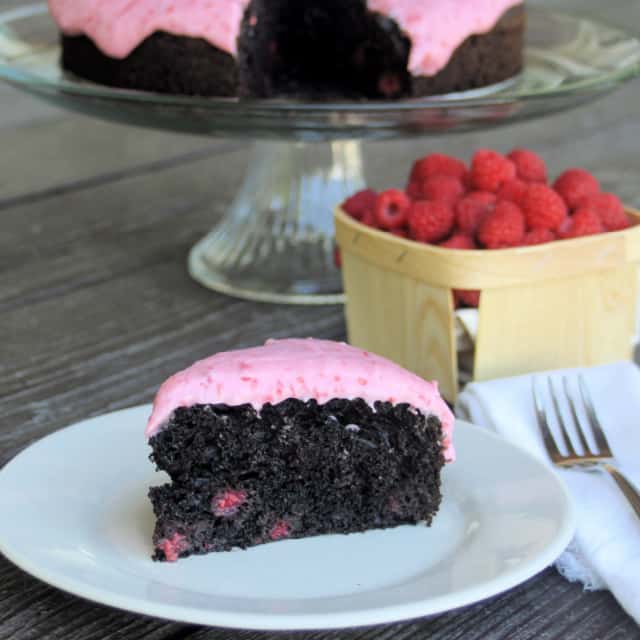 Moist, fluffy, and full of decadent chocolate raspberry flavor this cake is perfect for summer.
Cook Time
1 hour
15 minutes
Total Time
1 hour
35 minutes
Ingredients
Chocolate Raspberry Cake
1/2 Cup Salted Butter, softened
3/4 Cup Sugar
3 Eggs
1 Cup Sour Cream
2 teaspoons Vanilla Extract
1 1/2 Cups Unbleached, All-Purpose Flour
1/4 Cup Black Cocoa
2 teaspoons Baking Powder
1/2 teaspoon Baking Soda
1/2 Cup Semi-Sweet Mini Chocolate Chips
5 ounces Raspberries (1 Heaping Cup)
Raspberry Cream Cheese Frosting
4 ounces Cream Cheese, softened
2 Tablespoons Salted Butter, softened
1 1/2 Ounces Raspberries, pureed
2 1/2 Cups Powdered Sugar
Instructions
Make the Cake:
Preheat oven to 325 degrees Fahrenheit.
Grease a 9 inch springform pan.
In a medium bowl, Whisk together the flour, black cocoa, baking powder, and baking soda. Set aside.
In a large bowl, cream together the butter and sugar until light and fluffy.
Add the eggs and vanilla, beat well.
Add the sour cream and mix until thoroughly incorporated.
Slowly add the dry ingredients, mixing until everything is completely combined.
Fold in the chocolate chips and raspberries.
Pour the chocolate cake batter into the prepared pan.
Bake in the preheated oven for 65 to 75 minutes or until an a tester inserted into the center of the cake comes out clean.
Remove from the oven and place on wire rack to cool for 15 minutes.
Run a knife around the rim of the pan to loosen it from the edges and remove the springform rim.
Allow the cake to cool completely on the bottom of the pan or invert onto a serving plate.
Cool completely before frosting.
Make the Raspberry Frosting:
Cream together the cream cheese and frosting until fluffy.
Add the raspberry puree and mix well.
Slowly add 2 cups of the powdered sugar and beat. Add more powdered sugar as necessary to get a loose but spreadable frosting.
Spread the frosting in an even layer (an offset spatula works great but use whatever you have) onto cooled cake.

Notes
Store leftover cake in the refrigerator.
For the frosting more or less powdered sugar may be necessary, depending on the juiciness of the berries. Trust your instincts.
Nutrition Information:
Yield:
10
Serving Size:
1
Amount Per Serving:
Calories:

504
Total Fat:

24g
Saturated Fat:

14g
Trans Fat:

1g
Unsaturated Fat:

8g
Cholesterol:

111mg
Sodium:

318mg
Carbohydrates:

68g
Fiber:

3g
Sugar:

49g
Protein:

6g
We try our best but cannot guarantee that nutrition information is 100% accurate.