Anxiety and stress happen to everyone. Even on the most physically active days insomnia can rear its awful head. These are normal parts of life. Thankfully, relief can be often be found naturally. Discover rest and rejuvenation with this herbal tea for relaxation.
This herbal tea blend aids relaxation without causing extreme drowsiness. Also, it won't make waking in the morning difficult. Drinking this tea is a gentle remedy for occasional bouts of stress or insomnia without the worry of becoming dependent or groggy for an entire day after taking something stronger.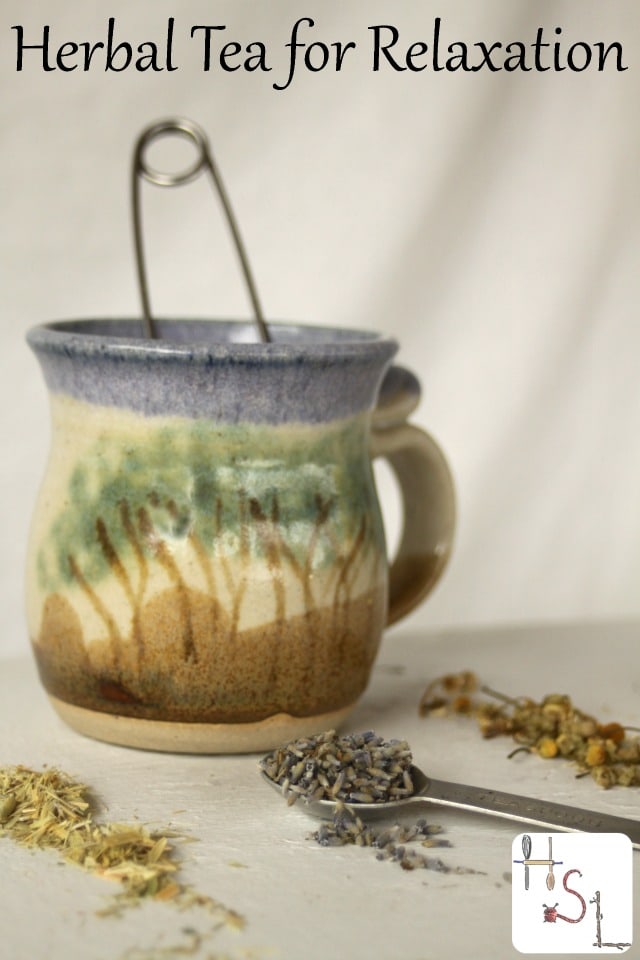 When unwinding for the evening, sit quietly and allow the mind to quiet. Then, drink slowly as a way of calming the body. Sip and enjoy, notice how the herbs effect the brain. After the tea is gone climb into bed or rest.
Oatstraw
Oatstraw is essentially green oats. High in calcium and magnesium oatstraw is nourishing as well as relaxing. Magnesium has been studied for its ability to relieve insomnia. Calcium helps the brain produce melatonin which again induces sleep. Oatstraw is considered a nerve tonic by traditional herbalists. It can be ingested for long periods without side effect.
Lavender
Lavender has long been used to alleviate nervousness and insomnia. The scent alone can help us relax. Sipping it in this tea allows us to inhale the scent while our bodies absorb lavender's soothing abilities.
Chamomile
Chamomile has long been considered a mild sedative. These daisy-like flowers add a hint of bitterness to the tea. Which can also help our bodies digest food before bed.
Sweetener
Sweeten the tea, if desired. Skip refined sugar as it tends to increase agitation. Instead, choose maple syrup or honey. Maple syrup is high in calcium which can aid restful sleep. Honey, too, has the ability to encourage sleep. Both maple syrup and honey provide delightful flavor while adding some more natural relaxation qualities to the tea.
Herbal Tea for Relaxation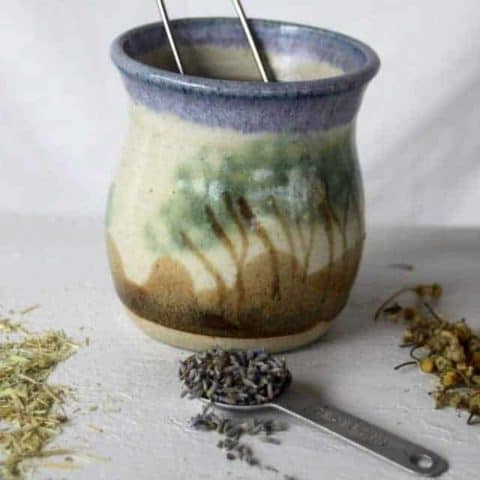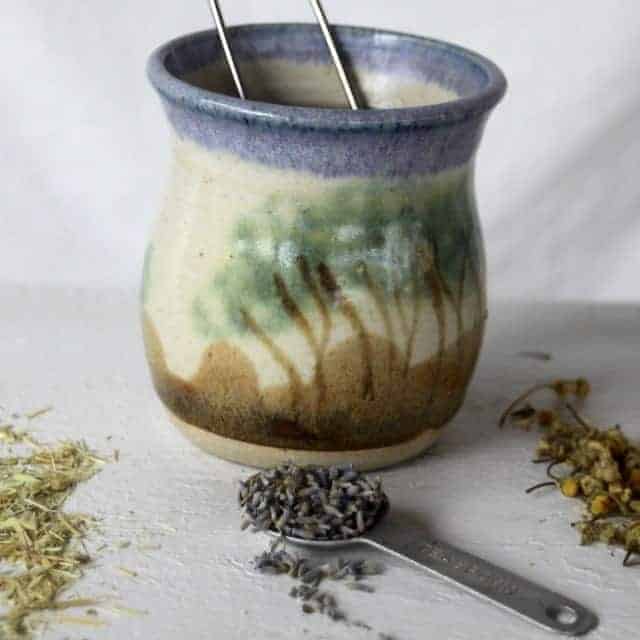 Find relief from anxiety and stress with this herbal tea for relaxation. This tasty blend can also encourage gentle and restful sleep.
Ingredients
1 teaspoon Dried Oatstraw
1 teaspoon Dried Lavender
1 teaspoon Dried Chamomile
Maple Syrup or Honey to sweeten, if desired
8 ounces Boiling Water
Instructions
Combine the herbs in a tea ball.
Place tea ball in cup.
Add sweetener to cup, if using.
Pour boiling water over all. Let steep 10 minutes.
Strain herbs. Enjoy.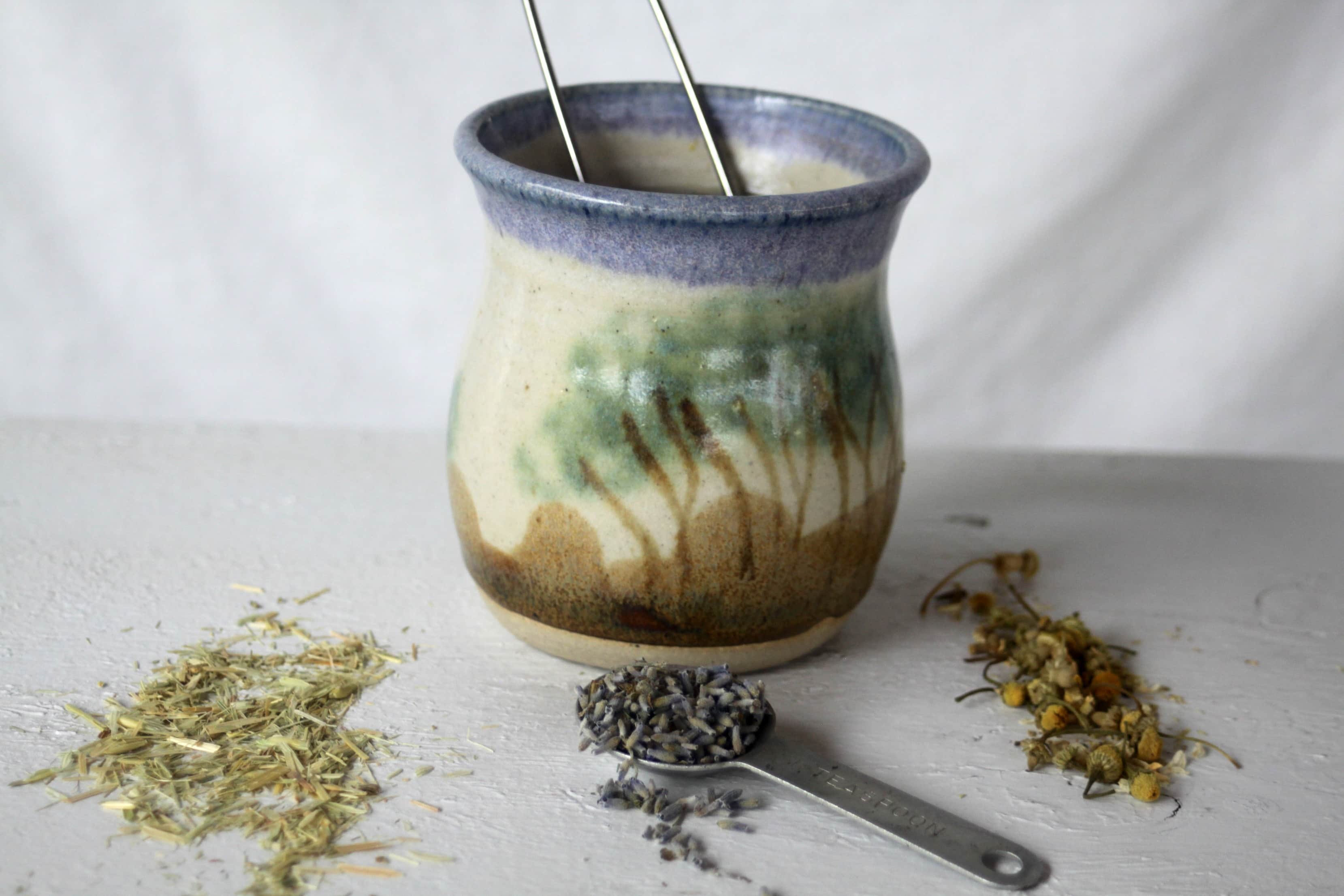 Next time life gets stressed brew a cup of this herbal tea. It won't solve the world's problems but it will calm the nerves. Remember, drink slowly to find relief in this herbal tea for relaxation.
As always, don't use herbs when allergies are present and check to make sure they won't interfere with prescription medication. Talk to a trained medical professional for help.