Elderberry can be one incredible healing powerhouse. When used externally elder can help heal wounds and when taken internally it can help fight colds, flus, and respiratory illnesses. It's being studied as not only for its immune building properties but also for anti-inflammatory and anti-cancer potential. Take advantage of this amazing natural remedy by making a very simple and incredibly useful elderberry tincture.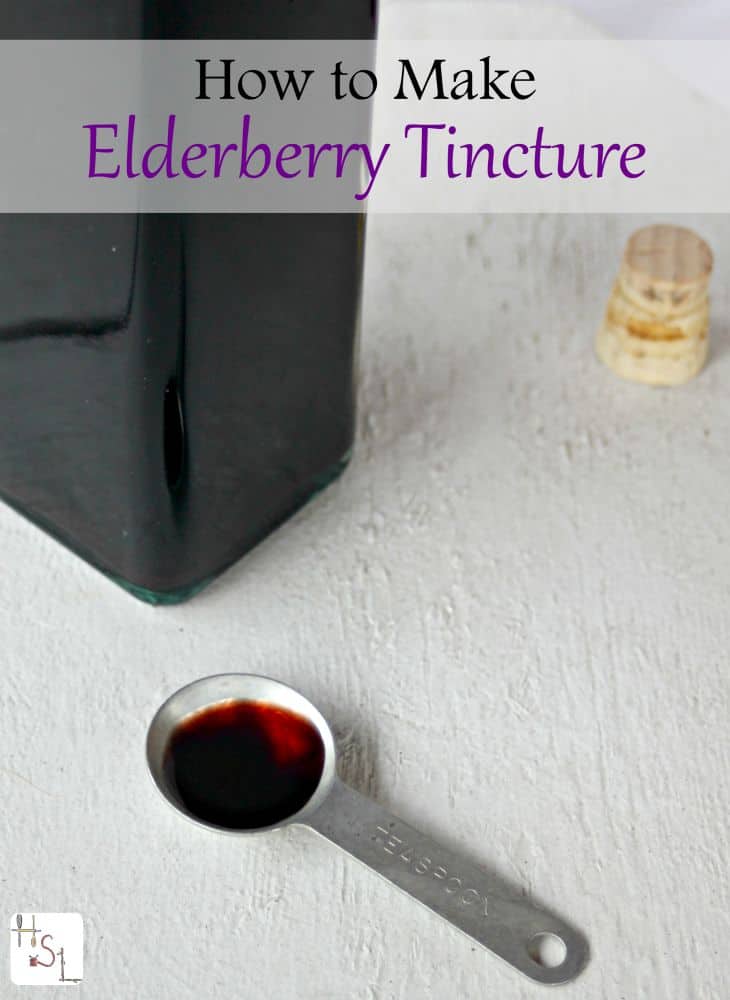 If elderberries grow locally, feel free to use those* but dried elderberries (like those from Frontier Herbs) can also be used. Use the dried elderberries when identification isn't certain or when they simply don't grow locally. The process and results are generally the same and relatively frugal even when dried berries have to be purchased.
How to Make Elderberry Tincture with Vodka
Fill a jar 1/2 full with fresh, washed elderberries (or 1/4 full with dried elderberries). Pour vodka over the berries filling the jar to within 1″ of the top. Put a lid on the jar and place in a dark cabinet for 4 to 6 weeks. Give it a shake every now and then. When done infusing, strain the berries from the vodka and pour the tincture into a clean jar with a tight lid. Store out of direct sunlight, use dark bottles if not stored in a dark cabinet.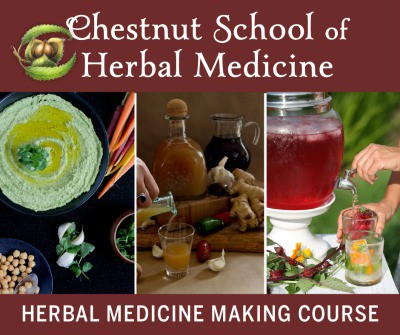 How to Make Elderberry Tincture with Glycerin
The benefit of using glycerin is that it is, of course, alcohol-free and more suitable for children or adults who avoid alcohol. The process for glycerin tinctures are just slightly different than vodka tinctures:
For fresh elderberries, fill the jar 2/3 full with fresh washed elderberries. Give the elderberries a slight crush with the back of a wooden spoon and then pour glycerin over the muddled berries to within 1″ of the top. Put a lid on the jar and place in a dark cabinet for 4 to 6 weeks, giving it a shake every day (or when remembered). When done infusing, strain the berries and store the glycerite in a clean bottle. Again, store out of direct sunlight, use dark bottles if not store in a dark cabinet.
For dried elderberries, some water needs to be added to help the elderberries re-hydrate. A good ratio is 75% glycerin to 25% water. It's easiest to mix this up just 1 or 2 cups at a time. Make a batch with 1 & 1/2 cups of glycerin mixed with 1/2 cup of water and whisk well. Set aside. Fill a jar 1/3 full of dried elderberries, cover with the glycerin / water mixture to within 1″ inch of the top. Give it all a good stir before putting the lid on it and storing in a dark cabinet for 4 to 6 weeks. Give it a shake every day or when remembered. As above, strain the berries and store the tincture in a clean bottle out of direct sunlight.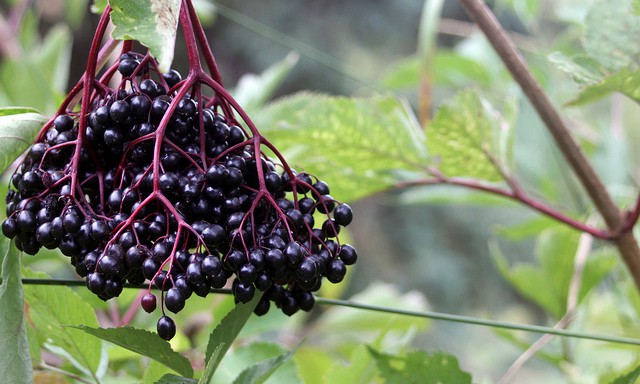 Safety Precautions & Who Should Avoid Elderberry
If struggling with an auto-immune disease talk your doctor or herbalist first as it may stimulate the immune system too much for those conditions. There is much conflicting information about pregnant and nursing women – it hasn't been studied sufficiently so if pregnant or nursing it's best to avoid elderberry to be on the safe side. If you're taking any prescription medications talk your doctor about potential interactions. I'm not a doctor or a trained healthcare professional, please double check all of this information with your doctor or herbalist.
*Please Note – Important Safety Information: Proper identification is extremely important here when foraging – there are some types of elderberry that are toxic, black elderberries are considered safe, but be sure of identification before ingesting. Always cook fully ripe elderberries before eating them. Never eat the green or unripe berries, the seeds, leaves, or stems as a stomach ache is likely to follow at best and other complications at worst.
Using Elderberry Tincture
When a cold or flu feels like it's about to come on, start taking 1 teaspoon of the elderberry tincture 3 times a day. Dilute in a cup of water to ease the burn of the alcohol and make it easier to drink, if necessary.
While elderberry syrup is an amazing natural remedy to have on hand, the making process is a bit more hands on and time consuming when time might be in short supply. Rather than spend time stirring and straining elderberry juice, be prepared for cold and flu season this winter by starting some elderberry tincture now and having plenty on hand in that dark cabinet.