The benefits of oregano tea are many and thankfully its a super easy warm drink to make and enjoy.
Oregano (Origanum vulgare) is a prolific member of the mint family. It's great in pasta sauce, of course, but the oregano plant is so much more than mere food flavoring.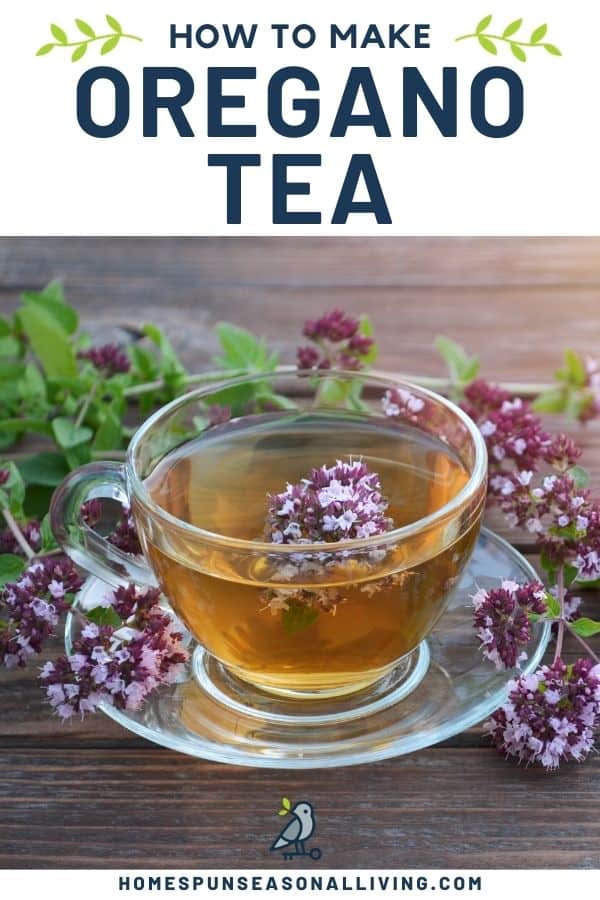 Oregano Leaves or Flowers?
Most fresh herbs are more flavorful when harvested before flowering, for this reason use oregano leaves for your oregano tea.
The flowers do make a lovely garnish and presentation and could be used in a pinch but may not be as flavorful or nutrient packed
Fresh or Dried
Oregano tea can be made with either fresh or dried leaves so use whatever is available.
If you grow oregano, simply dry it in summer to have it available all year long. Just hang bunches away from direct sunlight until crispy. Then remove the dry oregano leaves from the stems and store in airtight containers.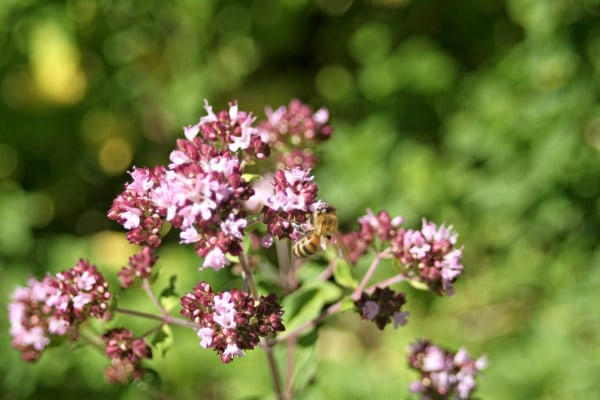 As in the case of most herbs, use 3 times as much fresh leaves as dried. The flavor in the dried leaves is much more concentrated meaning less is needed.
Do crush the leaves slightly when using both fresh or dried to get the most flavor to release.
Simply smash the dried leaves a bit before placing in the tea ball.
Rub fresh leaves between fingers before placing them in the tea ball.
Sweeten, if desired
Oregano tea does have a bit of a bitter taste, that not everyone is going to love.
Like any herbal tea, sweeten if desired. Plain honey or maple syrup will work just fine.
However, consider upping the oregano benefit by making and using some oregano infused honey as a sweetener.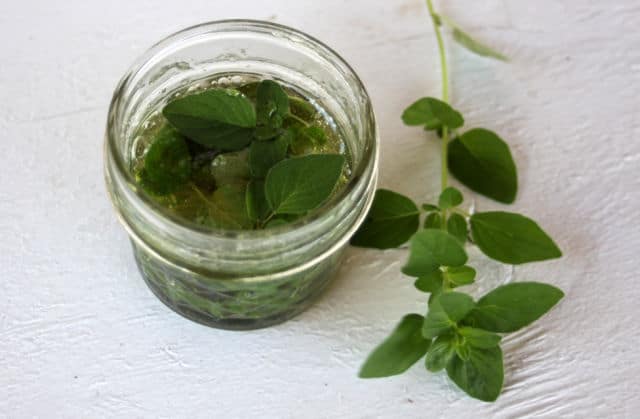 A Simple Herbal Remedy
Herbal tea recipes are likely one of the oldest herbal remedies in human history. A cup of tea is still easy and incredibly beneficial herbal medicine to us even in our modern times.
It can be tempting to think that we need to make tinctures or oxymels or some other more complicated concoction, however don't overlook the simplicity and time-tested benefits of a cup of hot, fresh tea.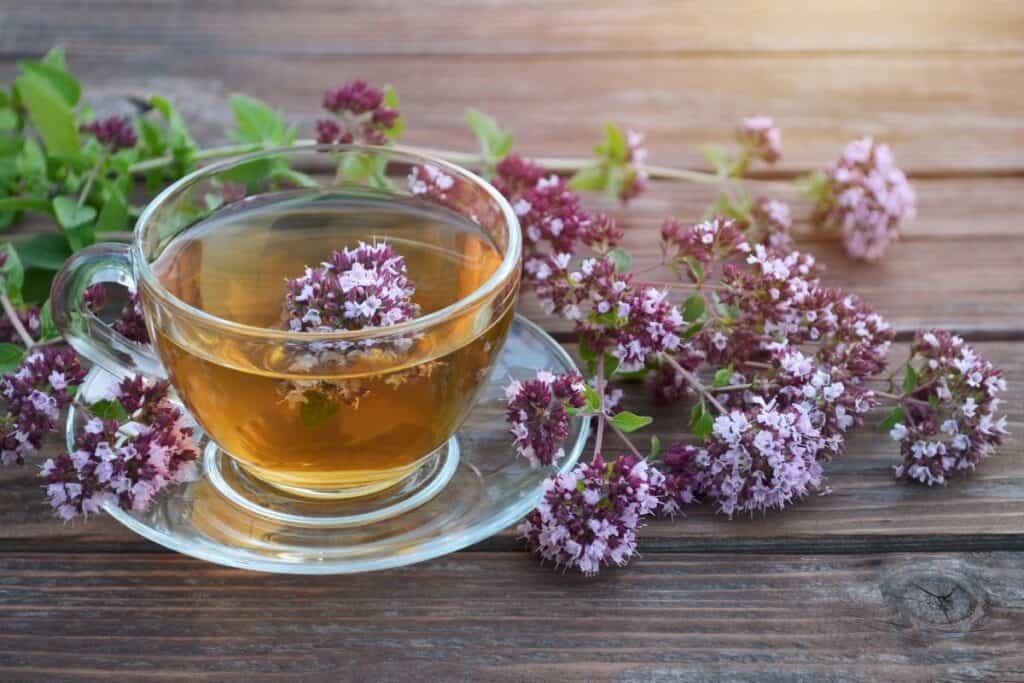 This is nothing fancy and yet can be a powerhouse for a number of ailments and it's on many spice racks as a culinary herb already without having to make a trip to the grocery store or go hunting for something exotic.
Harness the simple power of seasonal herbs in your kitchen and home with confidence – from recipes to remedies and beyond with A Year of Seasonal Herbs.
Oregano Tea Benefits
The medicinal properties of this common herb make it one we should all grab from the spice rack more often.
Oregano contains thymol making it a great expectorant to help ease lung congestion.
It also has rosmarinic acid which can help heal bronchial inflammation. It is for these reasons that it has traditionally been used for coughs, bronchitis, and excess phlegm.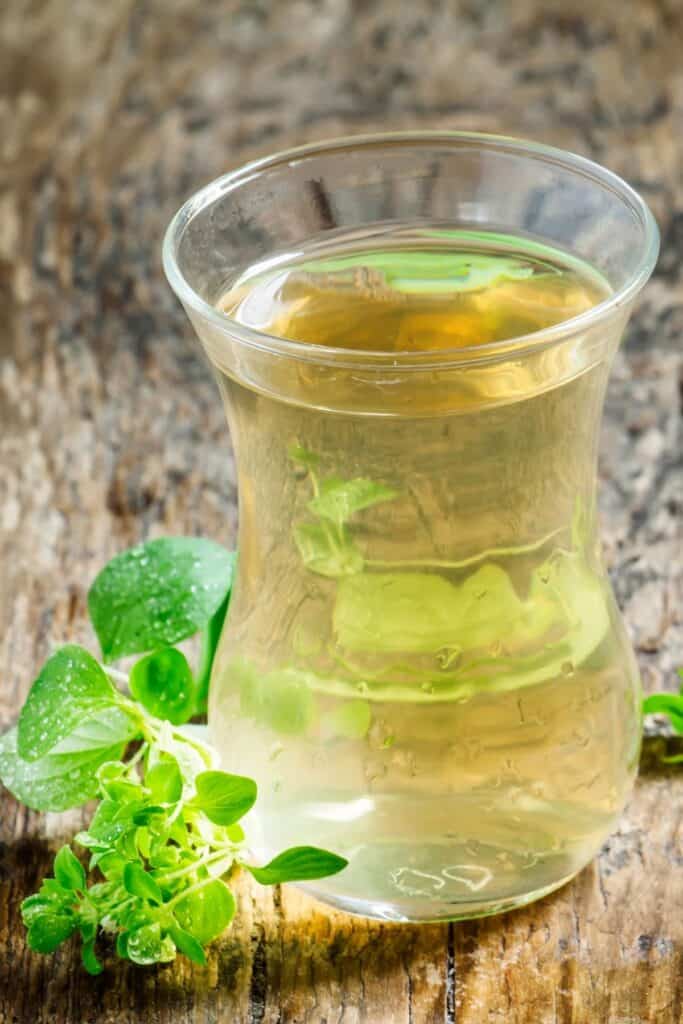 Oregano is high in vitamins and antioxidant properties., We know these things, like Vitamin C, Vitamin A, and Vitamin K are good for the immune system and nourishing the body in a variety of ways.
There is some evidence that oregano tea was used to help with headaches more traditionally making it worth a try to see if it works for you.
Oregano Tea for External Use
Oregano has long been studied for its antibacterial and antifungal properties.
If you're struggling with something like athlete's foot or other fungal infections consider soaking in a strong bath of oregano tea.
Try soaking a rag in lukewarm tea and blotting it on areas of skin irritation.
Traditional vs. Modern Medicine
Much of the research for using oregano medicinally in our modern, scientific culture is done on an oregano extract not oregano tea. Obviously, an extract is a much more concentrated form of the herb.
Does this mean, we shouldn't use oregano medicinally? Not necessarily. Oregano tea has a long history of safe use. Tradition becomes tradition because our ancestors found something useful. Try oregano tea and see if the potential health benefits work for you.
If doesn't, you had a cup of tasty herbal tea – no harm, no foul. If does work, then carry on for yourself.
Cautions
Can someone have too much oregano tea? Maybe… like any herb or substance allergic reactions can occur in rare cases.
As always – double check with healthcare providers about any specific medical condition and for drug interactions before using any herbal in a medicinal quantity. Pregnant women especially should double check with trained doctors, herbalists, midwives, etc.
A cup or two now and then isn't much different than eating it in pasta sauce, but if you're drinking multiple cups daily, it is wise to talk it over with your doctor and/or pharmacist.
Want some other ways to use Oregano? Check out my list of 10 ideas for food and medicine here.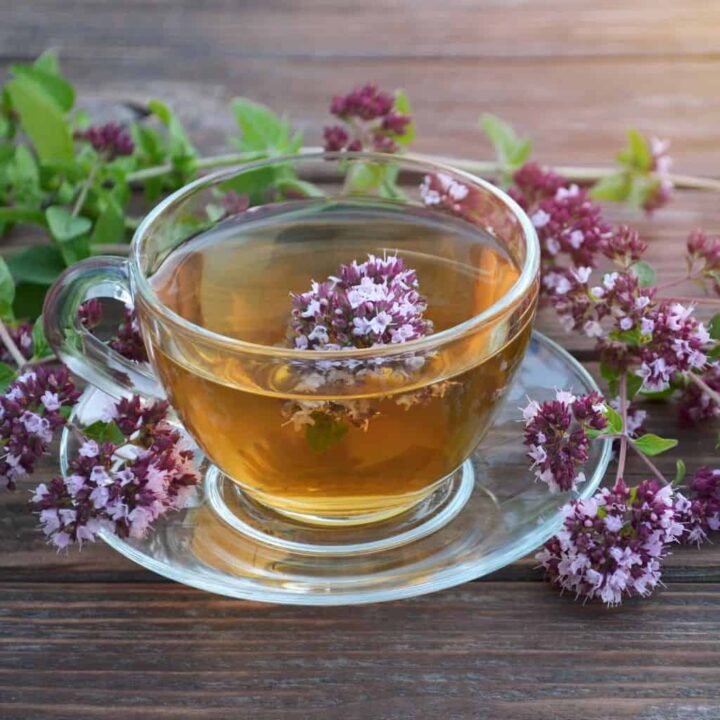 Make a cup of oregano tea for flavor and home remedy use.
Instructions
Place oregano leaves in a tea ball in a cup.
Pour boiling water over tea ball.
Let steep 5-10 minutes or to taste.
Remove tea ball, sweeten if desired and sip to enjoy.
Nutrition Information:
Yield:
1
Serving Size:
1
Amount Per Serving:
Calories:

4
Total Fat:

0g
Saturated Fat:

0g
Trans Fat:

0g
Unsaturated Fat:

0g
Cholesterol:

0mg
Sodium:

10mg
Carbohydrates:

1g
Fiber:

1g
Sugar:

0g
Protein:

0g
We try our best but cannot guarantee that nutrition information is 100% accurate.