If you've ever grown mint, you know it can take over and quickly too. Our mint patch was getting large and unruly and despite attempts to give some away to every single person who has stopped by recently, we had to dig some up. After all the roots were removed from places we didn't want it, I clipped all the greenery for multiple uses. Mint cordial and mint infused honey mostly. There will be more mint harvested later for drying and other uses. If you've ever wondered how to make and use mint infused honey, here are some tips for you.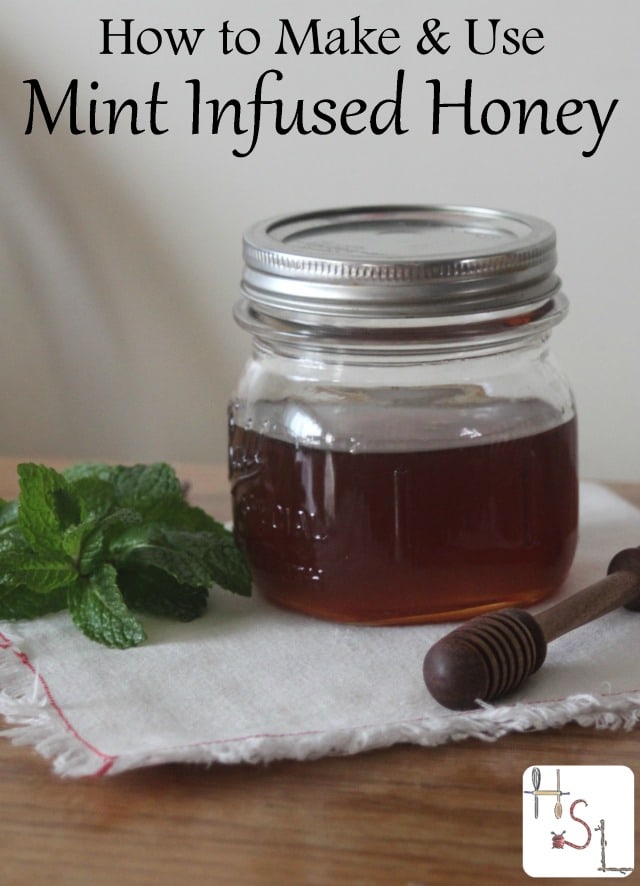 How to Make Mint Infused Honey:
1. Wash and dry your mint leaves. The easiest way to do this is to pull the leaves from the stems and place in a salad spinner. If you don't have a salad spinner, use a large pot with a colander inside. Fill with water and swish the leaves around. Let it sit for 10 minutes or more. When you come back, lift the colander from the water, the soil will have sunk to the bottom. Drain well and spin through the salad spinner or spread out on a towel to dry.
[mailerlite_form form_id=1]
2. Put the leaves into a clean jar. Pack them in so that the jar is 1/2 to 3/4 full. Fill the jar full of honey.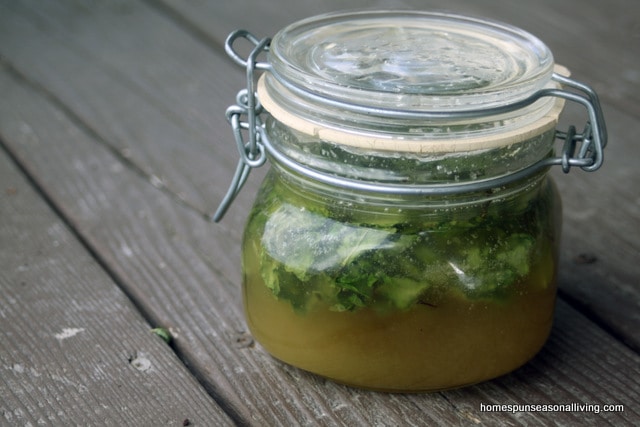 3. Seal the jar with a tight fitting lid and place in a sunny window. Make sure the lid fits tight and doesn't leak. Turn the jar over every other day, doing this will ensure the flavor permeates all of the honey.
4. After a month. Strain the mint leaves from the honey. Store the honey in a clean jar. The leaves are pretty much candied at this point and super yummy to munch.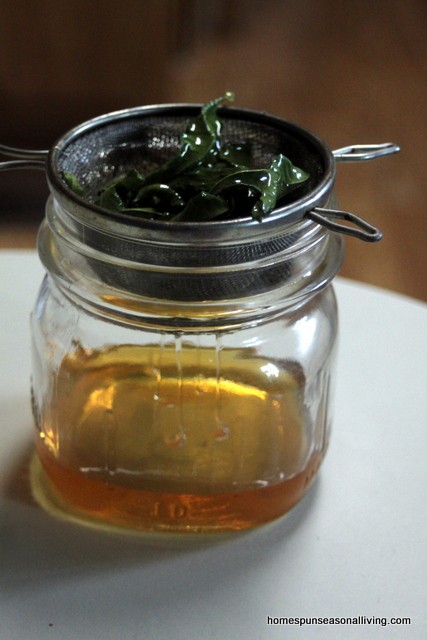 How to Use Mint Infused Honey:
A dollop in a cup of hot tea is tasty. Mint tea with mint honey is a favorite evening drink for me. For women suffering from hot flashes, The Green Witch Herbal recommends mint tea, make even more enjoyable with some infused honey. If you like sweet iced tea, this is a yummy way to go.
Create an energizing hand and foot scrub by substituting the mint infused honey.
Use to flavor baked goods and honey-sweetened jams instead of unflavored honey.
Make a homemade lip balm. I do this all the time and the mint is highly requested from friends and family.
Treat sunburn. The author of The Essential Herbal for Natural Health, recommends harnessing mint's cooling properties for sunburn and honey is a great home remedy for sunburn, why not combine the two?
Have you ever made mint infused honey? If so, what's your favorite way to use it?