I happened across some gorgeous plums. I made jam, we ate a bunch fresh and I made a plum cake. This is an easy cake that is incredibly flavorful and perfect for informal gatherings.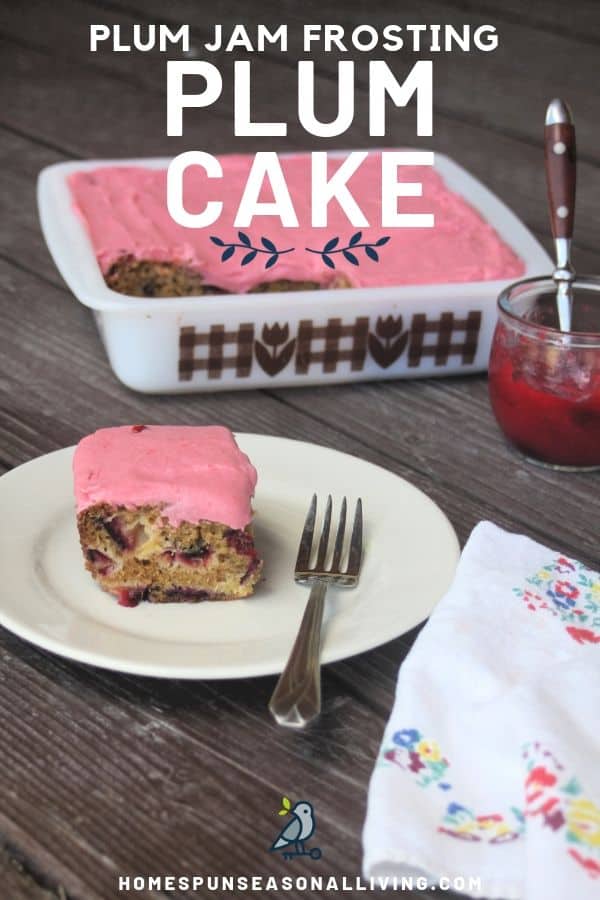 Quick Prep
Because the cake uses melted butter, it means you can get baking quickly. There's no need to wait for butter to soften. In fact, the longest part of the prep in this cake is going to be the chopping of the plums.
[mailerlite_form form_id=8]
If you decide to make the jam frosting, pull the butter out to soften while the cake bakes and cools.
No Need to Peel
I know that in most fresh summer fruit cakes, recipes call for peeling. I, personally, skip it most of the time. It just feels unnecessary to me. However, if you don't like the peel by all means remove them.
Any Type of Plums
I used black plums in this cake but any kind you have on hand will work. Red, prune, yellow, etc. Truly use what you've got and enjoy it.
Simple Yet Elegant
This is a simple cake but make no mistake that it can easily serve as a delightful birthday cake.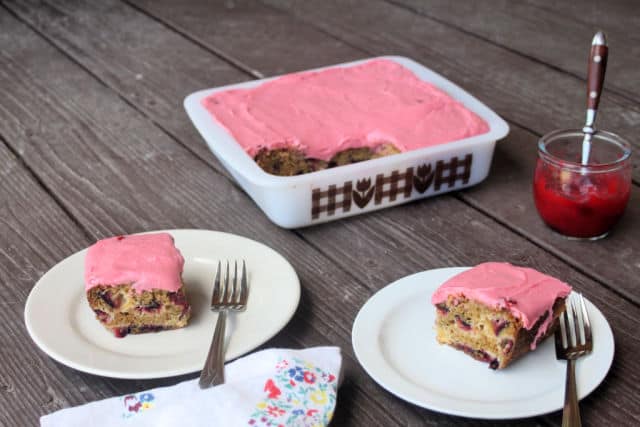 The simple nature of it makes it perfect for potlucks or picnics, too.
Lightly Spiced
I wanted the plums to be the star of this cake. Still a little ginger goes well with plums and so there is just a hint of that in the cake. Skip that ginger completely if desired or go heavier as preferred.
Frosting Options
I had a little extra plum jam and decided to use it in the frosting here. It gives a gorgeous color and extra layer of flavor. A simple vanilla frosting would be delightful as well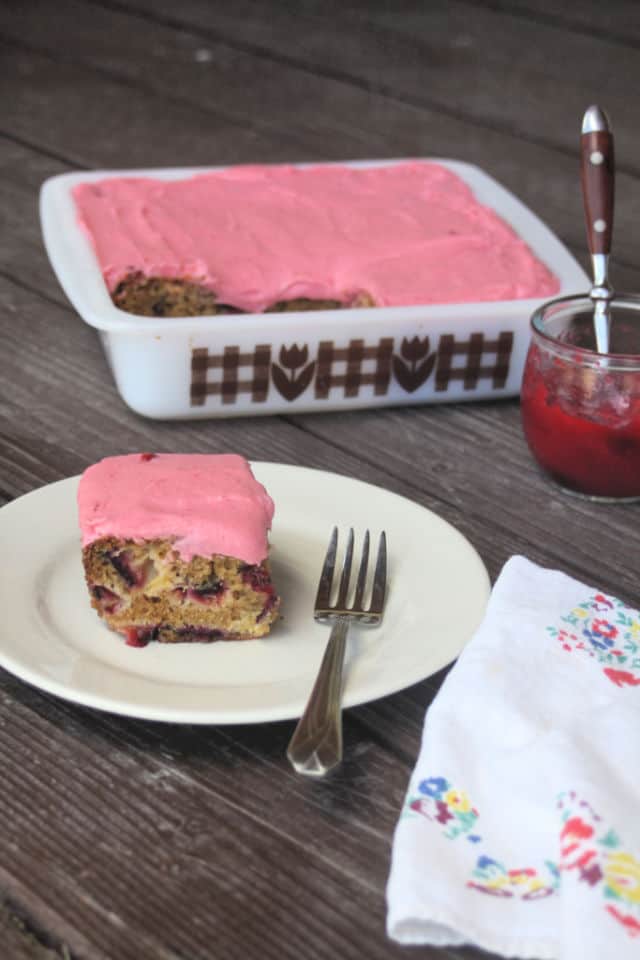 However, skipping the frosting is an option.
A dusting of powdered sugar gives a little decoration without requiring any frosting.
Serve with a dollop of fresh whipped cream or a scoop of ice cream instead of frosting for an even quicker dessert.
Yield: 9 Servings
Plum Cake with Plum Jam Frosting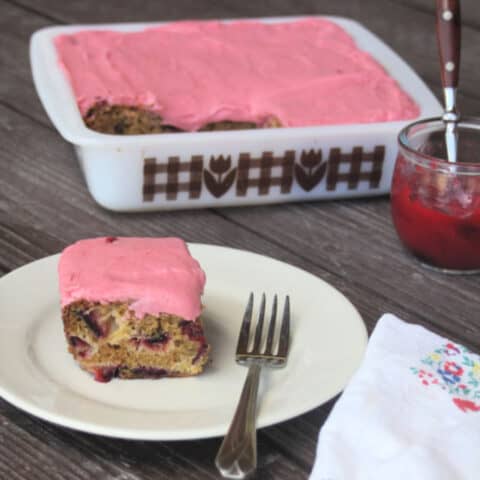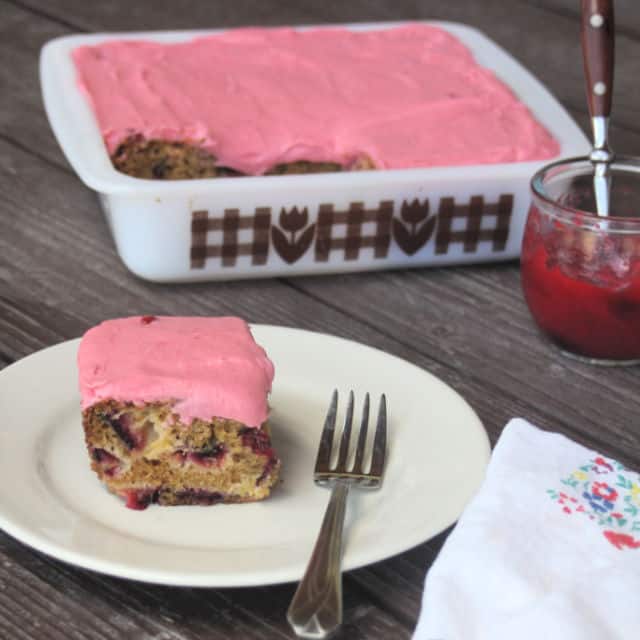 Plum cake is the perfect combination of sweet and tart. It comes together quickly making it the ideal summer dessert to share.
Total Time
1 hour
5 minutes
Ingredients
Plum Cake
1/2 Cup Salted Butter, melted
1 Cup Brown Sugar, packed
1 Tablespoon Vanilla Extract
2 Eggs
1 1/2 Cups Unbleached, All-Purpose Flour
1 teaspoon Baking Soda
1 teaspoon Baking Powder
2 teaspoons Ground Ginger
2 Cups Plums, chopped
Plum Jam Frosting
1/4 Cup Salted Butter, softened
1/4 Cup Plum Jam
2 2/3 Cup Powdered Sugar
Instructions
Plum Cake
Preheat oven to 350 degrees Fahrenheit.
Grease a 9" square cake pan.
Whisk together the flour, ginger, baking soda, and baking powder in a large bowl. Set aside.
Whisk together the melted butter, brown sugar, vanilla, and eggs.
Pour the wet ingredients into the dry and mix well. The batter will be slightly stiff.
Fold in the chopped plums and mix well.
Pour the cake batter into the prepared pan and spread evenly.
Bake in the preheated oven for 40-50 minutes. The cake will brown and an inserted toothpick will come out clean when done.
Cool in pan on a wire rack. Frost, if desired, when completely cool.
Plum Jam Frosting
Beat together the butter and jam until smooth. Add 2 cups of the powdered sugar and beat until smooth.
Add the remaining 2/3 cup of powdered sugar a little at a time until the desired, spreading consistency is reached.
Spread on the top of the cooled cake.