I have been thinking for a while now about balancing modern convenience with simple living. When does that convenience become a burden? When is it time to take a step back from the latest technology in favor of actually simplifying life?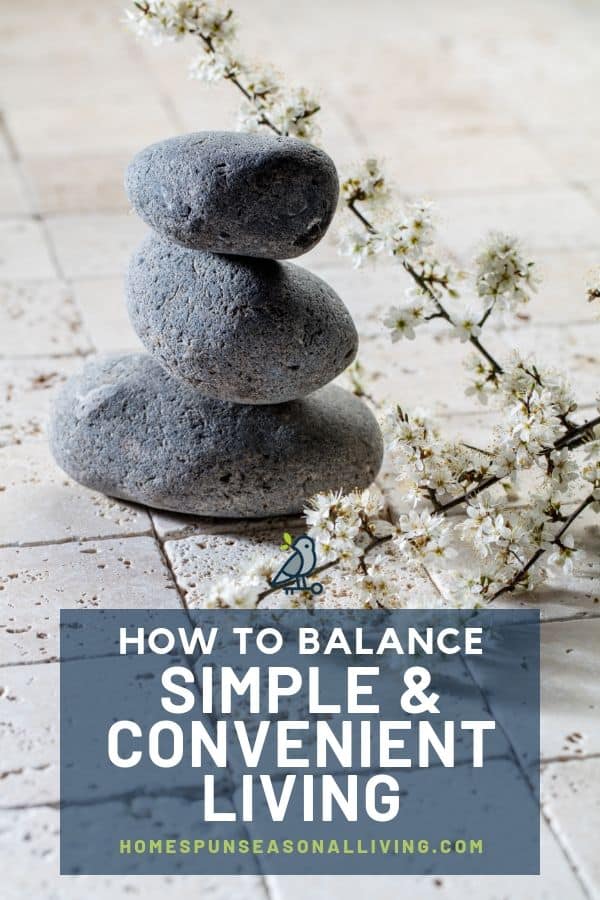 So often those latest apps or gadgets or appliances are marketed as time savers and ways to simplify life so that we can do other things… but are they?
I'm starting to think a great many of them actually take away from rather than add to meaningful lives.
How do we balance simple and convenient living?
When the Washing Machine Needs Wi-Fi
Recently our washing machine quit working. Now, it was the machine that came with the house and we think it was about 21 years old. We were not exactly surprised that it gave up the ghost.
When we started shopping for a replacement (because repair simply wasn't option in this case) we just wanted something simple. We don't need or want a lot of bells and whistles. I was surprised to see that we could buy a washing machine that could be connected to our smartphones.
I mean, I knew of appliances that are connected to smartphones from advertising. Still, I can't figure out why this is necessary or even desired. I mean, someone has to put the clothes in the washing machine and take them out so how much convenience is having an app for a washing machine?
I do not eschew modern technology or convenience. Obviously, I use a washing machine and a smartphone. Both have their place in my productive yet simple life. But I do have to constantly question and pay attention to how that technology and convenience plays out in my life.
How much modern convenience?
Obviously, this is a very personal decision but how much modern convenience do we really need?
I work a full-time job, have this blog and side business, run a home, have hobbies, enjoy spending time with my love and more. Washing clothes by hand isn't something I'm going to do when I can have a washing machine do it for me.
However, it just needs to get the clothes clean, it does not need a wi-fi connection to get that done.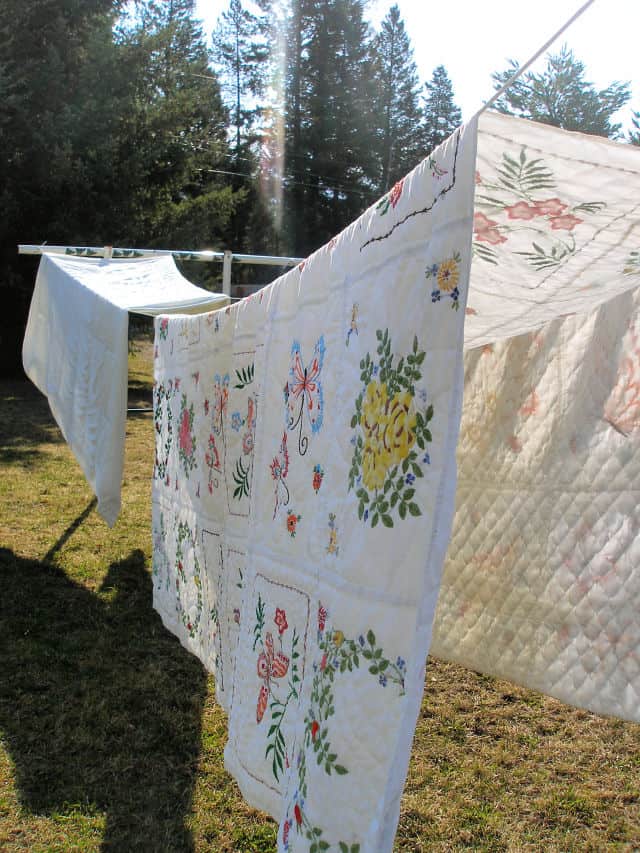 I just want to do my laundry. Sometimes I'm going to hang it on the line to dry and sometimes I'm going to use the electric clothes dryer. I don't need the machines to tell my phone or my phone to tell social media.
Do any of us? Really?
When Convenience Becomes Burden
While some modern conveniences can indeed make our lives simpler – they do not always make life easier or more worthwhile.
It is so easy for us to become slaves to our possessions without even really noticing it.
A washing machine is easier and perhaps more simple than hand washing clothes. In busy lives that require long work weeks. It's a blessing.
And there are plenty of other comparable examples, the washing machine is just my most current.
Anything that requires more time on the smartphone or computer is probably worth a second look. We spend so much time on our screens that it is often hard to disconnect.
It doesn't seem worthwhile to find another reason to pick up that phone or scroll an app. If anything, I'm all in favor of taking breaks from those screens and social media in order to connect with the rest of life.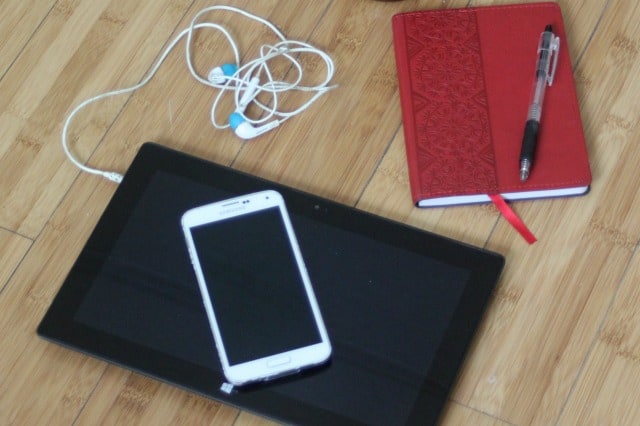 It is so easy for something that seems technologically advanced and cool to become yet another thing that disconnects us from loved ones or the natural world. Suddenly we can't even put our phones down because the washing machine needs us.
That washing machine that does indeed make life a bit easier has suddenly become something else that needs monitoring and tinkering and weighs us down.
Question Everything
Advertising is so insidious as to make us think that we must have the newest technology, the latest updates, and that everything must be connected all the time. And goodness isn't that crazy and stressful?
Advertising surrounds us (it's on this blog, too, after all), but we have to consciously choose how we interact with it. We have to keep our heads and not buy into the hype.
We have to pay attention to the messages that media and well-meaning other humans try to pass on. This apply to traditional advertising (commercials, print ads, etc.) as well as all those gorgeous social media feeds and the well-meaning family member telling us about their latest purchases.
We have to constantly and vigilantly question the need and desire messages put forth from outside.
Is that technology necessary or it wanted? There is nothing inherently wrong with wants as long as those wants aren't distracting from the important things in life. The thing we need to watch out for is mindless consumerism.
Our Choices have Impact Beyond Ourselves
It's also important to remember our wants are not in a vacuum. They have an impact on the planet and other human beings.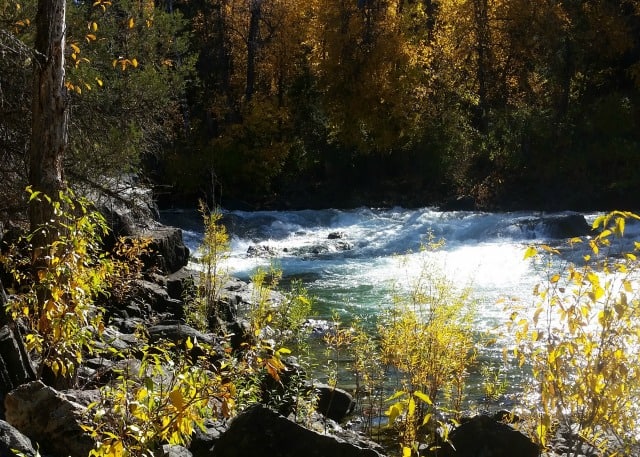 When we want the fancy bottled water (when our tap water is safe and more than fine), for example, that plastic bottle has an impact and we should weigh our decisions accordingly.
I'm not here to preach or judge. Nor am I here to say that we need to do it all perfectly, all the time (no one can and no one does). It's just a healthy reminder, as much for myself as for anyone reading, that choices have an impact.
The Very Practical Financial Impact
It makes very little sense, to me, to spend hundreds of extra dollars on a washing machine just so it can connect to my smartphone. That applies to refrigerators, stoves, and truly any other appliance.
Instead of spending that money on something that feels unnecessary for the job at hand. Why not save that money for a rainy day? Other things will break, cars will need repaired, heck you might want to take a vacation or retire early. Save the money.
It's more than just modern convenience, here of course, frugality is a whole topic in and of itself. But is one of those questions we need to ask ourselves. Is this purchase truly worthwhile? Can the basic (and sturdy) model serve me and my needs / wants just as well?
It's also worth noting that more bells & whistles something has, the more that can go wrong and break. We've lost sight of repairing things because it gets too expensive. 'Dumb' appliances can often be repaired for less cost than buying a new one but it's harder & harder to find because companies, of course, want us to buy and increase their profits.
Choosing Intentional Simplicity
So how do we balance wants, needs, voluntary simplicity, and modern convenience? We have to choose and focus on sustainable simple living. And that requires careful thought and reasoning that looks a bit like this:
Is having a washing machine a need or a want? A want (after all I could hand wash).
Does having a washing machine make my life easier and/or simpler? Yes it does because of work and other modern life duties / hobbies.
Can I live the with impacts it causes on my fellow human beings and the planet? Yes, especially by choosing a high efficiency model that will hopefully last a long time.
Can I get away with the most basic model or do I need high-tech? Basic washing machine that simply washes clothes well.
Can I afford it without debt? Yes based on basic models
The washing machine analogy could just as easily apply to any other purchase. Think of smart speakers, for example. It's a want – no one *needs* a smart speaker to survive or even enjoy life. The answers are, of course, individual but deserve careful consideration.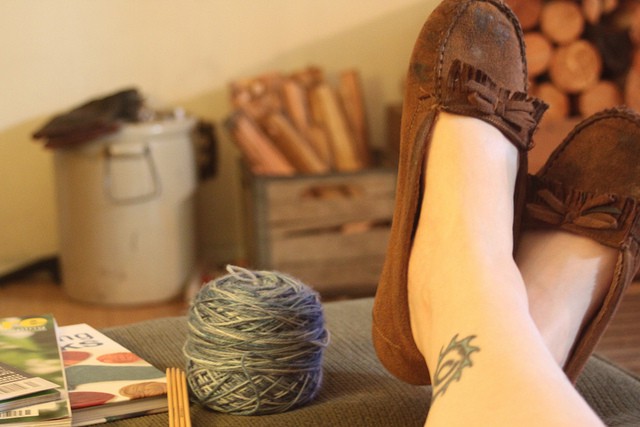 It might feel like a long process but just taking the time to slow down and intentionally consider them will likely stop impulse purchases bought on by fake need felt from advertising. This ceasing of impulse purchases inherently means a focus on intentional choices and living which will lead to a more calm and simple life overall.