There's something uniquely special about actual mail in this very modern age. An envelope with a carefully selected card tucked inside with a hand-written note, a package full of carefully chosen or meticulously handmade items – these things touch us in a way an email or box shipped from an online retailer cannot. Shipping can get expensive, however; especially when we consider anything more than an envelope. It is the price of shipping combined with filling a care package that can often stop many of us simply because it's more than the budget can withstand no matter how much we'd like to spread a little mail cheer. The art of the frugal care package seems to be a bit lost in this day and age but it can easily be revived in all of our homes with just a bit of creativity and a lot of love.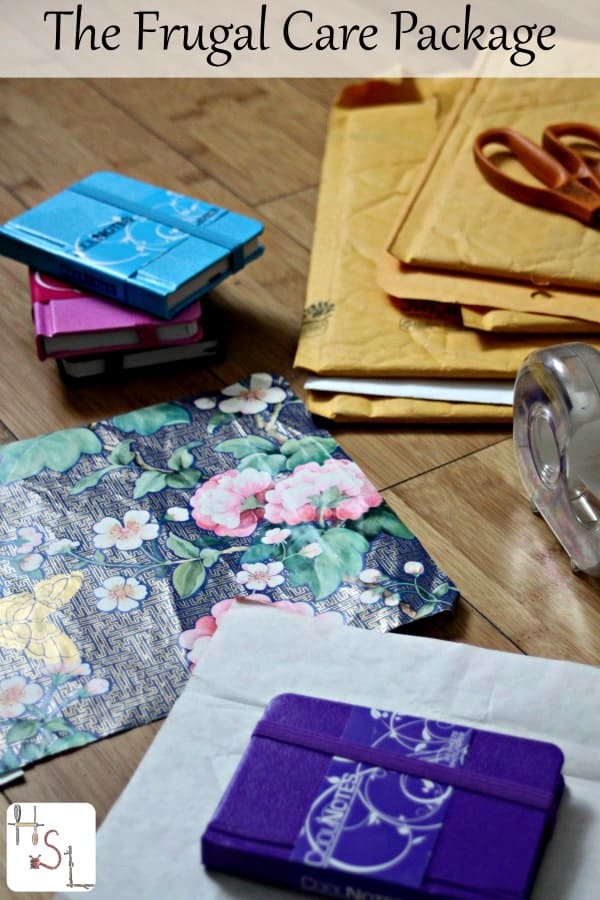 The 1-Stamp Care Package
Forget visions of cardboard boxes filled to the point of bursting with homemade cookies, books, clothing, toys, and more. Go simple – love isn't about stuff, it is about the expression of that feeling, send love in a way that makes the most sense to you and the recipient without stressing the pocketbook.
A nice card (don't forget to look at the thrift stores or dollar stores for deals), even a plain piece of paper with hand-drawn illustrations and a note of love goes a very long way in encouraging and uplifting someone. A small pack or a sheet or two of stickers can easily be mailed in an envelope for 1 stamp. Even those sheets of temporary tattoos for a child can fit well. A packet of small seeds (think tiny like radishes or herbs not peas or beans) can usually go into an envelope without extra postage. A bookmark either purchased or hand-made fits into an envelope that can be mailed for 1 stamp (skip bookmarks with a tassel to keep the envelope flat).
The 1-stamp care package can be done quickly and easily for someone recovering from an illness or just needing a little boost. The cost usually fits in most budgets now and then, too.
Frugal Fillers for Large Envelopes
If the budget allows for a bit more than 1 stamp consider filling a padded envelope with small items for a slightly larger package. Consider items like:
A favorite candy bar
Several seed packets, including larger seeds like peas and beans
A pack of pens, pencils, or markers
A thin, paperback book, magazine, or comic book
Homegrown & dried herbs packed into plastic bags
Handmade items like knitted or crocheted wash clothes, knitted hot pads, fleece hats, etc.
To increase the surprise and delight factor, consider wrapping everything in the package in pretty paper. Use bits of leftover paper or even the comics from the newspaper. Again, search the thrift stores and dollar stores for bargains here, don't let pretty paper become a budget breaker. If budgets are especially tight and even newspaper can't be found, skip this step it's not that vital – remember it's the expression of love that's important.
Frugal Mailing Tips
When large envelopes get too thick, the post office considers them packages meaning the price goes up. Keep the envelopes under 1/4″ thick, make sure it's not rigid (that it can be bent), and finally keep it under 13 ounces so that it can be considered a large envelope and not a package.
Reuse padded envelopes that are sent to you. Make sure to cover up any bar codes or other bits of addresses on there, it's easy enough to just tape a piece of scrap paper over it and then place your own mailing label over the top. This ensures that package will arrive to the intended recipient.
Take some time this late winter as the February days grow long to put together a frugal care package or two. Use these days to spread some cheer without breaking the budget. I'm willing to bet the cheer will be doubled as the mere act of putting together a care package has a tendency to bring joy to the sender and the receiver.