We've all heard it, probably all said, "Waste Not, Want Not." It's true, of course, especially in lean times that if we don't waste, we're unlikely to want later on. But it's more that, that little tid bit of old-fashioned wisdom can be a huge key to making our budgets work and creating a homespun, simple lifestyle. Think of it as waste not, want not frugality – a path to help change our mindsets about money, budgeting and likely gratitude.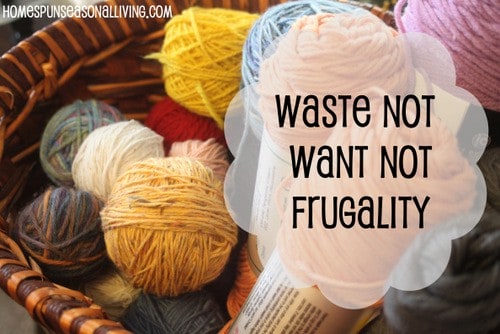 The idea of reusing and re-purposing objects, while very much in fashion right now because of the whole green movement, is in reality a very old fashioned practical idea brought about from limited resources and need. I venture to say that people are feeling the pinches of limited (and expensive) resources and need today as well. Let's apply some waste not, want not philosophy to common items:
Food – I know there are people who don't like leftovers, get over it, find a way to turn leftovers into food you like. The mere idea of having enough food for leftovers to exist, must seem extravagant to a good percentage of the world, and throwing it away must just appear arrogant. If you don't like leftovers and can't figure out a way to like them, learn to cook in such a way that you don't have them.
I'd venture to say that soup is the original leftover food – its so easy to throw bits of leftover meats, veggies, and grains into a pot for a simple, healthy, and hearty meal. Other ways to use leftovers that will help cut your grocery bill include: saving bread crusts, heals, stale bread in your freezer for those holiday stuffings, saving meat bones to make soup stocks, putting food in the freezer before they go bad, and much more. If you do have some food spoilage, compost it. You've just re-purposed your leftovers into free wonderful fertilizer.
Money – Waste not, want not applies to our spending habits too. Research major purchases so that you get the most bang for your buck. Learn to negotiate and haggle to make those pennies go further. Resist impulse spending on items that provide you no return beyond the initial high of buying something. Put your money in a high yield savings account or other investment so that it is working for you.
Household products– Make it a habit to pour water to bottles get the last dregs of the laundry soap, dish soap, shampoo, etc. out of those bottles, if you're not already making your own. It is amazing how much useful material is left clinging to the insides of those bottles and even diluted how effective they are at their intended purpose. Learn alternatives to expensive cleaning products, cream of tartar (buy this in the bulk section of your health food store, not in the little spice jar to get the most bang for your buck) is a great porcelain cleaner and cheaper and much less toxic than the porcelain cleaner sold at the grocery store. Vinegar can clean most anything as well as any store-bought cleanser. Put those little bits of soap into muslin bags and use it up. Don't throw it away, that's throwing money away. Ban disposable products from your home – It's much like throwing money in the trash. Learn to use cloth rags instead of paper towels, handkerchiefs instead of tissues, cloth pads instead of disposable, etc.
Fix, don't toss – Learn to mend clothing instead of simply throwing it away. Try to fix things that break before replacing it with something new. Sometimes we need professional help, get it and support your local repairman before buying something new. I understand sometimes it is cheaper to buy new than get something repaired, but make every decision on a case by case basis.
Supplies – All those bits of craft supplies, garage items, etc. have a purpose. I'm not an advocate of clutter for clutter sake, but there is value in the last few feet of yarn. It might not be used in a knitting project but it can be used as ribbon on a gift or used to tie up tomatoes. Odd screws and bolts, you might not need it today but if you can keep a little stash it might come in handy when something breaks, preventing a run to the hardware store later to buy it more expensively and waste time.
Most importantly, pay attention to the waste you create. It's in the awareness of what you're doing that allows for and creates changes. Once you start noticing what you're wasting, you can begin looking for ways to cut that waste from your life and pocketbook.
Have a waste not, want not tip? Please share it with us in the comments.
[sc:Useadsenselarge ]