It started more than 12 years ago, I realized we were not eating all that well and were always wandering around after work, asking each other "what's for dinner?" or "what are you hungry for?" Once I started mapping out the week's meals, we ate better, spent less money, and had a little more time in the evenings. It seems like a lot to get from a simple meal plan but I promise its true. Knowing what we'll be having, means less quick trips to the deli for something less than healthy, less trips to the supermarket for last minute items means less money spent on food and gas, and knowing what to cook and having it ready means meal cooking time is quicker giving us more time to enjoy and relax in the evenings. If you're looking to start or clean-up your meal routine here are 10 tips for better meal planning.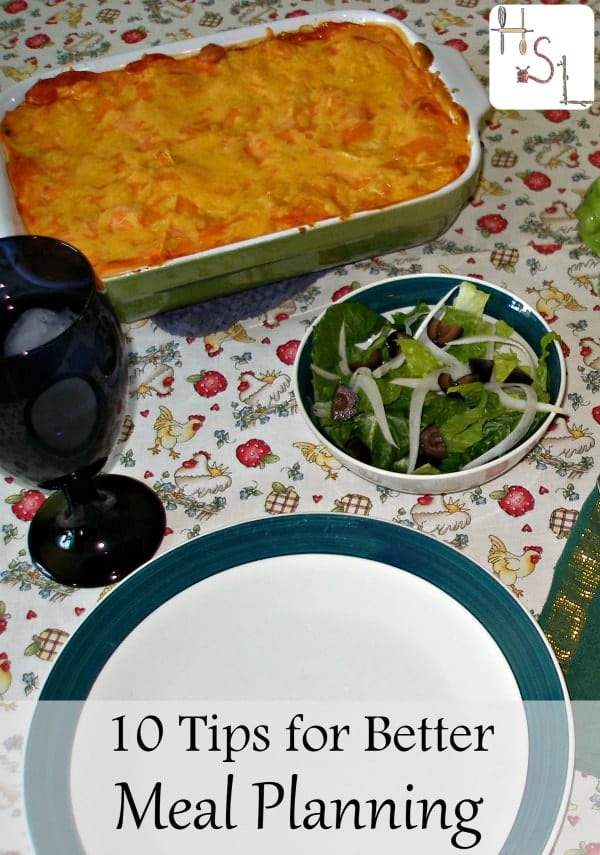 1. Keep It Simple
My meal plans are simple. We have a rotation of food styles with varying recipes. What I mean is that we have simple themes: Mexican, pasta, stir-fry, pizza, soup, salad, etc. There are plenty of meals that include roasted chicken and a jar of veggies. It's nothing fancy and that is more than okay by us. I make sure there's enough rotation so that we don't get tired of any one recipe. I think if you're just getting started with meal planning there's nothing wrong with something like this: Monday is Mexican Night, Tuesday is Pasta Night, Wednesday is Stir-Fry Night, Thursday is Chicken Night, Friday is Beef Night, Saturday is Pizza Night, Sunday is New Recipe Night. I know my grandmother kept a similar plan, spaghetti was always Monday night at her house. Once you get in the habit of planning your meals, you can shake it up a bit more.
2. In Season
My first sources of inspiration when it comes to meal planning is the garden and/or farmers market. What's fresh and in season this week? How can I use those items to make meals we like? During the summer, we eat from our garden first and foremost and ours does provide us with tons of food.
3. In Stock
After what's fresh, I look at what I have on hand. I try to use what's currently stocked in my pantry before going shopping. I keep a well stocked pantry, so it is easier to plan meals. Because our garden is so large, we generally have bunches of food in the freezer, in jars, and dehydrated. I make up large batches of cabbage rolls and freeze them in the summer and fall, these make for great quick weeknight meals. There's usually plenty of veggies on hand for tossing into soup, I can up my chicken broth and make sure to keep rice, quinoa, and other grains on hand for soups and other favorite meals.
4. On Sale
If there's a really good deal on something at the grocery store or from a local farmer, I plan a few meals around that while also storing some for later. At Thanksgiving, I almost always buy 2 local turkeys so that I can have one for meals later on. I always keep an eye out for the "reduced for quick sale" items, too.
5. Leftovers
At our house, leftovers are not only our friends, they are manna from Heaven. I purposely plan for leftovers. Its not unusual for most meal plans to have leftovers included. An example would be: Bean Burritos on Monday & Tuesday and Chicken Soup on Wednesday & Thursday. That keeps planning simple, being that there are only two of us that may be easier than say feeding a family of 6. Although, I think if you're already doing the cooking, just double it when possible. Though if you have two teenage boys to feed, you may never be able to cook enough for leftovers. Lunches are almost always leftovers; in the winter it's pretty much some kind of soup and home-canned fruit everyday; in the summer it's salad and fruit (fresh or otherwise). There are variations, of course, but again I keep it very simple.
6. Quick & Easy
I work outside the home, so weeknight meals need to be quick and easy. I do this through good planning and preparing. I cook rice in the morning before work, for instance, that way I just need to reheat before dinner. I do a lot of chopping, cutting, peeling, etc. on the weekends and keep it stored, that way all that time is saved on weeknights. We always have a chopped/sliced onions and garlic in the fridge. I keep lettuce chopped too for quick salads. I strongly believe that every kitchen should have a slow cooker, they are your friend and will make your meal planning life so much easier. When I'm planning the week's meals, I make special note of any preparations that need done and keep track of that too. I almost always prepare lunches on Sundays. I just pack it up so that all we have to do is grab and go.
7. Variety
I plan for a variety without making it terribly difficult. I do like to cook so I try to plan for a new recipe every week. In busier, summer months a new recipe is less frequent than in the slower, winter months. Again, I make sure to use what's in season to make sure we get a wide range of healthy fruits and veggies, which naturally lends to variety (asparagus is only in season for a short time). This is also when new recipe night comes in handy. It keeps things from getting too stale.
8. Commonality
I don't cook foods only I like or only Jeff likes. If it's going to make it too the dinner table, we both have to enjoy it. Jeff isn't a seafood fan, so I don't cook it for dinner, I eat it when we go out or make something for my own lunches with it. I like pot roast on the first night, but for some reason, pot roast leftovers are something I just can't eat. Jeff eats the leftovers for lunches. I think it is okay to eat what we like without sacrificing flavors and foods we enjoy, but I plan around that by making those items for lunch (which is usually a time we don't eat together). Dinner, to me, should be a conflict free zone. I know, some of us have extremely picky family members, this is a place for them and you to compromise. Ask them to try something new once or twice a week and the rest of the week, you'll cook something you know they like.
9. Record Keeping
I keep a record of our meal plans. This helps for those times when I'm just stuck. I look back and find things to put in this week's plan. I give new recipes "star" ratings, basically if Jeff and I both give a recipe 5 stars, it gets made again, if it received 4 stars, I figure out ways to change it, anything less doesn't get cooked again. I keep these notations in several places: 1) on the meal plan and 2) in the cookbook (assuming I used one), this way I can find again. It's a simple binder, nothing fancy, with the most recent plan on top. I keep about a year's worth and toss the older ones, doing this helps me plan our seasonal meals and our canning plans for the pantry. I also recommend posting the menu on the fridge or a bulletin board, so that everyone you're feeding can read it, allowing them to know what to expect and help out if they're so inclined.
10. Flexibility
Don't let the meal plan rule the house. If you change your mind, have a craving for something else, want to go out to eat, have unexpected guests, etc. go with the flow. The meal plan should be a guideline not a dictator. Give yourself permission to change your mind, use the meal plan so you never wonder what you're going to make for dinner. It's so nice to have the plan so there's no going round and round about what to eat, but it is okay to stray from the plan too.
If you're just getting started, I highly recommend doing the Mexican, Pasta, Pizza night type schedule (varied according to your family's tastes, of course) for a while. Use that as theme and plan the actual dish within that theme. It'll help you get in the habit.
How about you, how do you plan meals?