Make this simple and delicious applesauce bundt cake recipe for a tasty and easy dessert fresh from the pantry shelves.
This moist cake features all the amazing flavors of fall with spice and apples from the beautiful bundt cake pan.
Whether you need a simple adult birthday cake, something for a pot luck, or just dessert after work this amazing applesauce cake fits the bill!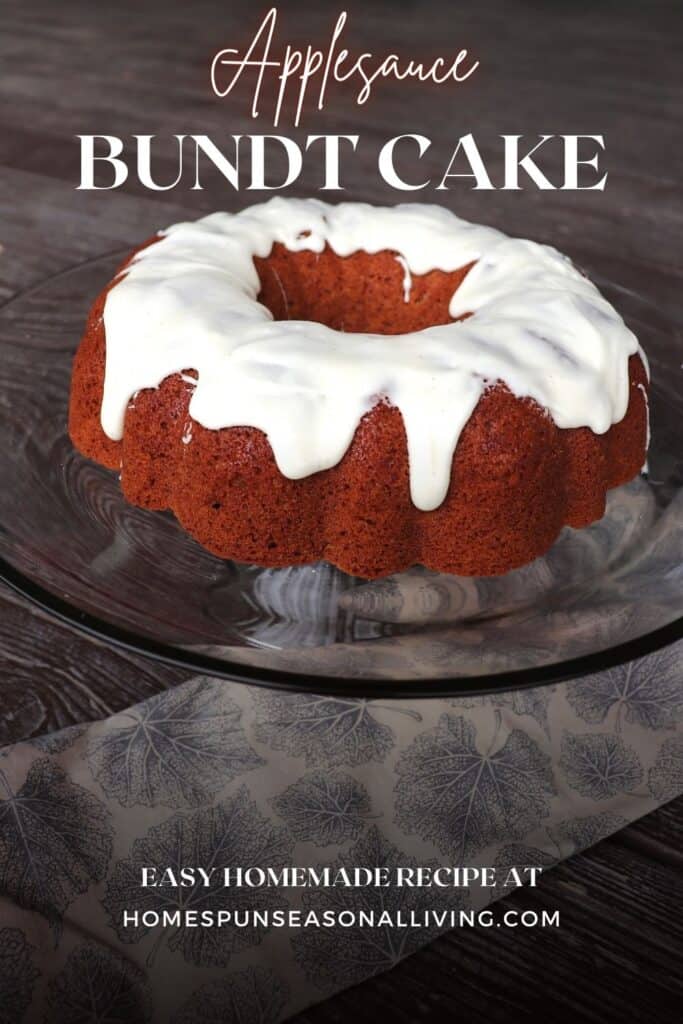 Simple Ingredients
The great thing about bundt cakes in general is that they tend to be simple recipes and this is no different. There's nothing fancy or special here, just basic ingredients combined in a lovely way.
Do take a minute before getting started to make sure you have everything on hand and if you're looking for substitutions, I've got those for you too.
Applesauce
This cake is a great way to feature your homemade applesauce as something more than just a snack.
Use an unsweetened and unspiced applesauce here. If that's all you have, skip the additional spices in the recipe and consider reducing the added sugar.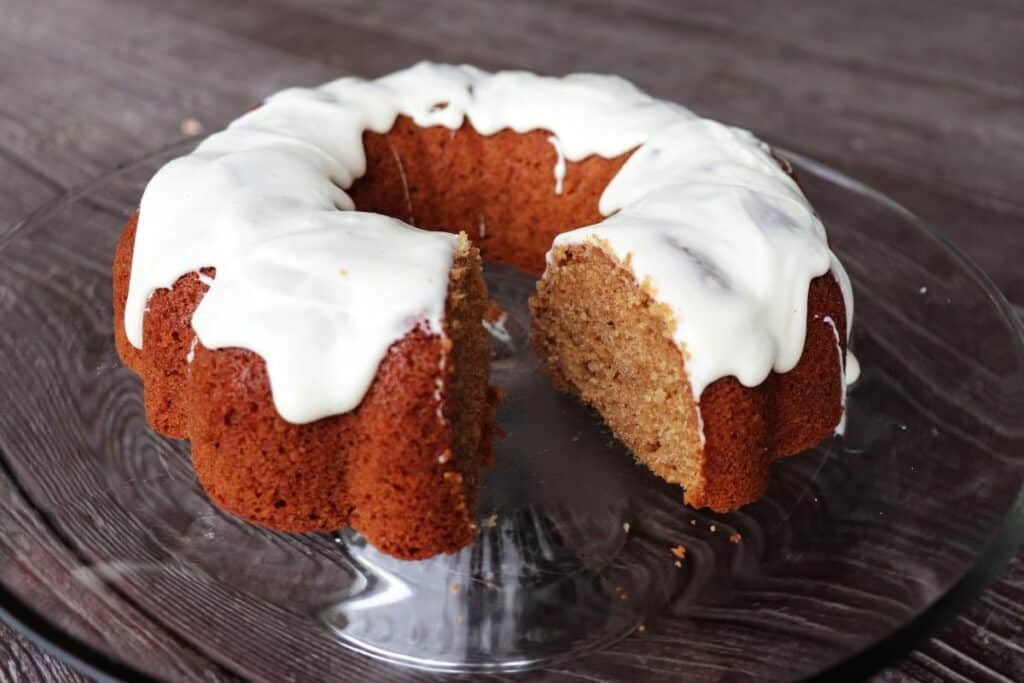 Sour Cream
There's just a bit of sour cream in this cake but it adds to the moist texture and overall richness and flavor of this applesauce spice cake.
I didn't test it but I imagine some plain green yogurt could be substituted with great success.
Butter
I used salted butter because that's generally what I have in the fridge. If you wanted to use unsalted butter, you certainly could. Add 1/2 teaspoon salt to the dry ingredients and proceed with the recipe as written.
Flour
For ease, regular all-purpose flour works wonderfully here.
I do like a whole grain cake now and then and because this cake is so very moist, feel free to substitute some whole wheat flour for the all purpose if desired.
I imagine a gluten-free blend that is designed to be used cup-for-cup would work well, too.
Spice
There are some spices included in the recipe but no one needs to feel locked into those.
Skip the spices if you want a plain but no less delicious applesauce cake.
Feel free to substitute apple pie spice for the ground spices written in the original recipe below.
Use any other ground spices you may prefer instead. Consider ginger, allspice, cardamom, etc. honestly whatever you like best is a great choice here.
Bake Time
The recipe does come together quite easily. It's not a terribly technical or difficult recipe to whip up. But like all bundt cakes, it takes more than a little time to bake.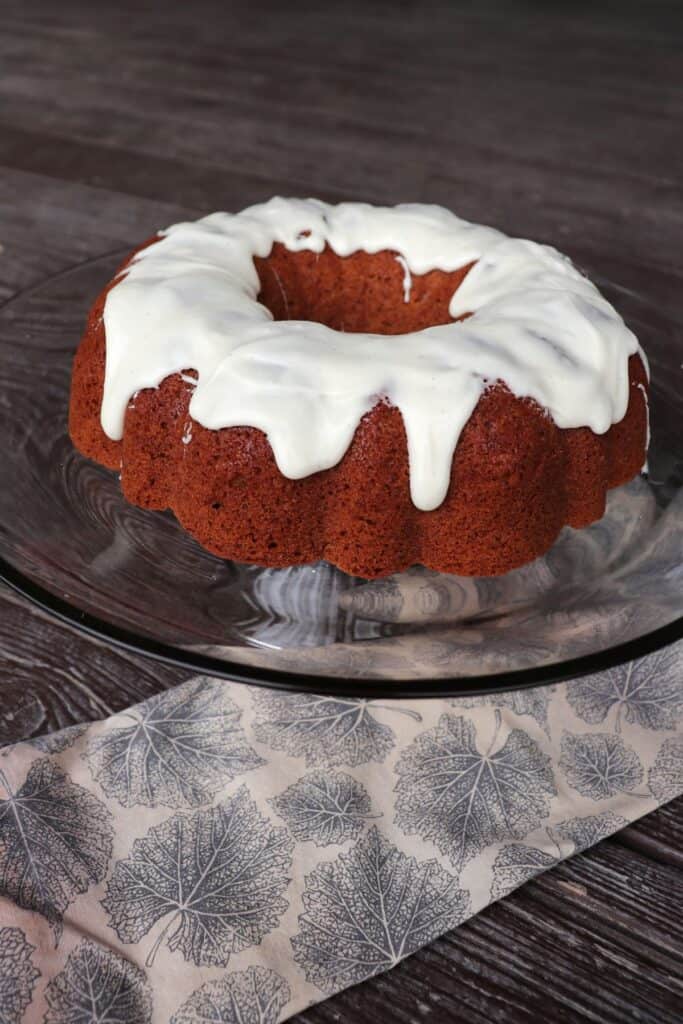 Obviously, once it's in the oven, there's nothing you have to do but wait. Still, plan for that baking time and the time it will need to cool into your plans for when you want to serve it.
Because the cake is so moist, consider baking it the day before you plan to serve for ease.
To Glaze or Not?
Most bundt cakes have an added glaze. The glaze provides more flavor and sweetness but isn't required.
I used a basic vanilla powdered sugar glaze in the photos.
A caramel glaze, like the one on my apple bundt cake would be great too.
Honestly use your favorite or skip it, if desired.
Optional Additions
If you'd like to add some more texture and bulk up the applesauce cake recipe, consider adding up to one cup of one or more of the following:
chocolate chips
chopped nuts
dried fruits, like raisins or cranberries
diced bits of fresh apples
How to Serve
Bundt cakes tend to be easy desserts that don't need much fussing with to serve which is why they're some of my favorite cakes to bake.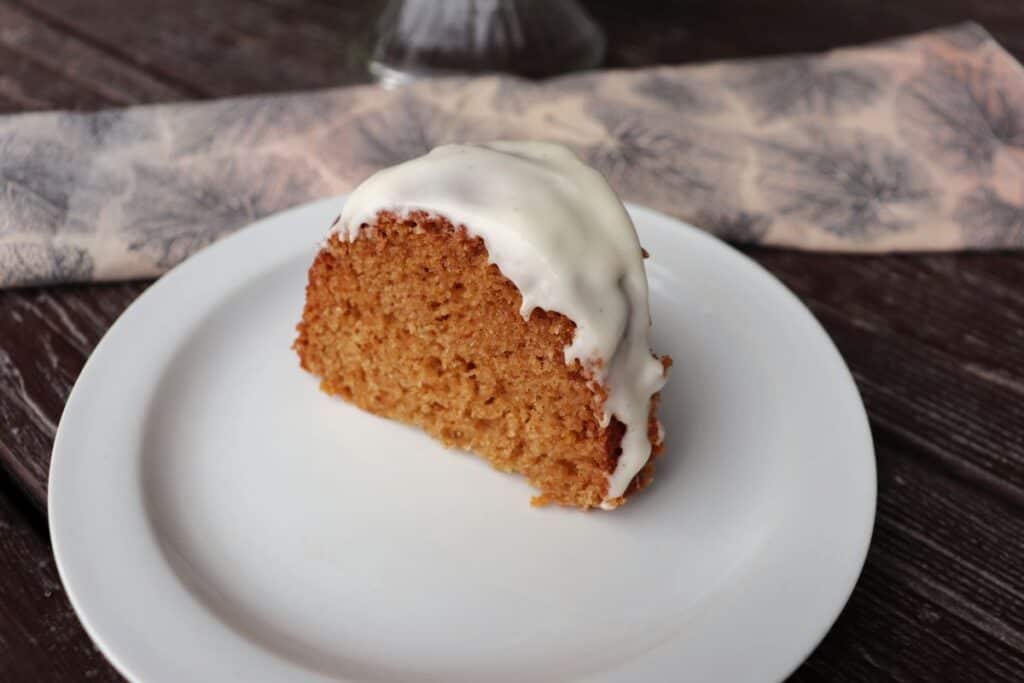 Keep it simple by serving the sweet cake with flavorful hot drinks, like coffee and tea.
A scoop of ice cream or some whipped cream is, of course, lovely.
Top it with some strawberry compote for a lovely splash of color and flavor!
Some applesauce spooned over a slice, sprinkled with some powdered sugar is tasty and beautiful – this is a perfect way to put more of a dent in those jars of applesauce in the pantry.
Serve slices for fried apples or other fresh fruit for a bigger dessert.
How to Store
Because the cake is so very moist, it will keep for about 5 days if stored in an airtight container at room temperature.
Homemade is heart-made! Check out 60 fresh ideas for gifts from the kitchen to honor every occasion. Sharing is caring!
For longer term storage, freeze the cake. Freeze it whole, if desired. Freeze slices for ease in grabbing some as needed for delicious cake on demand.
Let frozen cake thaw at room temperature prior to serving.
Use up any frozen cake within 6 months for best flavor.
Want more bundt cake recipes? Check my list of fall bundt cakes for flavorful choices your family will love!
Yield: 12 Servings
Applesauce Bundt Cake Recipe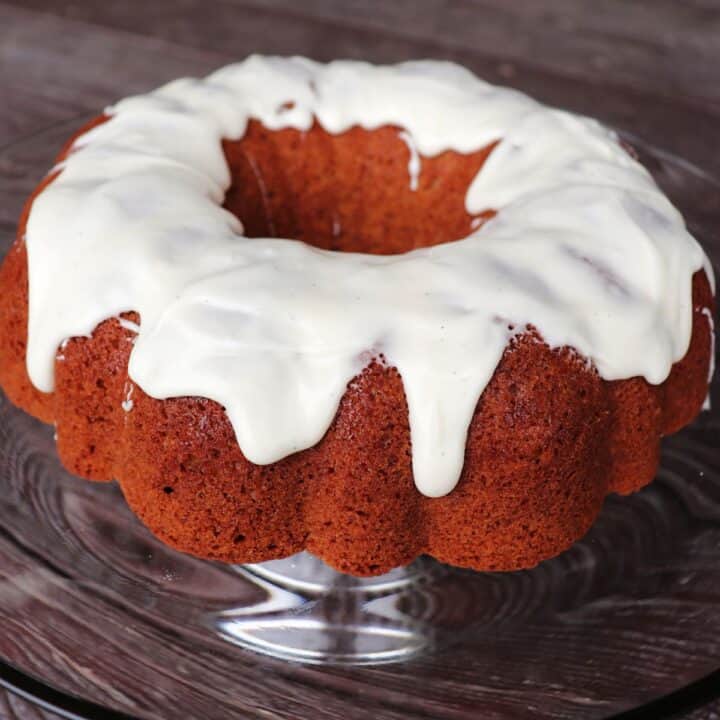 Make this moist and sweet applesauce cake for a simple, delicious dessert.
Total Time
1 hour
10 minutes
Ingredients
1/2 Cup Salted Butter, softened
1 Cup Sugar
1 Egg
1/4 Cup Sour Cream
1 Cup Unsweetened Applesauce
2 Cups Unbleached, All-Purpose Flour
1 teaspoon Baking Powder
1 teaspoon Baking Soda
1 teaspoon Ground Cinnamon
1/4 teaspoon Ground Cloves
1/4 teaspoon Ground Nutmeg
Instructions
Preheat oven to 325 degrees Fahrenheit.
Grease a 10-cup bundt pan.
In a medium bowl, whisk together the flour, baking powder, baking soda, and spices. Set aside.
In a large bowl, cream butter and sugar together until light and fluffy.
Add the egg and beat well.
Add the sour cream and beat until completely incorporated.
Pour in the applesauce and mix until everything is mixed consistently.
Add the dry ingredients to the wet ingredients and fold until everything is completely combined.
Pour the cake batter into the prepared bundt pan and spread evenly.
Bake in the preheated oven for 45 to 50 minutes. The top will be golden brown and the edges will begin pulling away from the pan. An inserted cake tester will come out clean.
Let the pan cool on a wire rack for 15 minutes.
Invert the pan onto a cake plate, it should slide right out. Let cake cool to room temperature.
Nutrition Information:
Yield:
12
Serving Size:
1
Amount Per Serving:
Calories:

233
Total Fat:

9g
Saturated Fat:

6g
Trans Fat:

0g
Unsaturated Fat:

3g
Cholesterol:

39mg
Sodium:

215mg
Carbohydrates:

35g
Fiber:

1g
Sugar:

19g
Protein:

3g
We try our best but cannot guarantee that nutrition information is 100% accurate.