Fall is the time to harvest medicinal dandelion roots. We can make the most of those tenacious roots and their therapeutic benefits by making dandelion root infused honey. This is a simple herbal remedy with multiple and tasty uses.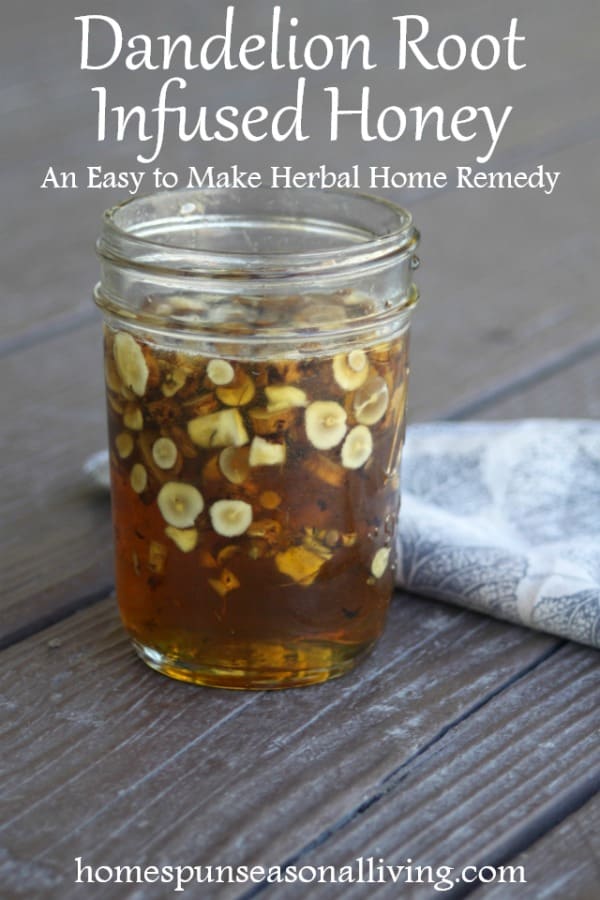 Benefits & Uses of Dandelion Root
Dandelion roots are believed to help secrete toxins from the body. Traditionally, dandelion roots have been prized for their ability to flush and tone the liver. It acts as a diuretic and is often used to flush uric acid in the treatment of gout. These same detoxifying powers are also said to help keep the skin clear. Its bitter flavor can help aid digestion.
[mailerlite_form form_id=1]
How to Harvest Dandelion Root
Dandelions are tenacious with a long taproot that is hard to remove. It is easiest to dig them up after a fall rain. Find a soft spot of ground, in the garden if possible, and dig up the root with a shovel. It will likely break off, that's okay, just gather whatever is possible. Cut the greens from the roots. Wash and scrub the dirt off the roots.
The roots can now be dried or used fresh. Heck, they can even be tossed into soup.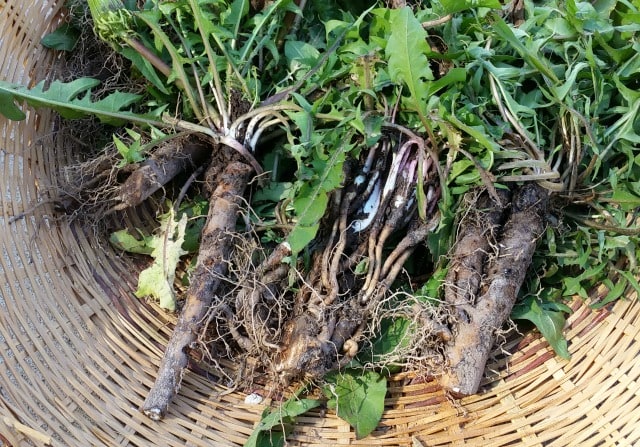 How to Make Dandelion Root Infused Honey
Honey has many medicinal benefits on its own and when combined with dandelion root there are numerous ways to apply their combined healing powers.
Slice the washed roots about 1/4″ thick. Fill a jar 1/2 full with the sliced roots. Fill the jar with raw honey, leaving about 1/2″ headspace in the jar. Remove air bubbles and stir the roots in the honey.
Some heat needs to be applied to help the medicinal qualities of the roots extract into the honey. To avoid cooking the raw honey, a low steady heat is ideal. This can be done in a couple of ways:
Place the jar into a saucepan with simmering water. Do not get water in the honey. This acts like a double boiler, just keep it low so the honey doesn't foam. Keep the honey warming for about 2 hours. Add more water as necessary.
Put the jar into a dehydrator and turn it to 95 degrees. Let it sit in the dehydrator for 6 to 12 hours. (I prefer this method because it doesn't need to be watched.)
After the infusion process is complete. Strain the roots from the honey. Put the dandelion root honey into a clean, labeled jar. Store in a cool, dark cabinet.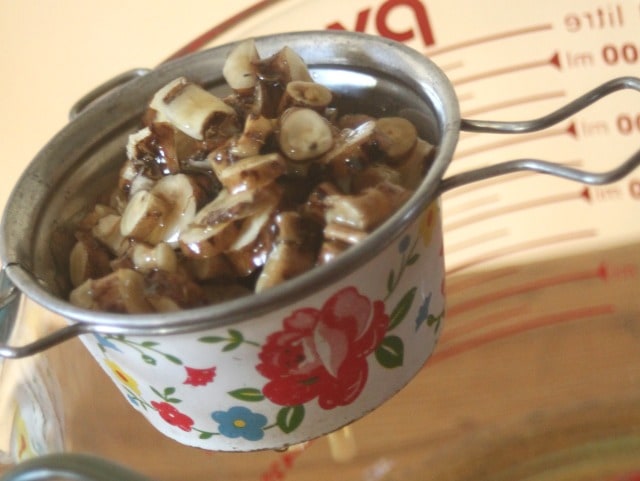 How to Use Dandelion Root Infused Honey
Use it to sweeten dandelion root tea and increase the intake of both its and honey's detoxifying qualities. Both honey and dandelion help with digestion making it a perfect after feasting dessert drink to help the body cope with a large meal. Add it to any herbal tea to help flush toxins from the body and perhaps kick a cold faster.
The medicinal benefits and bitterness concentrate in the roots during the fall. So be sure to use this season to do a little dandelion root digging. Then, get busy with some creative medicine making in your kitchen with this easy and tasty herbal home remedy.