Make jam from dried fruit, honey, and rosehips with this tasty and easy recipe.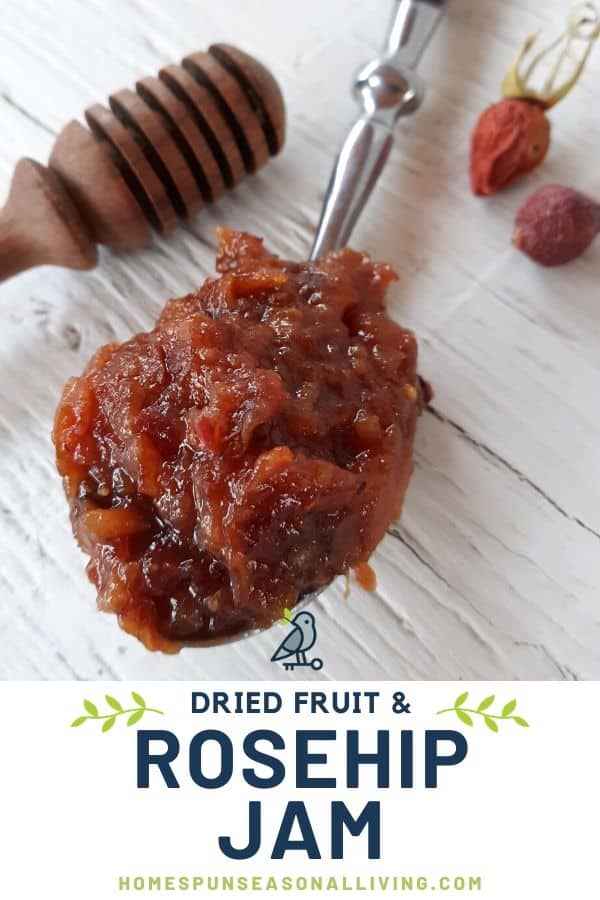 No need for pectin or fresh fruit, this dried rosehip jam recipe is ideal for winter canning projects. It's also a great way to use up odds and ends of dried fruit sitting in the pantry.
Any Mix of Dried Fruit
For this recipe you need 1 full pound of dried fruit. Use a mixture of whatever you on hand.
Do use unsweetened dried fruit as their natural sweetness combined with the honey means no extra sugar is necessary.
I used a mix of dried apple rings, raisins, dried cranberries, and dried pears. Those were what I had on hand. Dried currants or apricots would be amazing as well. Prunes, too would work.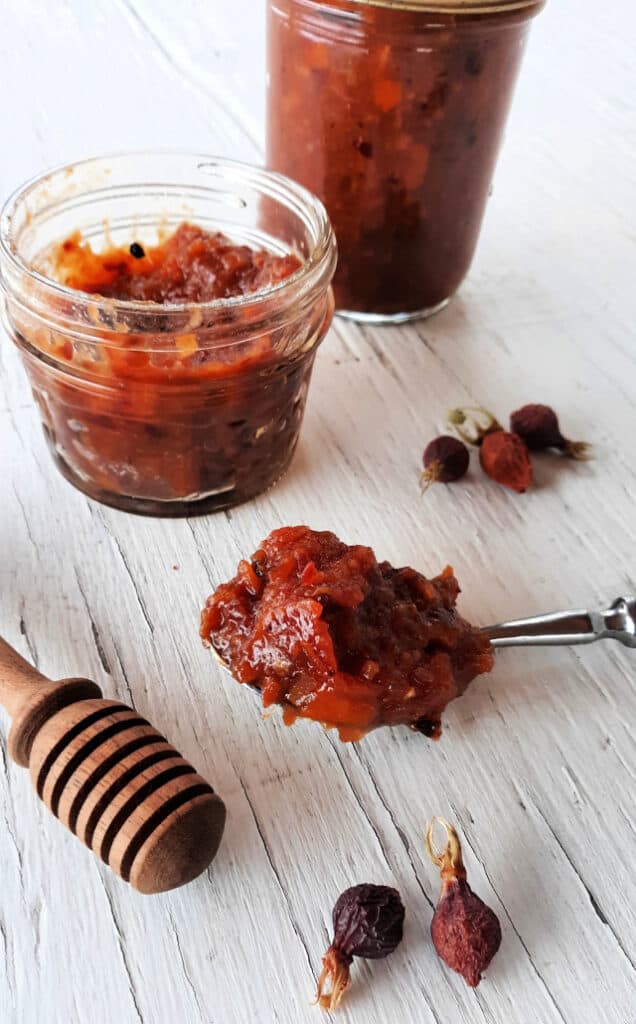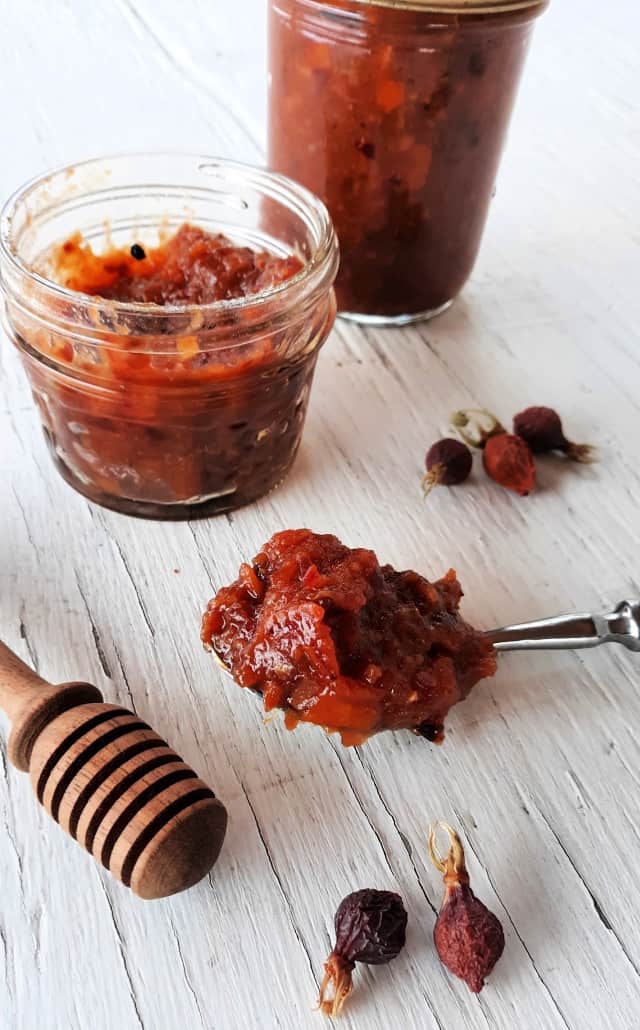 You could do equal amounts of 3 different fruits or simply use up bits and pieces of whatever is in the pantry. Honestly this is the perfect way to clean out dried fruit from the pantry.
Dried Rosehips
The dried rosehips add a nice bit of tartness to an otherwise very sweet jam.
Use dried rosehips that have been deseeded. The hairs and seeds of rosehips can be quite irritating and there's no easy way to get them out of this jam at the end.
This recipe uses 4 ounces of dried rosehips – you can use more or less to taste, adjust the difference with more or less dried fruit.
Don't Skip the Orange
This recipe includes one whole orange. Simply remove the seeds, but otherwise leave the peel and chop the entire orange.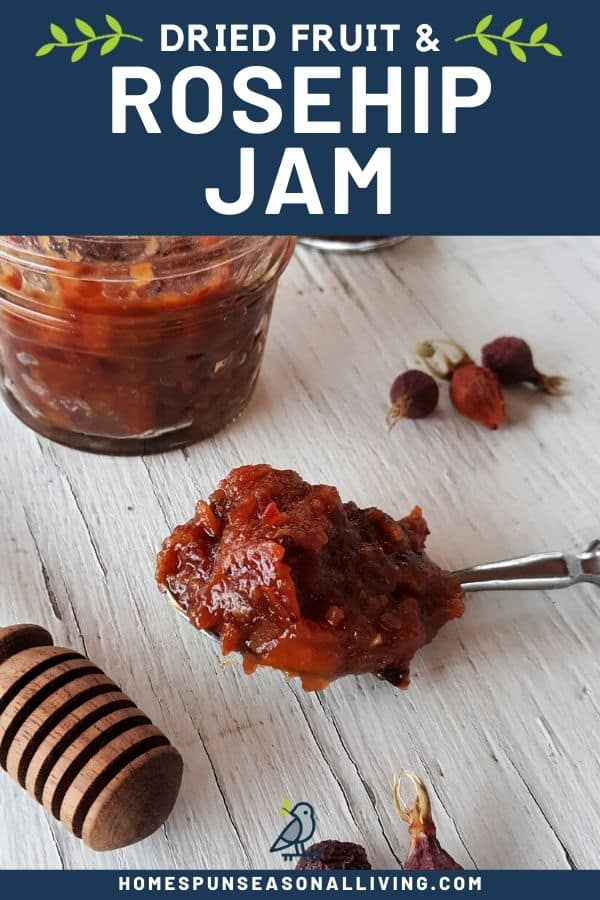 It can be tempting to skip the orange, especially if it isn't easily on hand at home. Don't. The orange is truly a necessary ingredient for flavor and more.
The orange rind provides a little natural pectin for thickening the jam, but it also provides a hint of bitterness to the final product that helps balance the general sweetness level of the jam.
Chunky or Smooth
After the dried fruit cooks and softens, it needs to be pureed a bit. How smooth or chunky you make the final jam is completely up to you. Simply blend until desired level is reached.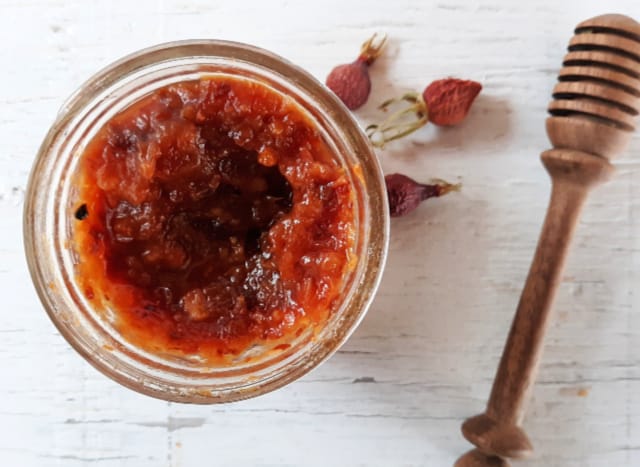 How to Use
Obviously, use the jam on toast and with peanut butter sandwiches like you would with any jam.
Spread on cookies, pancakes, poundcake, and more.
It makes an amazing gift, too.
Yield: 6 Half Pints
Dried Fruit & Rosehip Jam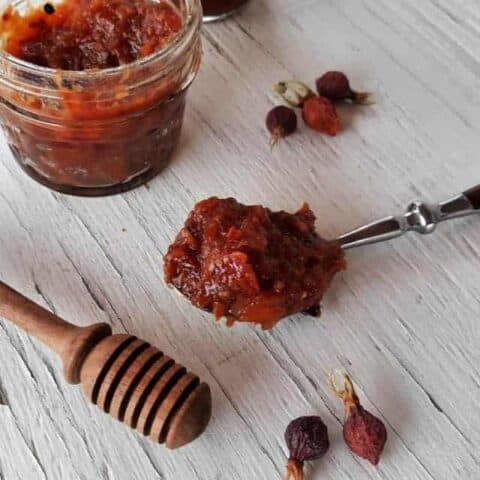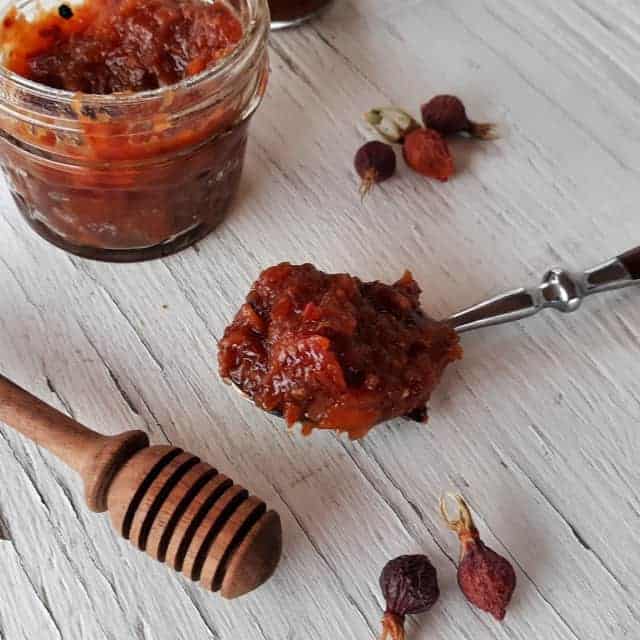 Thick, sweet and slightly tart this jam is delicious on toast or crackers and is an ideal way to use up dried fruits.
Total Time
1 hour
10 minutes
Ingredients
1 Pound Mixed Dried Fruit
4 Cups Water
1 Cup Honey
1 Tablespoons Lemon Juice
1 Large Orange, chopped (seeds removed, leave rind on)
Instructions
Combine dried fruit, rose hips, water, and chopped orange in a large pot.
Bring to a boil, lower heat, and cover pot.
Get the jars, lids, rings, and canner ready.
Simmer gently, until the fruit is soft and almost all of the water is absorbed.
Puree the mixture as much or as little as desired.
Return the puree to the pot, add the honey and lemon juice.
Cook until the mixture is thick.
Put the jam mixture into jars, leaving 1/4" headspace. Remove air bubbles, wipe jar rims, place lids and rings.
Process in boiling water bath for 20 minutes, adjusting time for elevation.
Notes
Like all home canned goods, please use up within 1 year.
Recommended Products
As an Amazon Associate and member of other affiliate programs, I earn from qualifying purchases.
Nutrition Information:
Yield:
96
Serving Size:
1 Tablespoon
Amount Per Serving:
Calories:

23
Total Fat:

0g
Saturated Fat:

0g
Trans Fat:

0g
Unsaturated Fat:

0g
Cholesterol:

0mg
Sodium:

2mg
Carbohydrates:

6g
Fiber:

0g
Sugar:

5g
Protein:

0g
We try our best but cannot guarantee that nutrition information is 100% accurate.
About the Author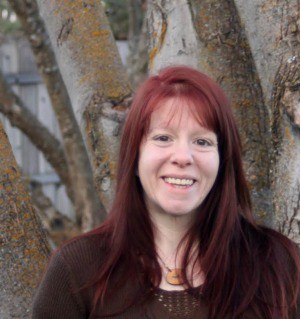 Kathie N. Lapcevic is a lifelong gardener and scratch cook. She loves to tinker with herbs, plants, food, and crafts. Practicing simple and seasonal living for over 20 years, she enjoys creating a handmade life, lived closed to the earth. She lives in Montana with her soulmate Jeff and when not making a mess in the kitchen, she can be found enjoying the outdoors.