Make jam from dried fruit, honey, and rosehips with this tasty and easy recipe.
No need for commercial pectin or fresh fruit, this dried rosehip jam recipe is ideal for winter canning projects.
It's also a great way to use up odds and ends of dried fruit sitting in the pantry.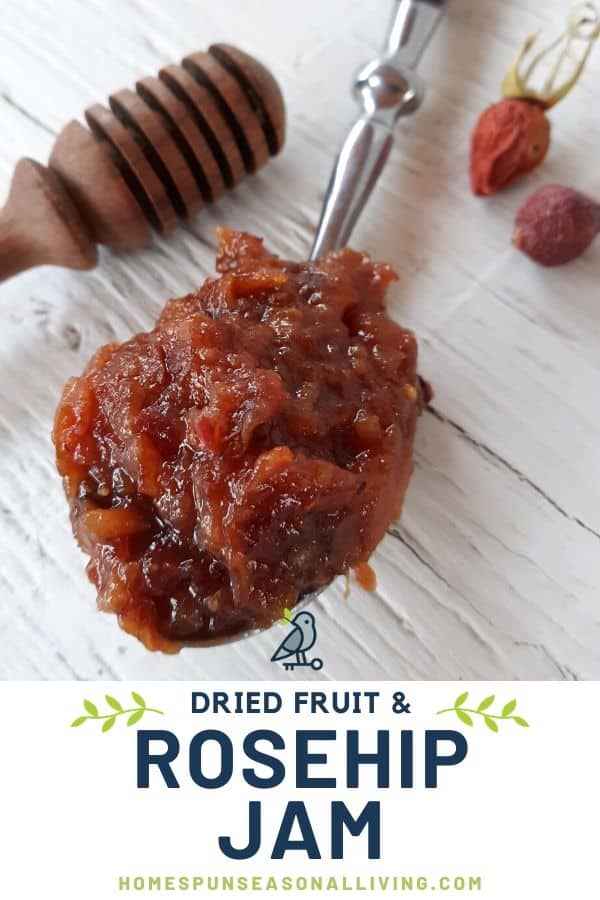 What exactly is a Rose Hip?
Rose hips are actually the fruit of the rose plant. In the late summer, early autumn you'll see the berry like structures all over rose bushes.
They are naturally high in vitamin c, making them a great thing to have around the house for immune system support.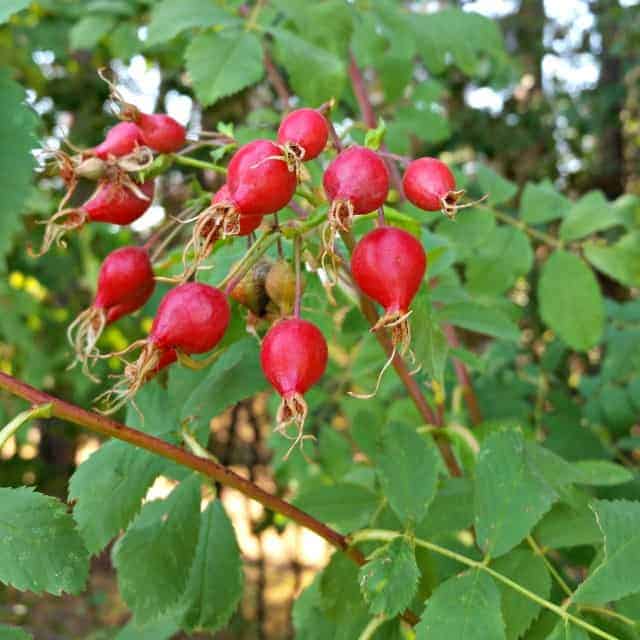 You can gather them from wild roses or domesticated varieties. They have the sweetest flavor when harvested after the first frost.
If you don't want to forage or harvest from your own roses, simply buy dried rose hips from a natural food store.
Any Mix of Dried Fruit
For this recipe you need 1 full pound of dried fruit. Use a mixture of whatever you on hand.
Do use unsweetened dried fruit as their natural sweetness combined with the honey means no extra sugar is necessary.
I used a mix of dried apple rings, raisins, dried cranberries, and dried pears. Those were what I had on hand. Dried currants or apricots would be amazing as well. Prunes, too would work.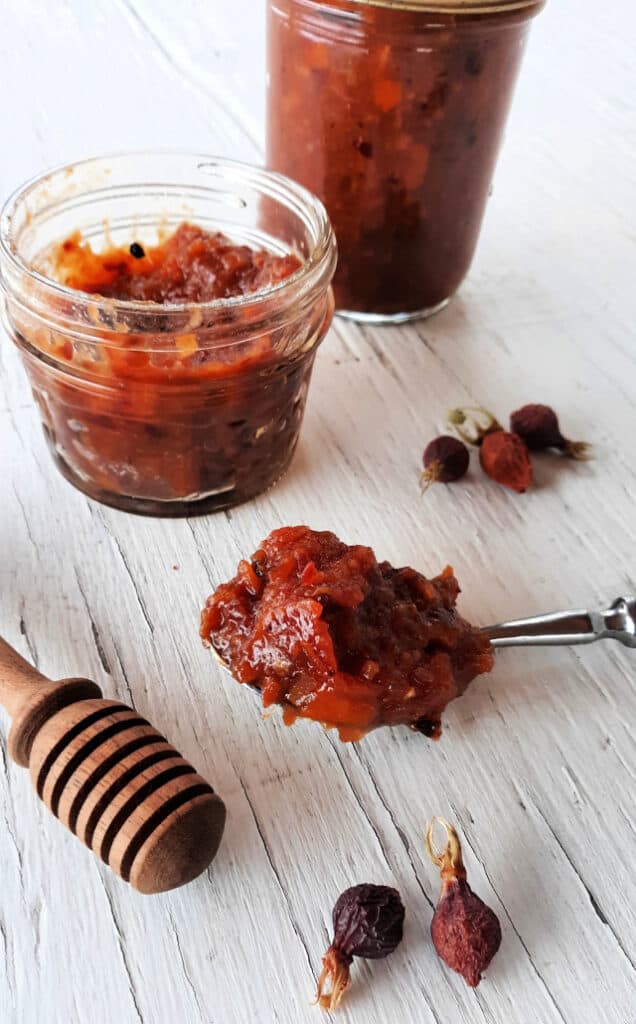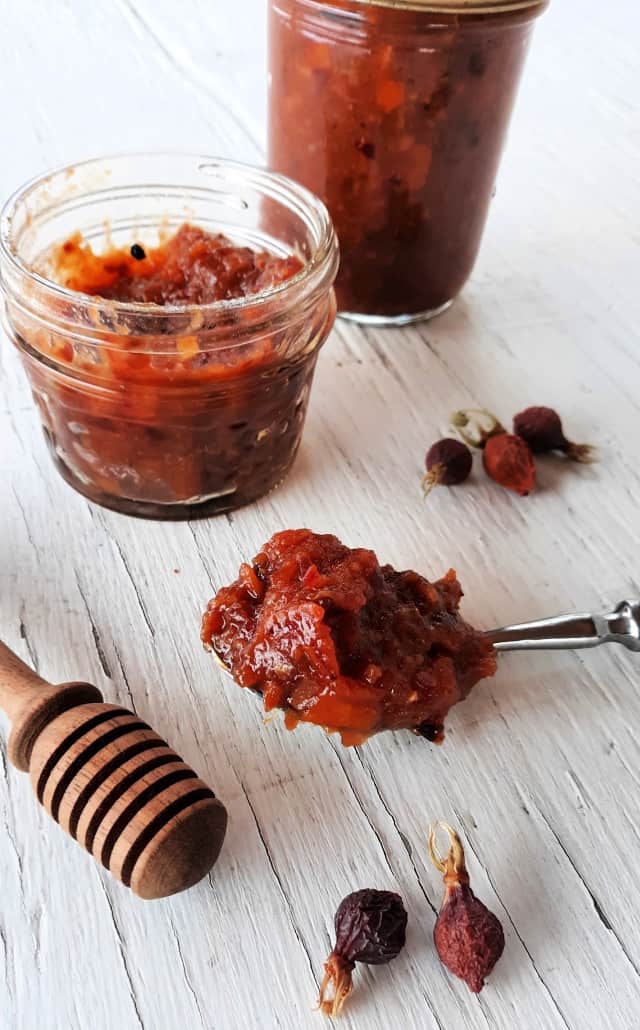 You could do equal amounts of 3 different fruits or simply use up bits and pieces of whatever is in the pantry. Honestly this is a great way to clean out dried fruit from the pantry that needs to be used up.
The original recipe is made with water for softening the dried fruit, next time I make it I might try it with apple juice instead and lower the honey to compensate for the added sweetness.
Dried Rosehips
The dried rose hips add unique flavor and a nice bit of tartness to an otherwise very sweet jam.
Use dried rosehips that have been deseeded. The fine hairs and seeds of rosehips can be quite irritating and there's no easy way to get them out of this jam at the end.
This recipe uses 4 ounces of dried rosehips – you can use more or less to taste, adjust the difference with more or less dried fruit.
I did not test the recipe with fresh rose hips, but I suppose it could be done with just 2 ounces of rosehips that have had the seeds and little hairs removed.
I cannot stress enough how important it is to remove the hairs and sticky seeds – if they are left intact it can cause some serious digestive tract discomfort.
Don't Skip the Orange
This recipe includes one whole orange. Simply remove the seeds, but otherwise leave the peel and chop the entire orange.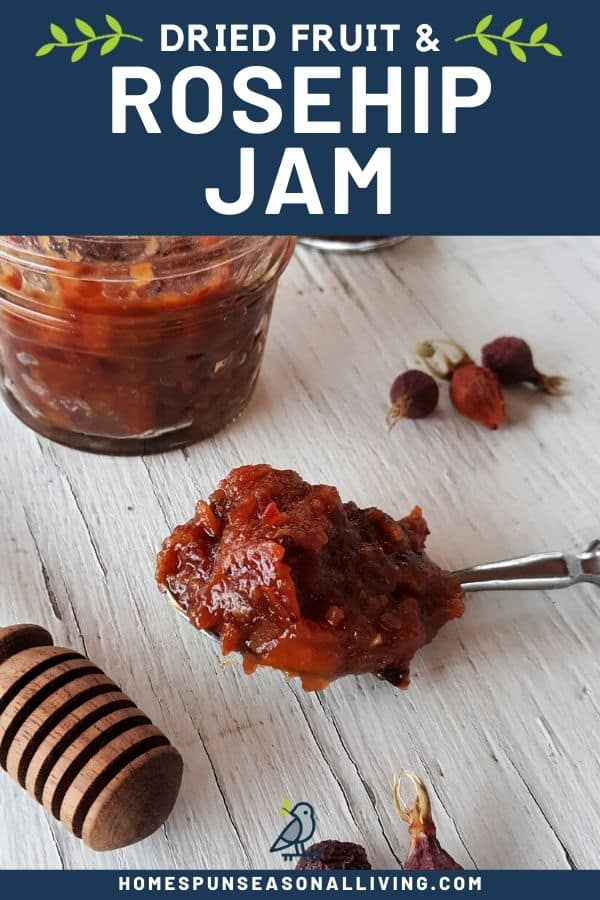 It can be tempting to skip the orange, especially if it isn't easily on hand at home. Don't. The orange is truly a necessary ingredient for flavor and more.
The orange rind provides a little natural pectin for thickening the jam, but it also provides a hint of bitterness to the final product that helps balance the general sweetness level of the jam.
Chunky or Smooth
After the dried fruit cooks and softens, it needs to be pureed a bit. How smooth or chunky you make the final jam is completely up to you. Simply blend until desired level is reached.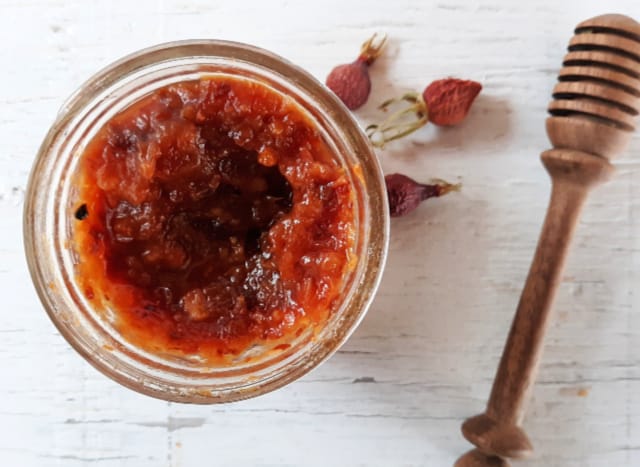 How to Use
Obviously, use the jam on toast and with peanut butter sandwiches like you would with any jam.
Spread on cookies, pancakes, poundcake, and more.
It's a perfect spread to tuck into a gift box or care package with some homemade bread.
Looking for more homemade jam & jelly ideas? Get my guide for recipes, tips, & tricks.
Yield: 6 Half Pints
Dried Fruit & Rosehip Jam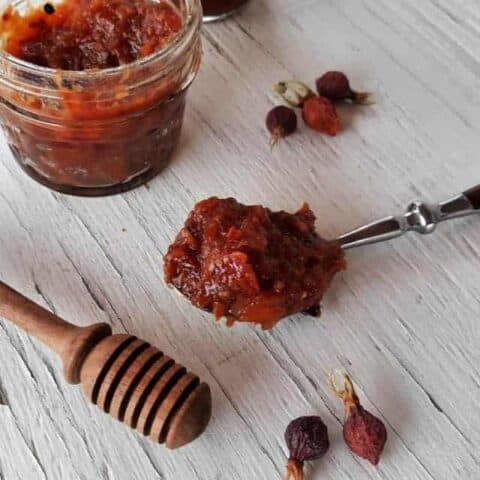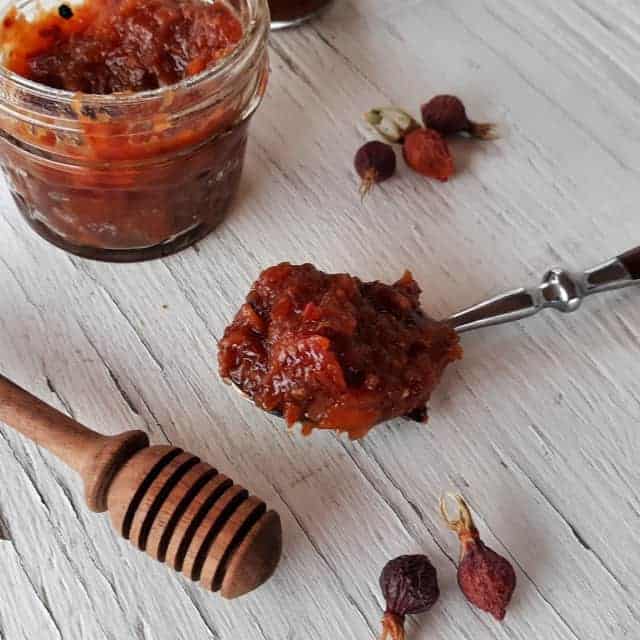 Thick, sweet and slightly tart this jam is delicious on toast or crackers and is an ideal way to use up dried fruits.
Total Time
1 hour
10 minutes
Ingredients
4 ounces Dried Rosehips (deseeded)
1 Pound Mixed Dried Fruit
4 Cups Water
1 Cup Honey
1 Tablespoons Lemon Juice
1 Large Orange, chopped (seeds removed, leave rind on)
Instructions
Combine dried fruit, rose hips, water, and chopped orange in a large pan.
Over high heat, bring the pan to a boil. Then lower heat and cover pot.
Get the jars, lids, rings, and water bath canner ready.
Simmer gently, until the fruit is soft and almost all of the water is absorbed. Be patient this may take a little bit of time and will vary based on fruits used.
Puree the mixture as much or as little as desired. Use a potato masher to keep it chunkier or a food processor to get it very smooth.
Return the puree to the pot, add the honey and lemon juice.
Cook until the mixture is thick, stirring with a wooden spoon occasionally to prevent scorching.
Put the jam mixture into jars, leaving 1/4 inch headspace. Remove air bubbles, wipe jar rims, place lids and rings.
Process in boiling water bath for 20 minutes, adjusting time for elevation.
Notes
Like all home canned goods, please use up within 1 year.
Nutrition Information:
Yield:
96
Serving Size:
1 Tablespoon
Amount Per Serving:
Calories:

23
Total Fat:

0g
Saturated Fat:

0g
Trans Fat:

0g
Unsaturated Fat:

0g
Cholesterol:

0mg
Sodium:

2mg
Carbohydrates:

6g
Fiber:

0g
Sugar:

5g
Protein:

0g
We try our best but cannot guarantee that nutrition information is 100% accurate.