In thinking about ways to save money and be frugal, the best way I think to do so is to learn to stay home and your enjoy your home. I understand sometimes we don't live where we thought we would, our homes don't exactly match that dream home we thought of when we were teenagers, or the ones we collect images of on Pinterest, but making the most of our homes and the time we spend there can make a huge difference in our spending habits and saving patterns. Becoming the frugal homebody might just be the best way to keep our budgets in line and our lives free of debt.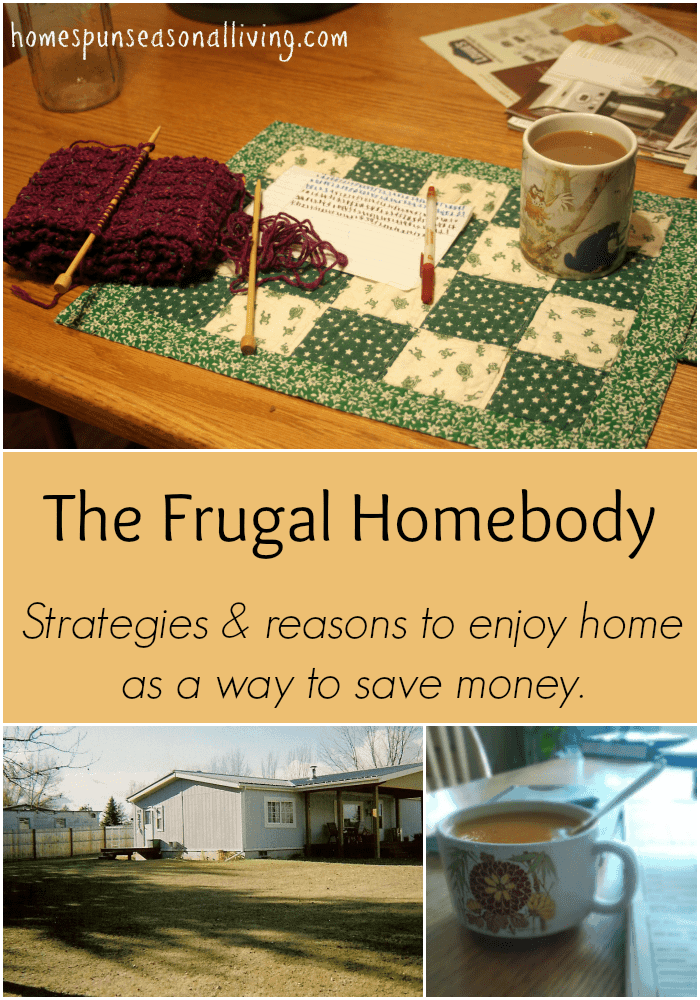 Why Stay Home?
Staying home obviously saves on gas if we're driving on our little escapes, it also rescues us from a multitude of temptations. The minute we leave our homes, most of us are hit with marketing. I have one mile from my house to the first store and reader board. From there signs and stores are everywhere and even the slightest deviation from the intended errand can add up fast. How many times have we stopped for a quick cup of coffee only to pick up a scone and those oh so sweet greeting cards that were by the counter? Being in at home means learning to use whats there and use it for enjoyment and comfort, instead of retail therapy.
Make Home a Retreat
Make home a place you enjoy being, a retreat and sanctuary from the world. I don't mean redecorating or renovating, no buying new furniture. Find ways to make it a place where it is a snap to spend time. Rearrange furniture, use that stash of vintage linens, fabric, yarns and more to make your home yours and comfortable. Keep books, games, music and more easily accessible to fight boredom. Find frugal hobbies or rekindle ones you already have, just be sure your hobby isn't shopping on ebay or etsy, or watching those home shopping channels (obviously these things have their places in our lives but it shouldn't be one that causes us to spend needlessly).
[sc:UBGeneral ]
Planned Outings
Be sure to combine trips when you do go out. Hit the library, farmers market, thrift store, and post office on one trip and stay focused. Make a plan and don't be tempted from your path. If there is a hankering for a cup of coffee, plan to include that in the errands, that way the coffee urge is satisfied without allowing the other temptations to hit the wallet.
Balance Not Deprivation
This is not an exercise in total deprivation, we do need to do fun things even when on a budget, but everything needs to be in balance. Like most things, create a habit of staying home every other weekend and eventually (and not too terribly long either) it will feel strange to go out on an unplanned weekend. Find ways to get outside without going to retail locations. Go for a walk around your neighborhood, to a park, etc.
How do you make your home enjoyable? Do you find it easy to stay home? What tips would you offer someone looking to become a frugal homebody?
[sc:Useadsenselarge ]