Learn how to tap a maple tree at home with just a few basic supplies for a delicious sweet treat!
Often when we think of home sugaring we think of sugar maples. However, any maple variety (and a few other trees as well) can also be tapped for syrup making right in the average backyard.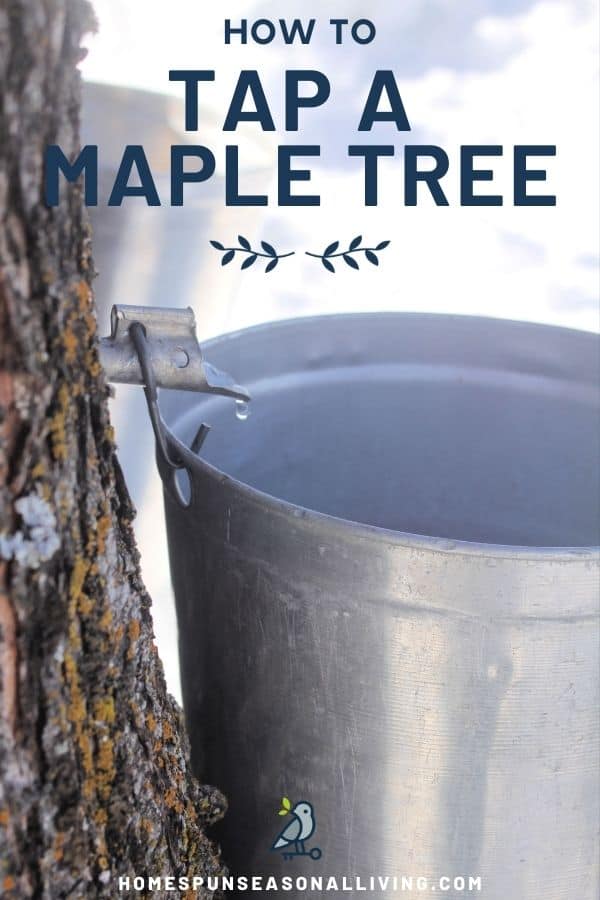 When to Tap
The sugar begins to run in trees when the weather begins to warm up in late winter.
Ideally the temperatures should be dropping below freezing at night and up above 40 degrees Fahrenheit during the day.
The trees will definitely drip faster and heavier when this happens. The flow will stop if it freezes all day but begin again when the temperatures warm.
Tapping Supplies Needed:
Spiles / Taps: I've seen people use drinking straws and all kinds of various tubing. I'm all for DIY and frugality, but I have to say real spiles / taps make it so much easier and give you a way to hang your sap collection container.
Containers: You can buy traditional maple sap buckets or use regular old buckets you have around. Even cleaned out vinegar or milk bottles will work.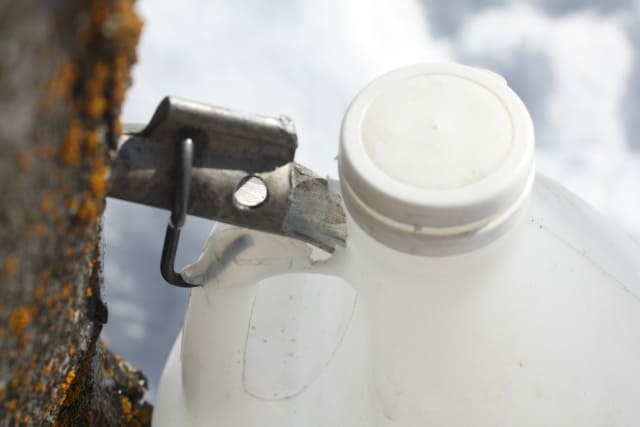 Tools: A drill bit – most spiles are in the 3/8″ range. A small hammer to get the taps into place securely. We tried using a rubber mallet but found that it didn't work as well as we'd like. A small, lightweight ball peen hammer works best in our experience.
Making Syrup from the Sap:
Another collection bucket: I use a 5-gallon bucket and walk around to my trees, pouring the collected sap into the bucket. It's easier for me to do it that way and just re-hang the bottles for sap collecting, rather than unhook, carry the bottles into the house, go back outside, rehang, etc…
Cheesecloth: I always end up with a few flies in the collected sap. I pour the sap through a cheesecloth-lined strainer into big stock pots before boiling.
Stock Pots: We're a small operation, we don't have big fancy maple syrup boilers. We do everything on our home kitchen stove, underneath a hood to let all that evaporation escape.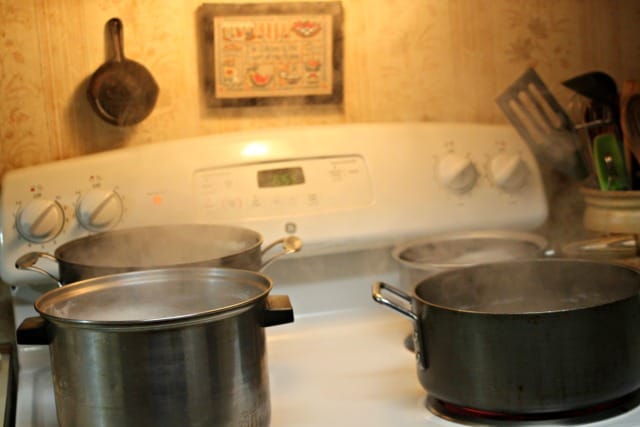 A good candy thermometer: Maple sap becomes syrup when the temperature reaches 7 degrees above the boiling point. You need a good thermometer for this (and be sure of what the boiling point is for your elevation) because you can't possibly figure it out any other way in my experience.
Too hot and it becomes crystallized maple sugar, not bad but probably not what most of us want.
Too cool and you'll have mold issues later on. I use a digital thermometer after I broke about 3 of the old-fashioned kind, but any good, accurate candy thermometer will do.
Storage Containers / Jars: Once your sap is boiled down into syrup you obviously need to store it. I just use regular canning jars but I'm sure you could buy fancier containers should you desire.
Using Homegrown Syrup
Use it on pancakes, waffles, and French Toast, of course. However, remember that syrup can be so much more than that. Use the syrup to sweeten baked goods, as the sweetener in homemade apple butter, to sweeten drinks, and simply anywhere a little sugar is needed.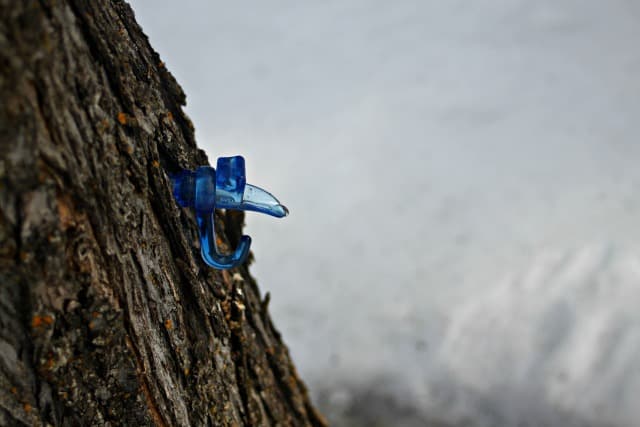 It seems like there should be so much more to it, but home sugaring is a relatively easy process. How much product completely depends on the type of trees on your homestead and good old mother nature.
For us, it's always been worth it and while it can be time-consuming to boil down the sap, much of the time is very hands-off only needing your attention as it gets close to the end to prevent it from overheating.