Highlight the amazing juicy strawberries of spring with this homemade strawberry bundt cake recipe.
The texture will remind you of a strawberry pound cake perfect for serving at special occasions or as a weeknight dessert.
This is a fresh strawberry cake recipe you'll turn to again and again for it's amazing flavor and ease to make.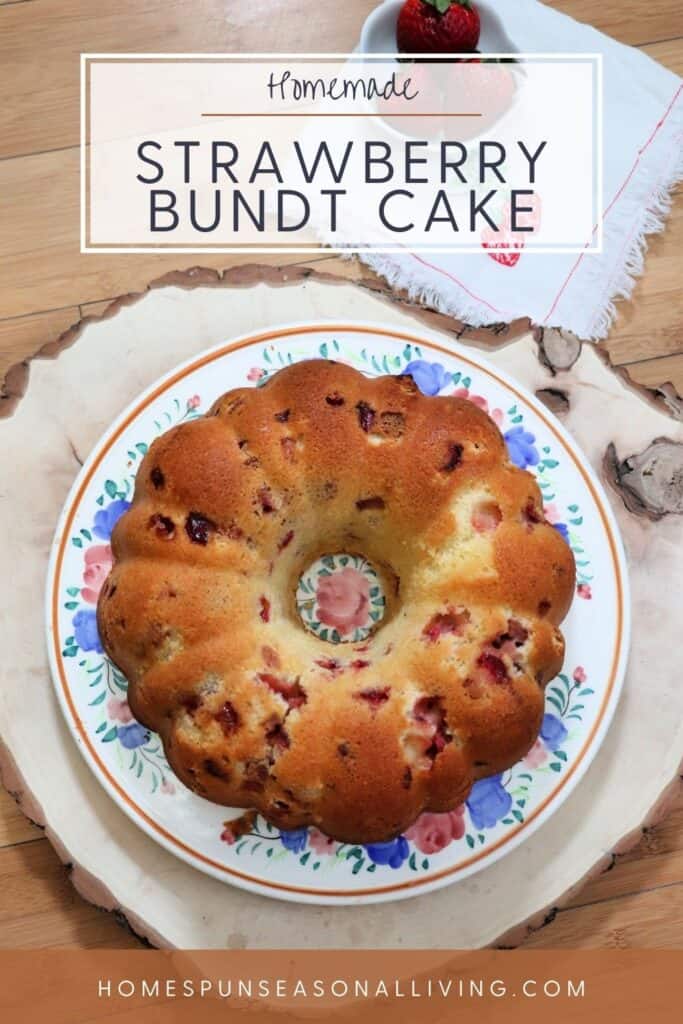 Simple Ingredients
There's nothing fancy here, the fresh strawberries are the star. Because of that use the most flavorful, fresh berries you can find.
Choose something local or foraged whenever possible, the flavor is always brighter and sweeter in these instances.
To get the most strawberry flavor throughout the cake, chop the strawberries into small bite size pieces. This way the juice and berries are spread out through the cake.
I did choose salted butter simply because that's generally what I have in the fridge. If you go with unsalted butter, add a teaspoon of salt to the dry ingredients.
The combination of vanilla with strawberries is something quite special. Use a full Tablespoon of a good, real (not imitation) vanilla extract for the best flavor. If you're the kind of person who free pours the vanilla extract, use a heavy hand here.
Baking Time
As is usual with homemade bundt cakes, this easy strawberry cake takes a long time to bake but actual hands-on time is minimal.
Be sure to plan ahead to give yourself enough time to bake and cool completely before serving time.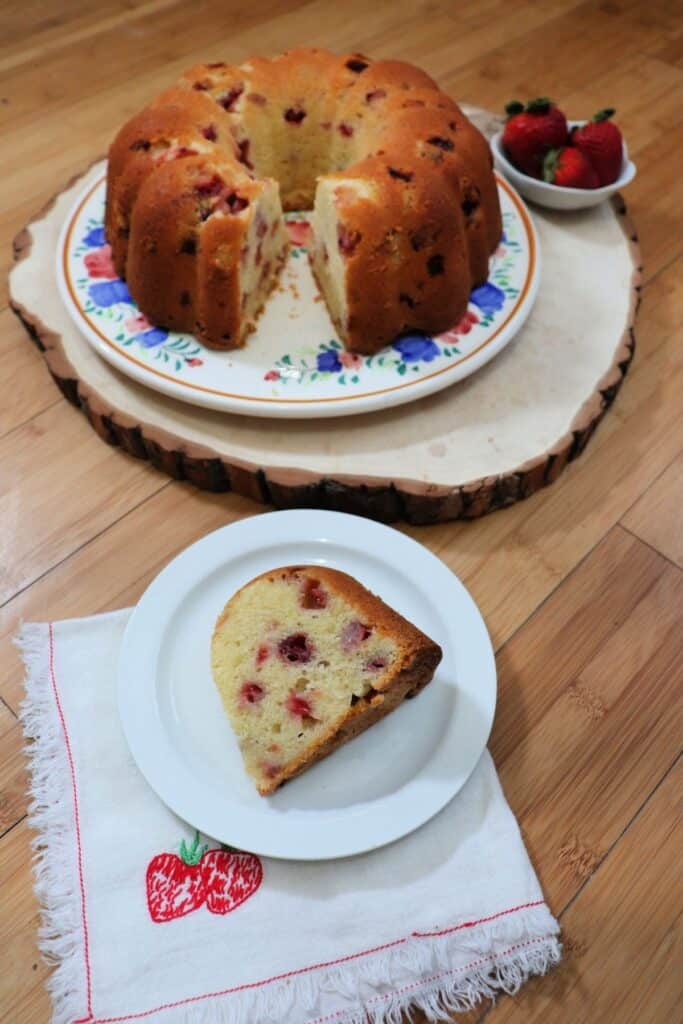 For best results, do let the cake be completely cool to room temperature prior to slicing and serving.
It can absolutely be made the day before, simply keep it in an airtight container once cool.
Optional Additions
This fresh strawberry bundt cake is quite perfect as is, in my opinion. However, there are some ways to switch it up if desired.
Consider stirring in a cup of dark chocolate chunks or white chocolate chips, if desired.
A cup of chopped walnuts or even slivered almonds would be quite tasty as well.
Glazing, Optional
Bundt cakes are often drizzled with a glaze. A simple glaze can add a lot of flavor, sweetness, and moisture to a cake.
A glaze can also had color and beauty as it drips down the edges of the cake, so for sure feel free to add one if it feels too simple without one.
If you wanted to add a glaze here, you certainly could.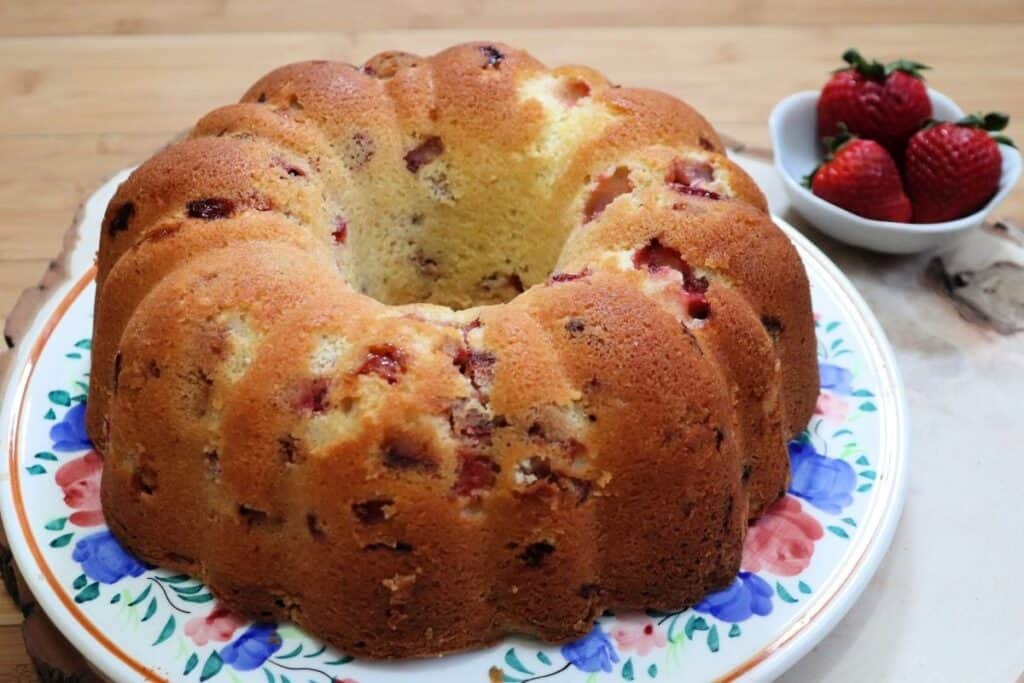 A simple lemon glaze would match delightfully with the strawberries.
One can never go wrong with a basic vanilla powdered sugar glaze.
A chocolate glaze too would be delicious.
The great thing about bundt cakes is that they are inherently beautiful simply because of the pan they are baked in, don't feel like it needs much more to be something quite special.
Other Berries
The recipe was written and tested with fresh strawberries, however other fresh berries would also likely work.
Whole raspberries or blueberries could easily be substituted.
A mix of berries that you have on hand would also be quite incredible, in my opinion. Use what you have on hand.
I can truly imagine a cake full of mixed, wild berries foraged on a hike and think it would be an amazing birthday cake.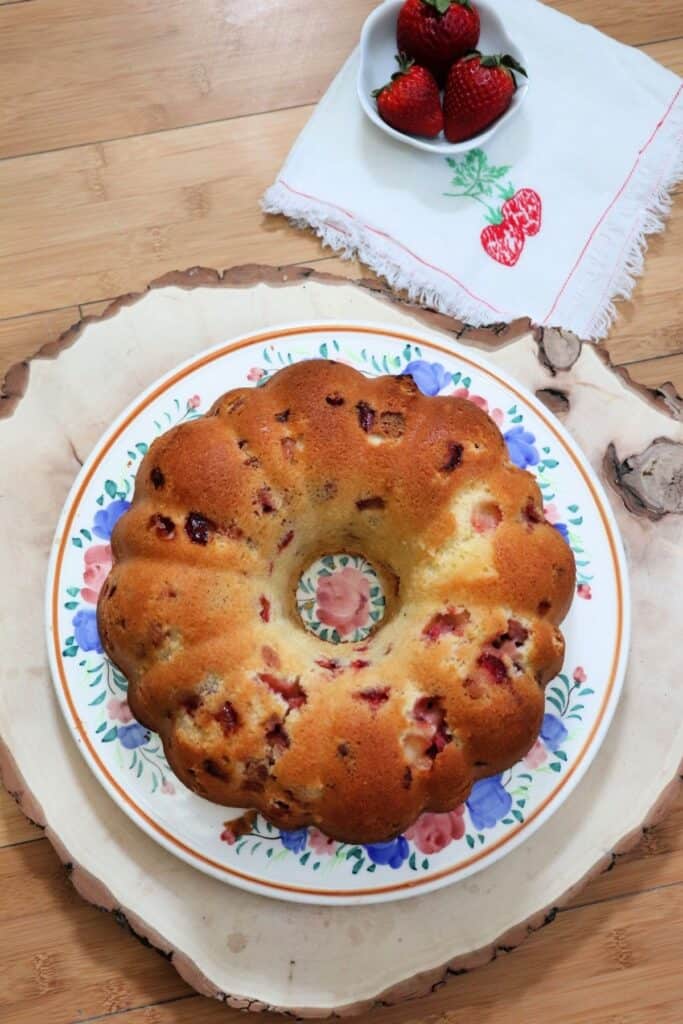 How to Serve
This is a perfect dessert for simple celebrations. Serve slices with whipped cream or ice cream.
For the strawberry lover, consider serving slices drizzled with a fresh strawberry puree and whipped cream.
Simply dust the cake with some confectioners' sugar prior to serving for a lovely touch without any added fuss.
You could serve it with more diced strawberries and whip cream for a different take on strawberry shortcake.
Definitely serve this easy strawberry bundt cake with coffee, tea, or big glasses of milk.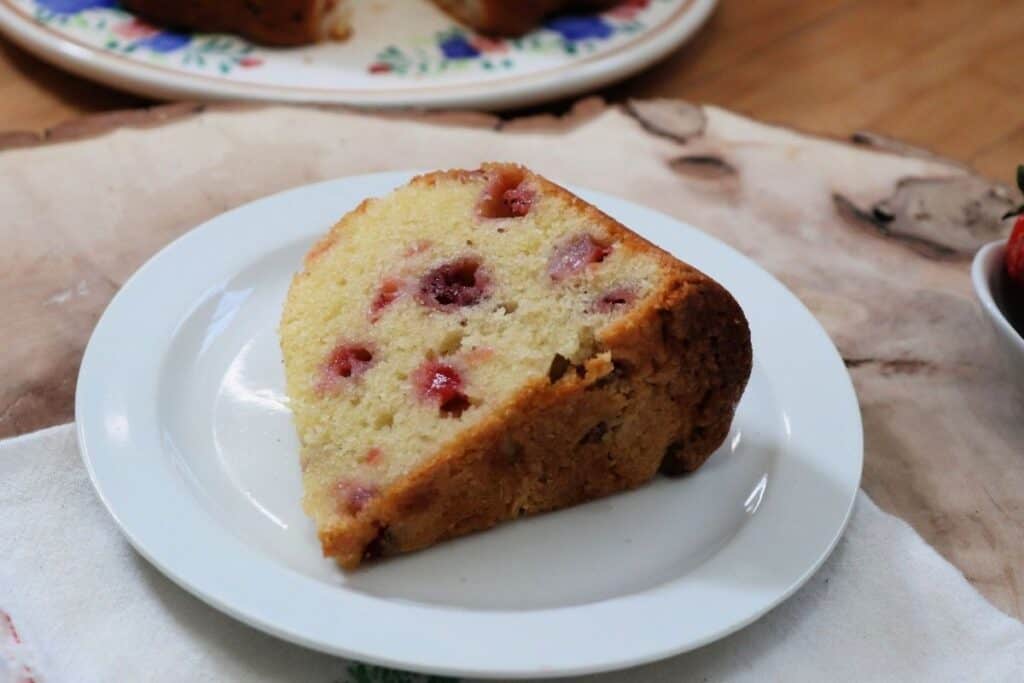 Storing Leftovers
This is a moist cake and will likely stay fresh for several days. Do store leftovers in an airtight container.
Storing in the refrigerator will help it stay fresher longer.
Homemade is heart-made! Check out 60 fresh ideas for gifts from the kitchen to honor every occasion. Sharing is caring!
It also freezes incredibly well. You can freeze the leftover portion in a freezer bag or other container. Alternatively, slice and place the slices in a bag.
The slices method allows you to pull out individual slices as needed. Simply let thaw at room temperature before serving.
Yield: 16 Slices
Strawberry Bundt Cake Recipe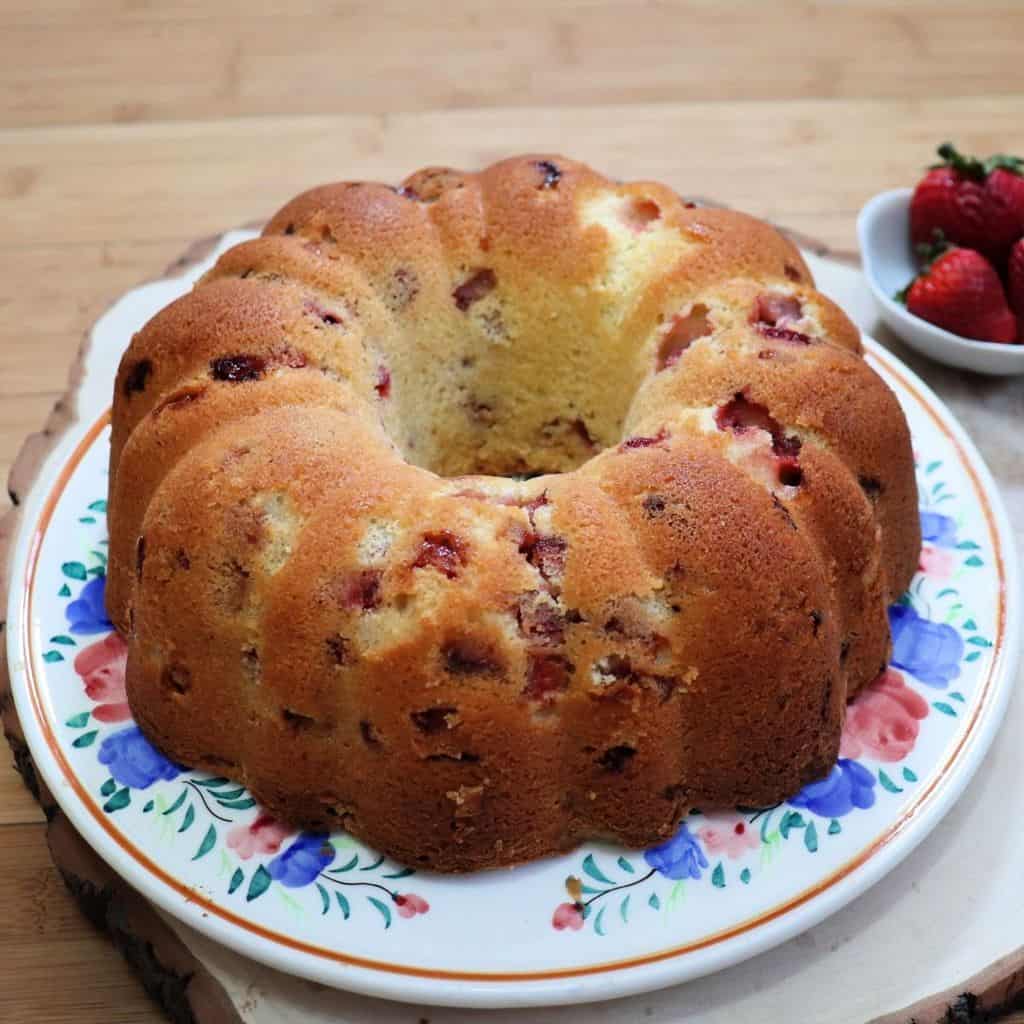 Make this Vanilla Strawberry Bundt Cake to celebrate spring and all the related holidays for a delicious and easy treat!
Cook Time
1 hour
30 minutes
Total Time
1 hour
50 minutes
Ingredients
1 1/2 Cups Salted Butter, softened
2 Cups Sugar
4 Eggs
1/2 Cup Sour Cream
1 Tablespoon Vanilla Extract
3 Cups Unbleached, All-Purpose Flour
1 1/2 teaspoons Baking Powder
2 Cups Strawberries, chopped
Instructions
Grease a 10 inch bundt pan.
Preheat oven to 325 degrees Fahrenheit.
In a medium bowl, whisk together the flour and baking powder. Set aside.
In a large mixing bowl, combine butter and sugar. Cream together until light and fluffy. Scrape sides of the bowl.
Beat in the eggs and vanilla until completely combined.
Add the sour cream and mix well.
Slowly add the dry ingredients, mixing until thoroughly combined.
Fold the chopped strawberries into the cake batter.
Spread the batter evenly into the prepared bundt pan.
Bake in the preheated oven for 90 minutes or until the edges are golden brown and an inserted tester comes out clean.
Let cake cool in pan on wire rack for 20 minutes.
Run a butter knife down the edges of the bundt pan to loosen it.
Invert pan and turn cake out onto a platter to cool completely before slicing and serving.
Nutrition Information:
Yield:
16
Serving Size:
1
Amount Per Serving:
Calories:

376
Total Fat:

20g
Saturated Fat:

12g
Trans Fat:

1g
Unsaturated Fat:

6g
Cholesterol:

96mg
Sodium:

204mg
Carbohydrates:

45g
Fiber:

1g
Sugar:

26g
Protein:

5g
We try our best but cannot guarantee that nutrition information is 100% accurate.