We all need to eat and several times a day at that. On those days when life is just packed with stuff can make eating healthy and frugally a bit of a challenge. I combat that by having some quick meals that are easy to grab and eat ready in the pantry. These aren't meals of processed foods in a box but rather meals I made in advance. One of the easiest meals to make in advance is to can sloppy joe filling.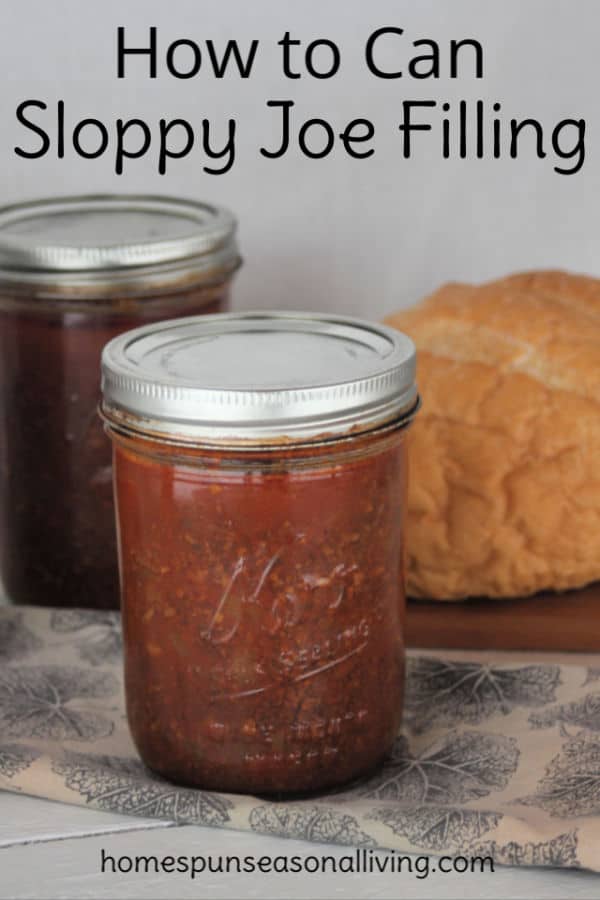 Sloppy Joes are endlessly appealing it seems to kids and adults alike. They can take on many forms and flavors and whip up so easily both for the canning process and for reheating later. Some bread and vegetables on the side and dinner is ready in a flash.
[mailerlite_form form_id=3]
The Perfect Winter Preservation Project
Most of us probably do our preserving when vegetables are coming in from the garden but canning sloppy joe filling is a great winter project. Use tomato sauce and ketchup that was canned over the summer as well as the beef broth that was put up earlier. Use chopped and frozen bell peppers here too, if available. Don't have homemade versions? Store bought will work just fine.
Keep It Frugal
I buy a half a grass-fed cow every fall. There's a lot of ground meat in that and so it's the meat I use as a base for my sloppy joe filling. However, use whatever ground meat you have on hand – use wild game, venison is quite tasty here. Ground turkey or chicken work well too. A mix of different meats is good too, I've been known to use ground beef and a little Italian sausage on occasion. Match the broth in the recipe to the ground meat used.
Beef broth in the filling does add a certain depth of flavor to these sloppy joes, however; if none is available and frugality is of concern, use plain water. The water will create a delicious filling, too.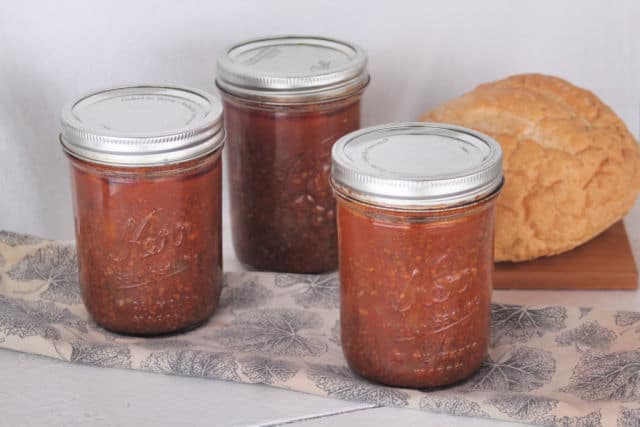 Pressure Canning
Meat must be pressure canned. It is simply unsafe to can it in a boiling water bath. A pressure canner is an expensive investment but one that will likely last you a lifetime and will easily pay for itself over time with meals like this at the ready. Please, I've seen the old articles and books, even seen it mentioned online now and then about canning meat for something like 3 hours in a boiling water bath – don't, just don't. Use a pressure canner.
Yield: 8 Pints
How to Make Sloppy Joe Filling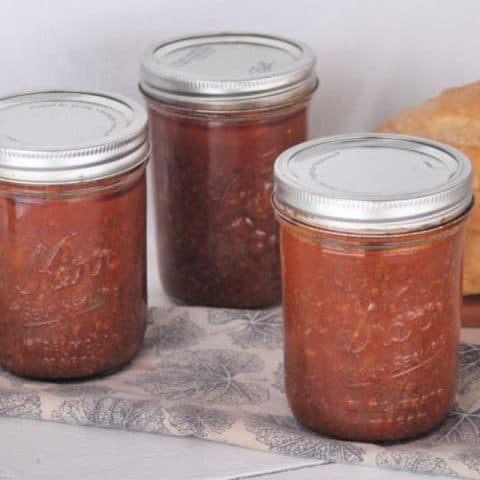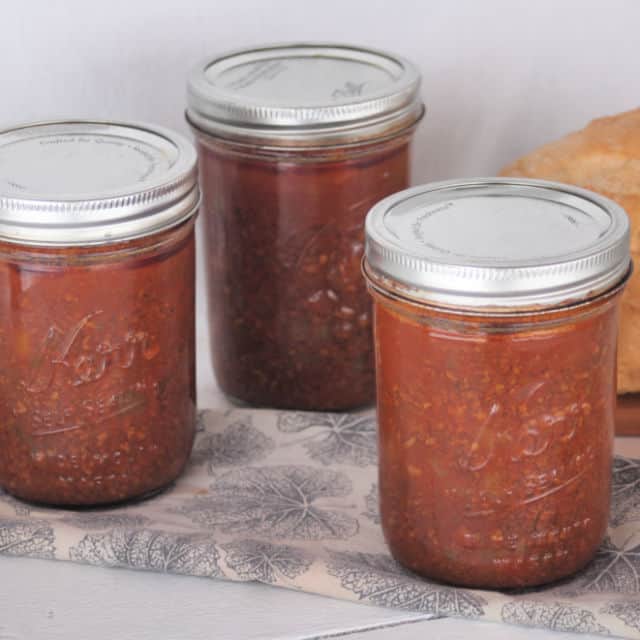 Make and can sloppy joe filling to have a quick and homemade meal ready in the pantry without the dubious ingredients of processed store-bought versions.
Cook Time
1 hour
30 minutes
Ingredients
4 Pounds Ground Beef
3 Cups Onion, chopped
1 ½ Cups Bell Peppers, chopped
2 Cups Ketchup
2 Cups Tomato Sauce
2 Cups Beef Broth or Water
1 Tablespoon Salt, more or less to Taste (use less if using salty broth)
1 teaspoon Ground Black Pepper
1 Tablespoon Yellow Mustard
Instructions
Make Sloppy Joe Filling
Brown the ground beef. Drain off the fat.
Put the beef and remaining ingredients into a large pot. Stir well.
Bring to a boil and simmer 5 minutes.
How to Can Sloppy Joe Filling
Fill jars with hot sloppy joe filling. Leave 1″ inch headspace. Remove air bubbles and wipe jar rims. Secure lids and bands.
Process pints for 75 minutes, quarts for 90 minutes at 10 pounds of pressure. Adjust the pressure based on elevation and style of canner. I can mine at 15 pounds of pressure, for example. The National Center for Home food Preservation has a handy chart if you're unsure.
Let jars cool and check seals. Remove rings and store sealed jars in the pantry. Store any unsealed jars in the refrigerator and use within a week or freeze for use later.
Notes
To Use
Pour the filling into a pot, cover, and bring to a simmer. Heat through. Serve on bread or buns, over rice or noodles.