Hearty, versatile, and delicious spicy old fashioned hermit cookies are hearty, filling, and perfect for cold weather and beyond.
Full of dried fruits, nuts, and coffee this vintage spice cookie recipe is sure to please and become a family favorite. Keep reading for modern takes and ideas to make it more personalized.
These classic cookies, like all the simplest things, are truly a joy to bake, eat, and give as wonderful, homemade gifts.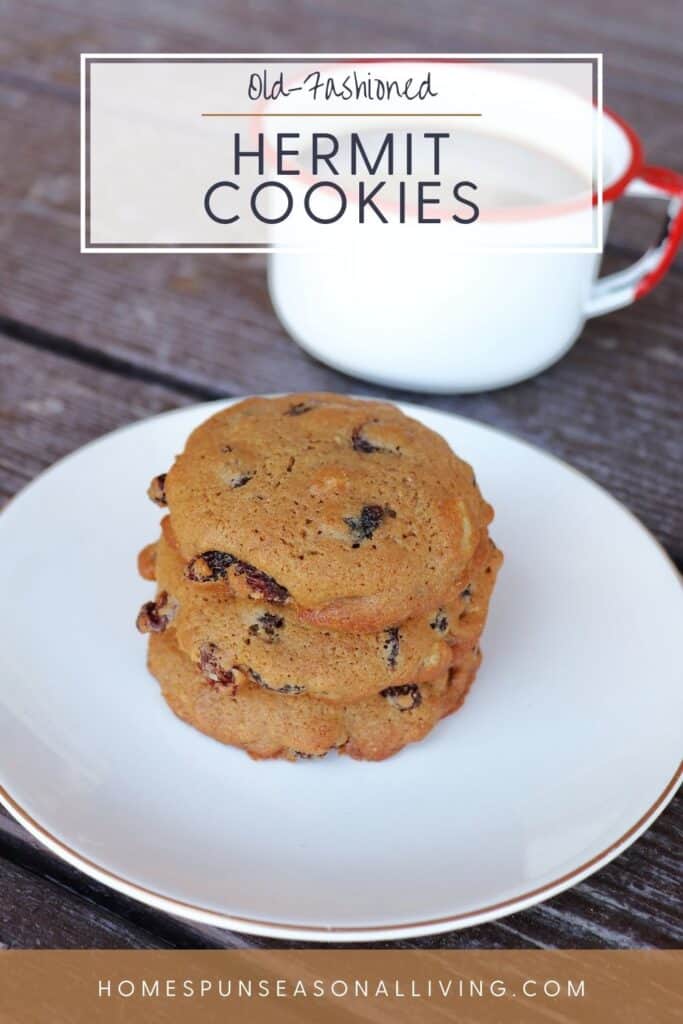 Old-Fashioned Slightly Updated
I found this recipe in an old Betty Crocker Cookbook. Apparently, it was a favorite cookie of the late 1800s.
There is likely a similar recipe in every home or book of old recipes. It is has stood the test of time for a reason – they are incredibly delicious and comforting like only a homemade cookie can accomplish
Vintage is great but I did make a few updates:
I reduced the sugar slightly. It simply felt like way to much for my taste.
I toasted the almonds.
I grated the fresh, whole nutmeg rather than using dried nutmeg from a bottle.
I used butter not shortening for a richer cookie. You could the shortening or even use lard, if desired.
Easy Drop Cookies
These are a drop cookie making them easy and skipping all the fuss of rolling or cutting.
However, the basic cookie does require chill time for best results. It's only an hour minimum but that time can be easily be split up.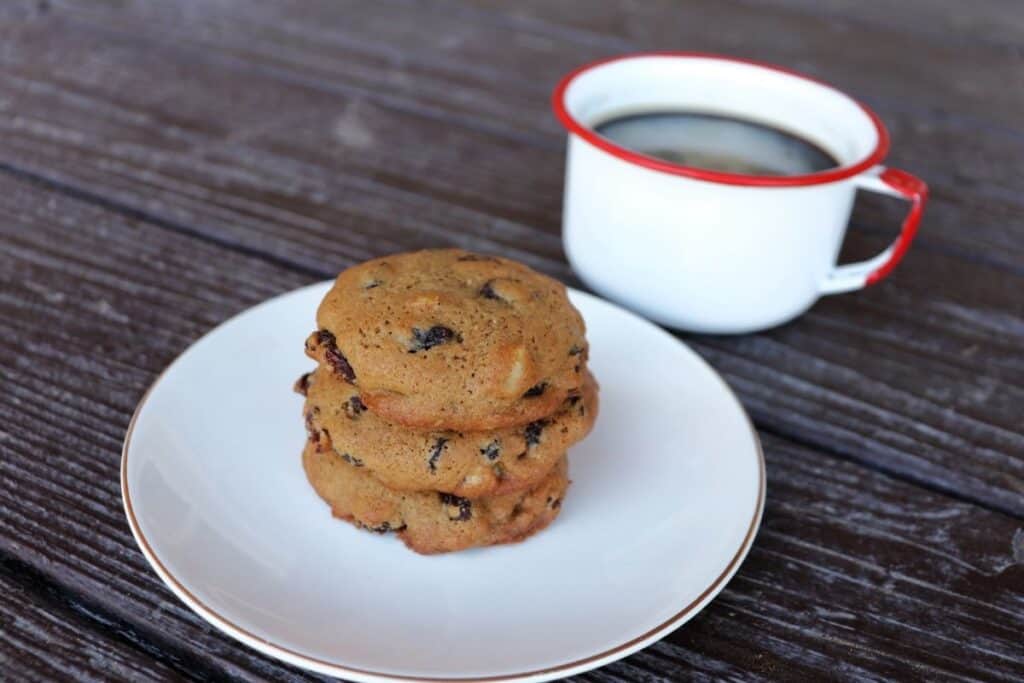 That bit of chill time makes this a great choice for splitting up into baking sessions over a couple of days when time is pressed.
Make the cookie dough one night, bake the cookies the next. Perfect for rushed days or after work baking sessions.
Dried Fruit & Nut Choices
I used raisins and almonds in testing this recipe. However the possibilities are truly endless and individual.
Dates, dried apples, chopped dried figs, dried cranberries, etc. could all be easily substituted for the raisins. Use what's on hand or a combination of dried fruits for interesting flavors.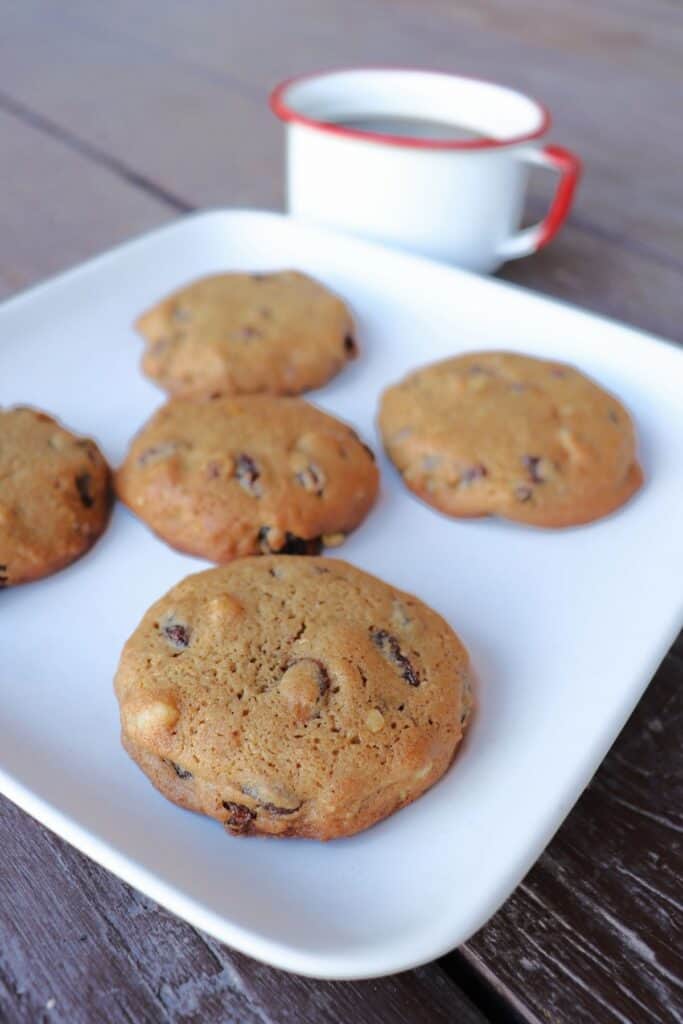 Toasting the nuts first will bring depth of flavor but isn't necessary if you want to skip it. Walnuts, pecans, hazelnuts, etc. will all work in place of almonds. Again, use what is on hand or a mixture.
I didn't test it but I imagine sunflower seeds, pumpkin seeds, or even sesame seeds would work in place of the nuts as well.
Spice Variations
Cinnamon and lots of nutmeg seem to be the classic combination of spices in a hermits recipe. However, there's no reason to stay locked into that.
Switch it up to any spicy cookie flavors your family favors. Ginger, cardamom, clove, would all be wonderful.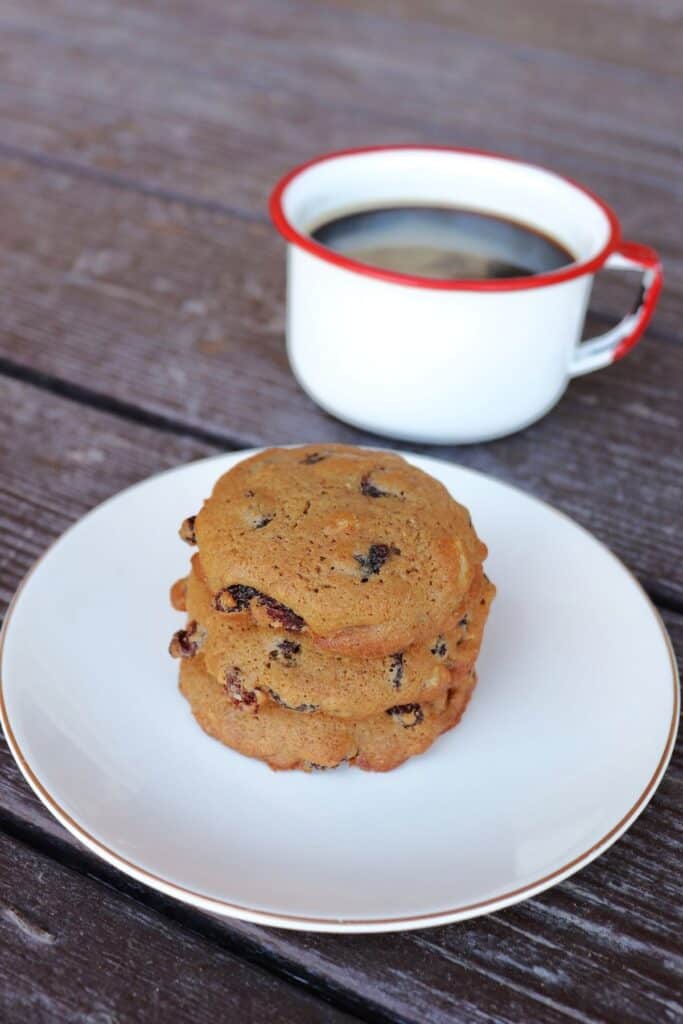 If you do use nutmeg, stick to grating your own fresh from the whole spice. The flavor is simply much better than the ground stuff from the spice aisle.
The warm spices do add a lot of flavor but if you want a plain cookie, skip the spices completely.
Optional Decorating
A traditional hermit recipe is an old-fashioned cookie without decoration. And there's nothing wrong with that, they are a perfect cookie just as baked. However, if you want to try something a little different, consider these options:
Frost with a coffee or chocolate frosting
Drizzle with some vanilla glaze
Make the cookies small and sandwich them together with icing
A little cream cheese frosting would also be delightful on top
Drizzle a bit of melted chocolate across the baked and cooled tops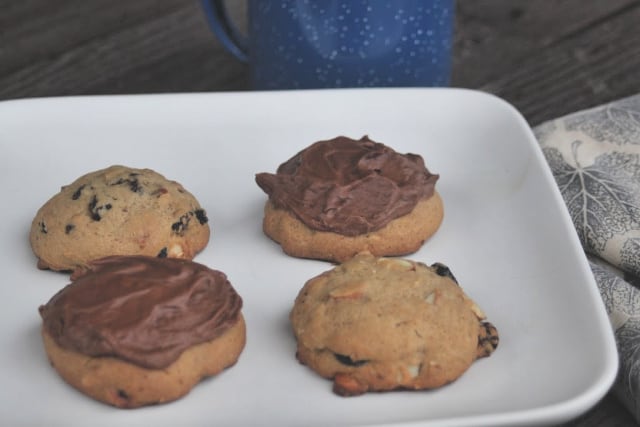 Big Batch
This recipe yields approximately 4 1/2 dozen large cookies. Make the big and include them in care packages or gift baskets.
Make them smaller to get even more from a single batch and use at potlucks or to spread out over a great many cookie tins during the holidays.
The recipe is easily doubled or more with little effort for bigger baking sessions and spreading the love even further.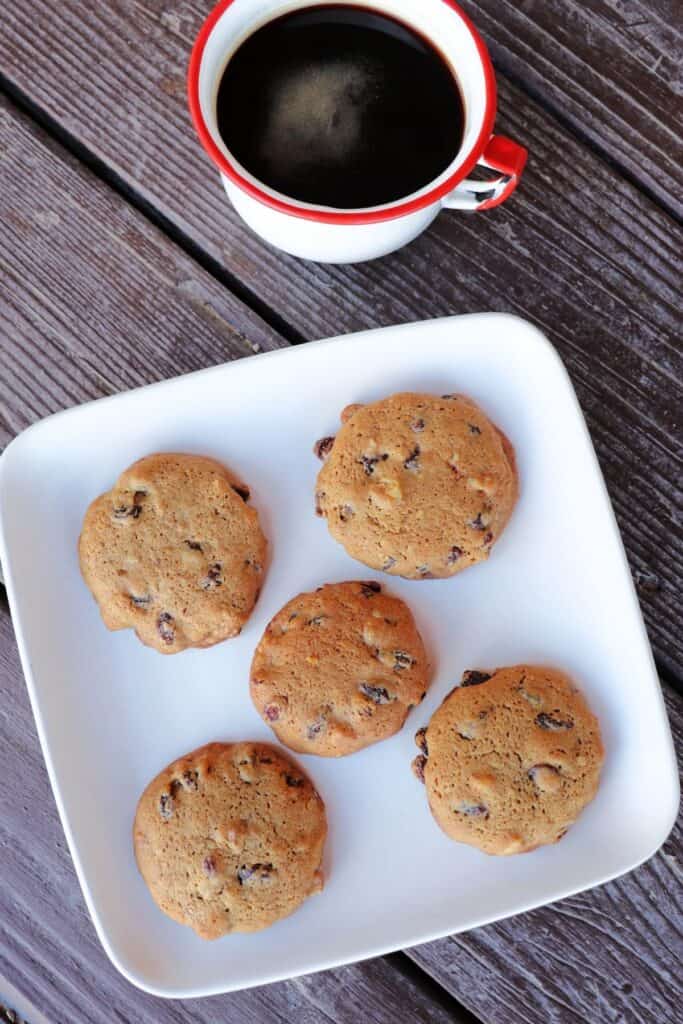 How to Store Leftovers
These delicious cookies will last about 5 days in your cookie jar.
Freeze baked and cooled cookies by placing them in a freezer bag or other airtight container. Let frozen cookies thaw at room temperature.
Homemade is heart-made! Check out 60 fresh ideas for gifts from the kitchen to honor every occasion. Sharing is caring!
Tuck a frozen cookie into a lunch box in the morning and it will likely be thaw by lunch time for an extra special treat.
Eat up frozen cookies within six months for best flavor.
Looking for Other Cookie Recipes? Here are a couple of my favorites:
Yield: 4 1/2 Dozen
Hermit Cookies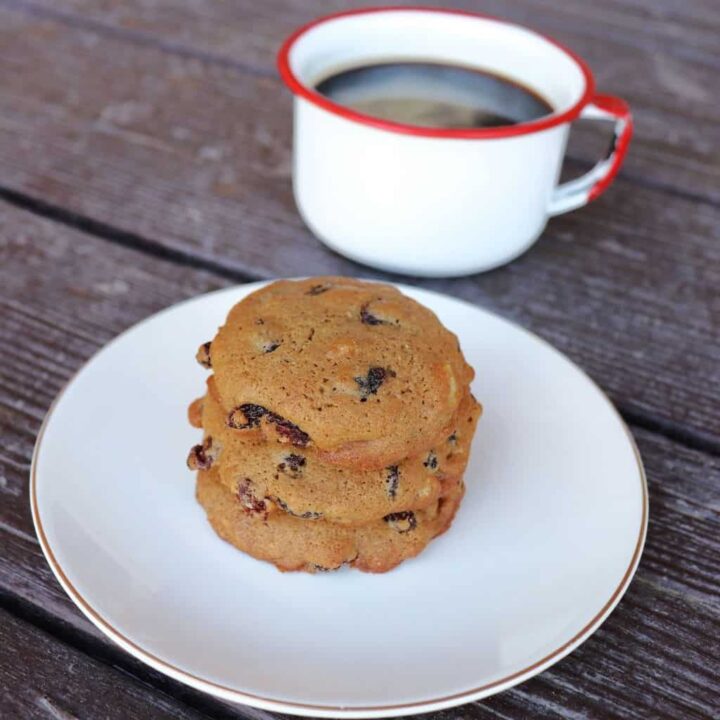 Old-fashioned hermit cookies are a classic recipe full of spice, dried fruit, and nuts for a hearty cookie that is perfect with a cup of coffee or glass of milk.
Total Time
1 hour
27 minutes
Ingredients
1 Cup Salted Butter, Softened to room temperature
1 1/2 Cups Brown Sugar, packed
2 eggs
1/2 Cup Cold Coffee
3 1/2 Cups Unbleached, All-Purpose Flour
1 teaspoon Baking Soda
1 teaspoon Ground Nutmeg
1 teaspoon Ground Cinnamon
2 1/2 Cups Raisins
1 1/4 Cups Chopped Nuts
Instructions
Whisk together the flour, baking soda, and spices. Set aside.
In a large bowl, cream together the sugar and butter until soft & fluffy. Add the eggs and mix well. Slowly add the coffee and mix well.
Add the dry ingredients and stir until completely incorporated.
Fold in the raisins and nuts.
Cover the bowl and refrigerate. Chill for at least 1 hour, longer okay.
Pre-heat oven to 400 degrees Fahrenheit. Grease baking sheets, or line with a sheet of parchment paper.
Drop the dough by Tablespoons onto prepared sheet pan.
Flatten the dough slightly with the palm of hand.
Bake for 10 - 12 minutes or until golden brown and set on top.
Cool on wire rack.
Nutrition Information:
Yield:
54
Serving Size:
1 cookie
Amount Per Serving:
Calories:

122
Total Fat:

5g
Saturated Fat:

3g
Trans Fat:

0g
Unsaturated Fat:

3g
Cholesterol:

16mg
Sodium:

64mg
Carbohydrates:

18g
Fiber:

1g
Sugar:

9g
Protein:

2g
We try our best but cannot guarantee that nutrition information is 100% accurate.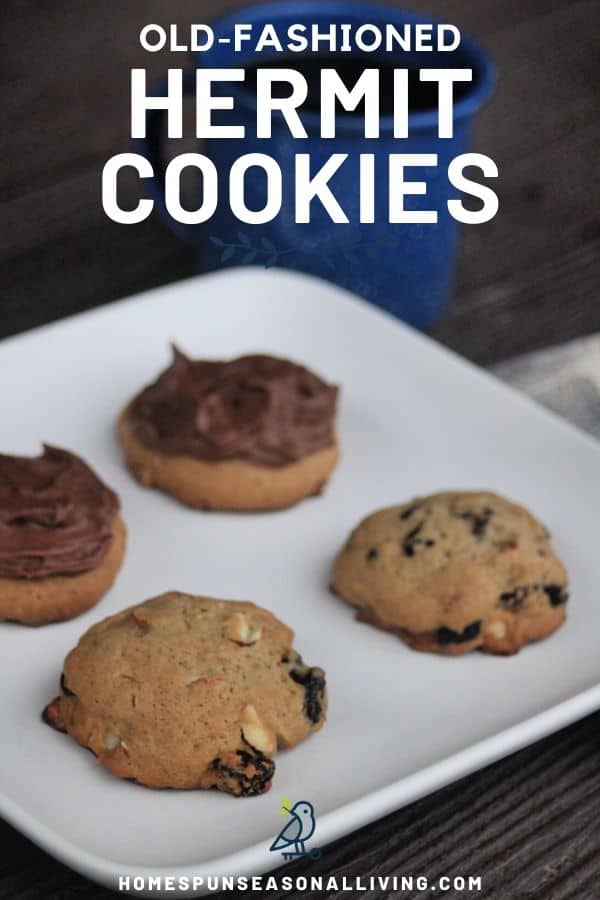 About the Author