Use these easy projects to preserve spring produce and eat the season all year in flavorful ways.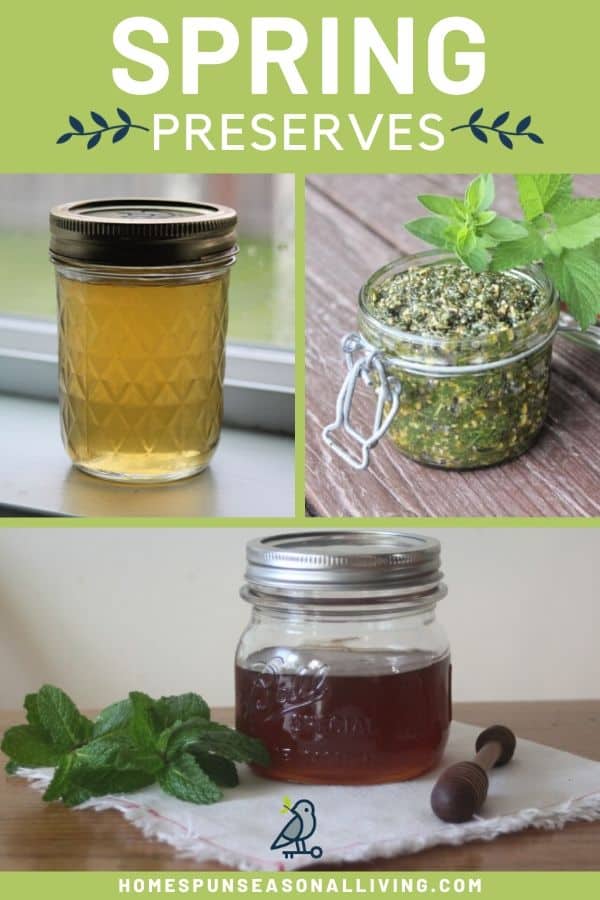 Spring is a special season full of amazing, edible gifts of the earth. Some of which are only available for a very short window of time. Thankfully, they can usually be saved in delicious fashion for later.
[mailerlite_form form_id=3]
Make & Freeze Pesto
Pesto is more than just basil. Puree those herbs with greens, nuts, garlic, oil, and maybe some cheese for a delicious pasta sauce, pizza topping, dip, and more.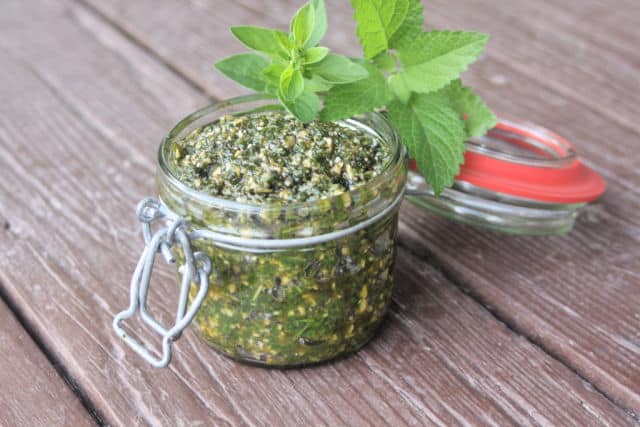 It's easy to freeze and is a great way to eat super flavorful food in all seasons.
Make a Flower Jelly
The flowers of early spring make for beautifully colored and deliciously flavored jellies.
Make them with lilacs, dandelions, and more. Save them for winter toast and gift giving too!
Freeze Greens
Greens are prolific in the spring. We eat salads, toss them into soups, and whirl them into smoothies.
They can also be preserved by blanching in boiling water and then freezing for winter soups and smoothies.
This is such an easy way to keep nutrient dense food on hand for eating when freshness can be lean.
Dehydrate Herbs
Herbs flavor food, make refreshing teas, and can provide healing power. Drying herbs is as easy tying them in a bundle and hanging from a hook until crispy.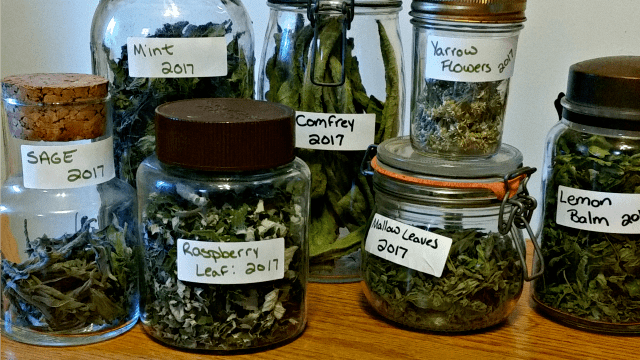 Clip and dry herbs all spring long and eat them in meals all year long.
Create Syrups
Syrups go way beyond maple and can be made from a variety of produce like herbs and fruits.
Use these sweet liquids as flavored simple syrups for homemade Italian sodas and sweetening for adult beverages. Pour them over desserts and into oatmeal for sweet touches.
Homebrew a Wildflower
Those wildflowers and weeds can be combined with honey and yeast for some homemade mead. Homebrew is relatively easy and using backyard wildflowers and weeds makes for a unique brew.
Pickle It
Pickles are more than just cucumbers. Early spring vegetables like beets, asparagus, onions, and more make for delicious pickled vegetables, that whip up quickly and store well in the pantry.
Cordial
Stick some fresh herbs or berries into a bottle of vodka or brandy for a simple, flavorful adult beverage.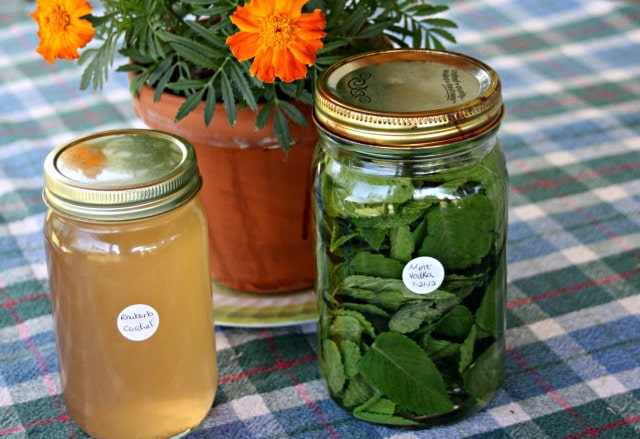 Mix up herbs with fresh fruits, and exotic spices for customized blends. This is a quick and easy project with high reward that doubles as great gifts.
Dehydrate Mushrooms
Wild mushrooms like morels dehydrate easily and are a welcome addition to winter meals later. Use a dehydrator to make the process quick and easy or take the old-fashioned route and hang them with needle & thread.
Infuse Honey
Put some flavorful herbs in honey and let the flavors infuse for a month. Use this flavored honey for sweetening tea, baking recipes, and for some home remedies.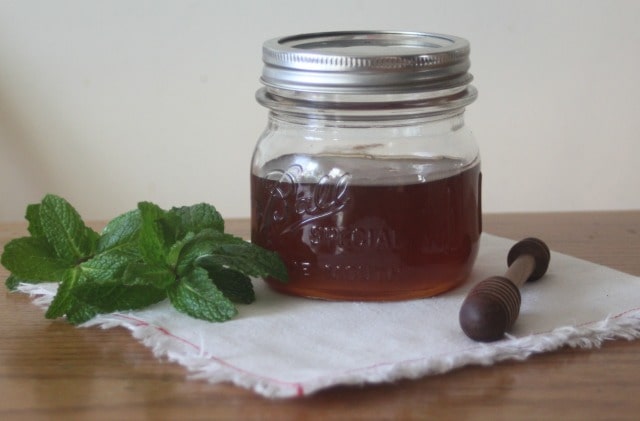 Herbs like mint, sage, oregano, and lemon balm are good flavors for infused honey.
Save the big preservation projects for the abundance of summer fruits and vegetables but don't forget to make some small batches with spring's gifts as well. These might not add up as quickly as a bushel of tomatoes turned into salsa but these bits of spring preserves are a great way to save this season for the next.