Autumn is a great time to reset. It's an ideal time as nature slows down for us to do the same. Use these healthy, slow living ideas for Fall as a jumping off point to create your own simple living habits and priorities.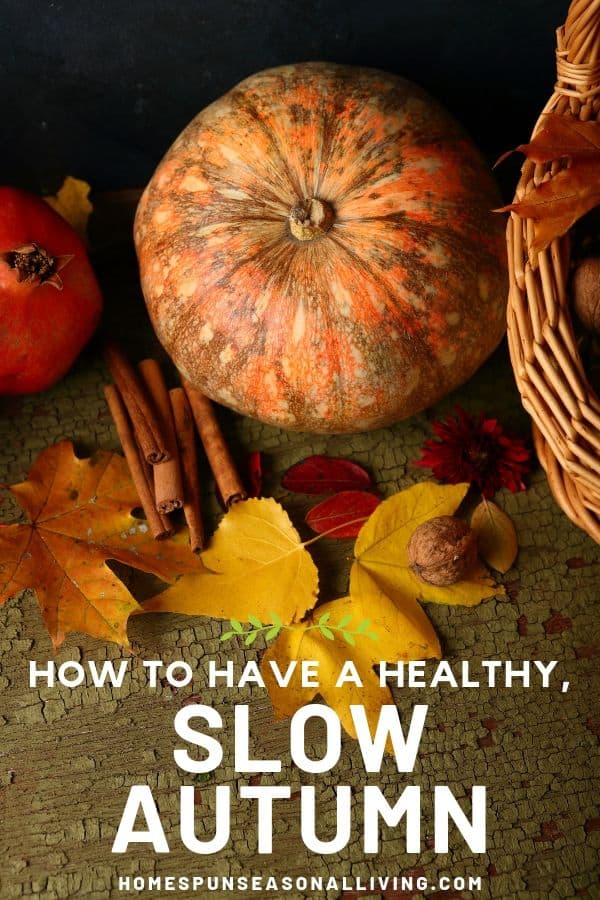 Do See Fall Color
Do make it a point to see and watch how the earth is changing during this season. Do not make it a high pressure event that means traveling to somewhere far away. If you want to travel, that's great but it is not a requirement.
Rather pay attention to how the earth is changing where you live. This is the essence of simple, seasonal living. How the season exists and changes on a daily basis where we spend the majority of our time.
[mailerlite_form form_id=4]
Go for a walk around your neighborhood. Take a hike in a local park. Pay attention to how things change. Some of us live where the leaves are vibrant hues others not so much. Both have beauty and lessons if we just look.
And while we can, of course, take a drive to see fall color. Whenever possible, try to do it by walking. The walking is a great exercise to keep our bodies healthy but it's also slower. It means we can't just speed through on our way to do something else. We have to slow down our bodies and pay attention.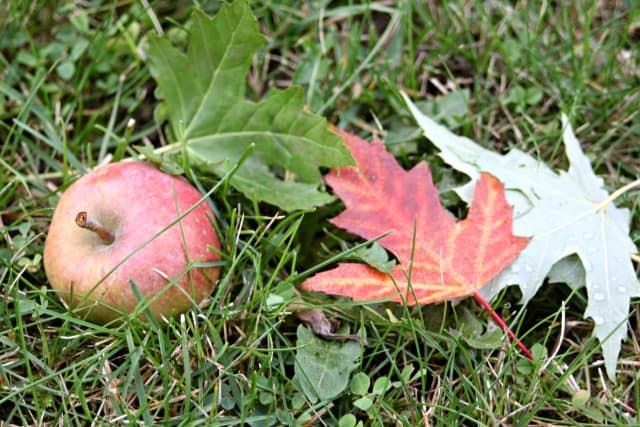 Make & Eat Homemade Soups
Soups can be quick or they can be slow cooked. Make some of each. Keep them healthy and full of seasonal fall produce.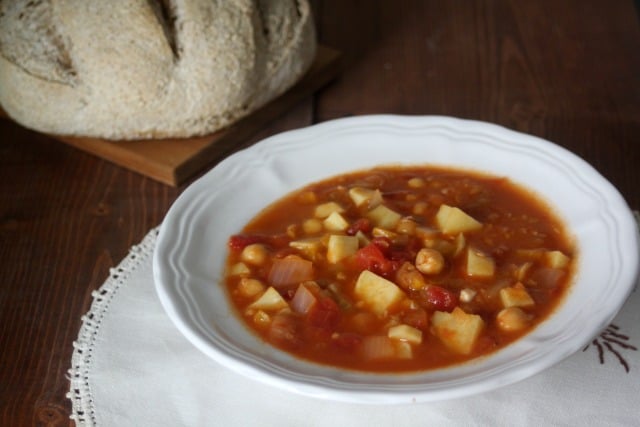 Take the time to do as much from scratch as possible. Make the soup broth. Chop the veggies. Make egg noodles. And let it all cook low and slow until it's time eat. Eat from the good bowls sitting down at the table to savor it.
Do this if you're cooking for only yourself or for a crowd.
The thing about eating soup is that it they can be easy introductions to whole foods and clean eating in a simple, tasty bowl. There's not much fuss. Toss bits of protein, veggies, grains in a hot both and enjoy. And know that it's nourishing body and soul.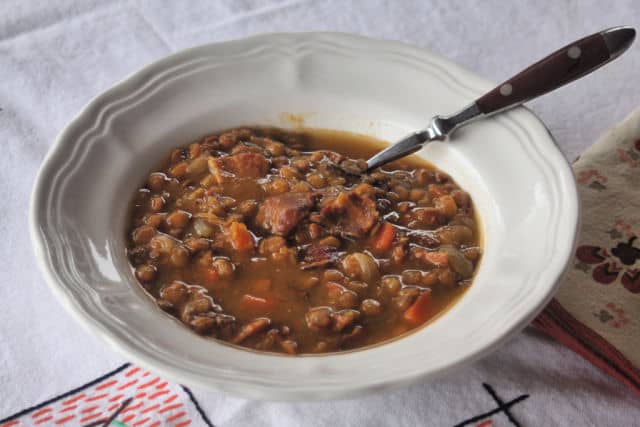 The simplicity of it is also a great way to bring simple and slow living into the kitchen as well. Sure there's time to chop veggies or meat but overall soups are less prep than many meals and the slow cooking can mean that we're at home just being without rushing.
Drink Something Hot
Keep it mostly healthy. There are times to indulge in hot chocolate or sweet fancy coffee drinks or hot toddies. However, but indulging every day or multiple times a day isn't likely to help us maintain health consistently.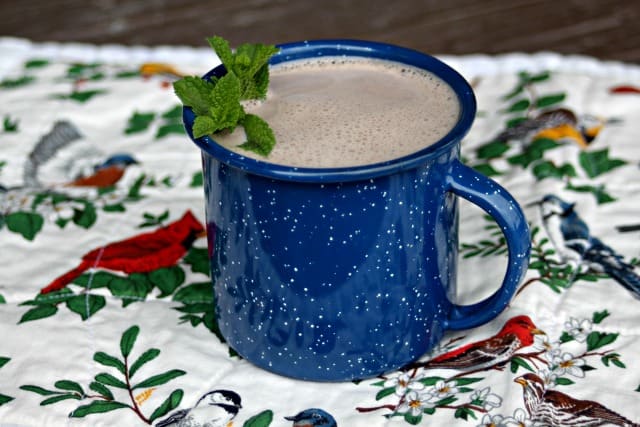 Hot drinks have a way of slowing us down. We wrap our hands around them to warm up when we're cold. The heat alone requires careful and slow tasting. It's a great way to encourage slowness in an otherwise fast paced day.
Drink things merely for flavor. Things you enjoy black tea with honey, coffee with cream, chai tea, hot mulled cider, etc.
Have a cup of herbal tea for the health benefits they provide. Mint tea to soothe an upset stomach. Chamomile to encourage sleep.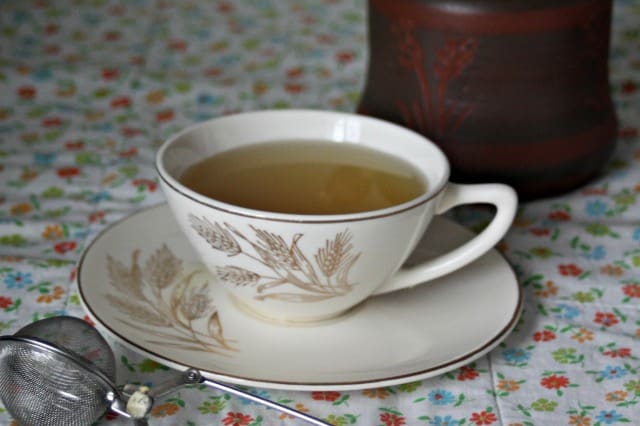 Make it a daily ritual. A time to sit and plan for the day ahead or to reflect on the day that has passed. Do it in the afternoon as a way to connect with someone else.
Gather Bits of Nature
This is not an excuse to gather unnecessary items or stockpile potential craft projects. Rather, it's an opportunity to bring the outside in for celebration and beauty.
The great thing about doing it this way is that you can bring in a few pine cones or rocks or interesting branches. Use them for centerpieces or mantel decorations for a few weeks or the season and then simply toss them into the compost heap when you're done or over it.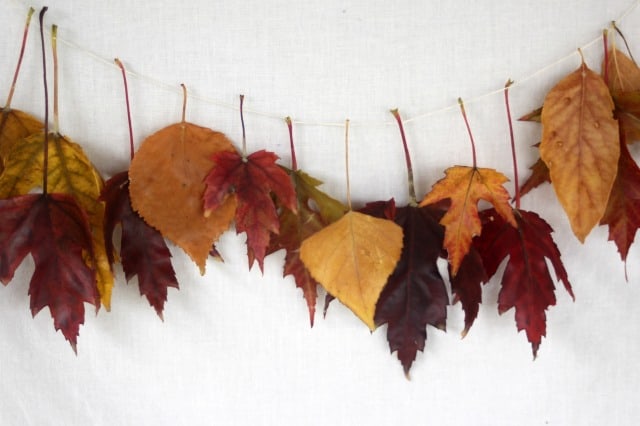 You can, of course, create more elaborate crafts with these bits of nature. Dip leaves in wax for a decorative garland.
Drill holes into a large branch for a rustic yet functional candle holder.
Gather acorn tops for a felted project perfect for decor and added touches to gift baskets.
This is an exercise in slowing down as well. It means that as we walk in nature we look for things we want to bring into our homes. This gathering makes us slow down and pay attention to what's around us rather than just moving through nature.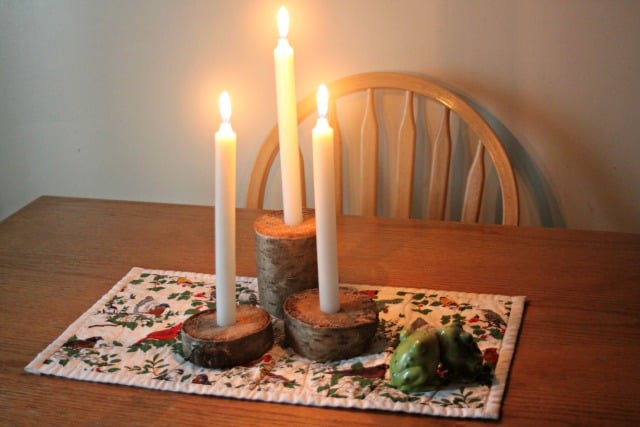 Slowing down our movements and paying attention to nature is only likely to have positive effect on our mental and physical well-being.
Forage for Food & Medicine
Along with gathering bits of nature for crafting, forage for food and medicine. Again keep it slow and intentional. This is not about becoming fully self-sufficient necessarily. It's simply about providing a few things for yourself and your family.
Push through that anxiety that you must do all the things and just focus on one or two things that can be mostly done in an afternoon or two.
Want to increase immunity in the fall and winter? Gather rose hips and dry them for a vitamin C heavy herbal tea.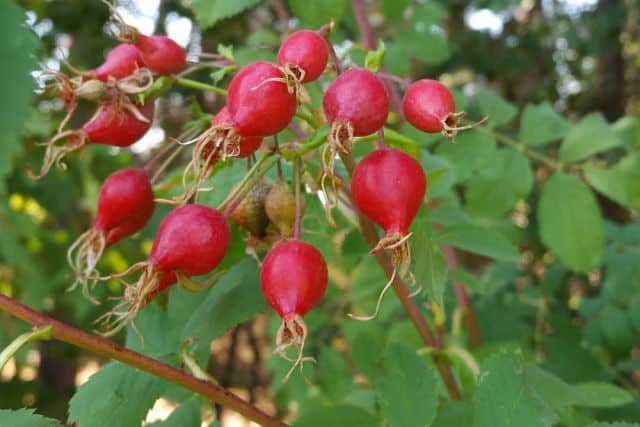 Need something to help with insomnia? Dig up valerian roots for tincture making.
Spend an afternoon picking wild apples and can up some applesauce.
Gather some acorns and try your hand at making acorn flour.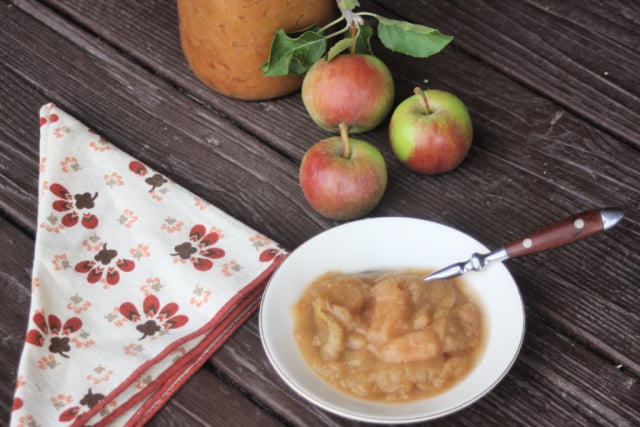 Remember to keep these activities and fun and connecting to the earth, to yourself, and to loved ones. It should NOT be another exercise in pressure or stress. Foraging in this season should be simply about healthy, slow living.
Keep a Journal
Some of us are writers and some of us are not. Always be true to yourself.
A traditional journal is a written record but there is no reason why anyone should feel bound by that tradition. A journal can be a collection of photographs or drawings. It can be paper, it can be electronic.
Do what works for you and make no apologies for that.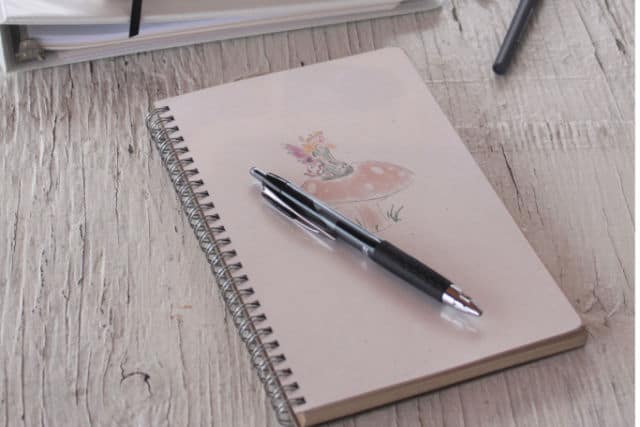 I'm not much of a traditional journal-keeper myself. I don't work out emotions or feelings in a journal.
I do, however, like to keep notes. Notes on recipes or nature, the garden, or foraging spots. I jot down things I want to remember, things to change, and more. That works for me and if a diary-style journal doesn't work for you, perhaps note-taking / record-keeping will.
For many people, keeping a journal is a great way to just clear the head of emotions and thoughts. That clearing of the head helps us slow down and often helps people deal with anxiety and other issues.
Experiment and find out what works best for you. Keep it low pressure and honestly just play. Make it a habit or a ritual. Journal while drinking something hot as a way to start or end each day.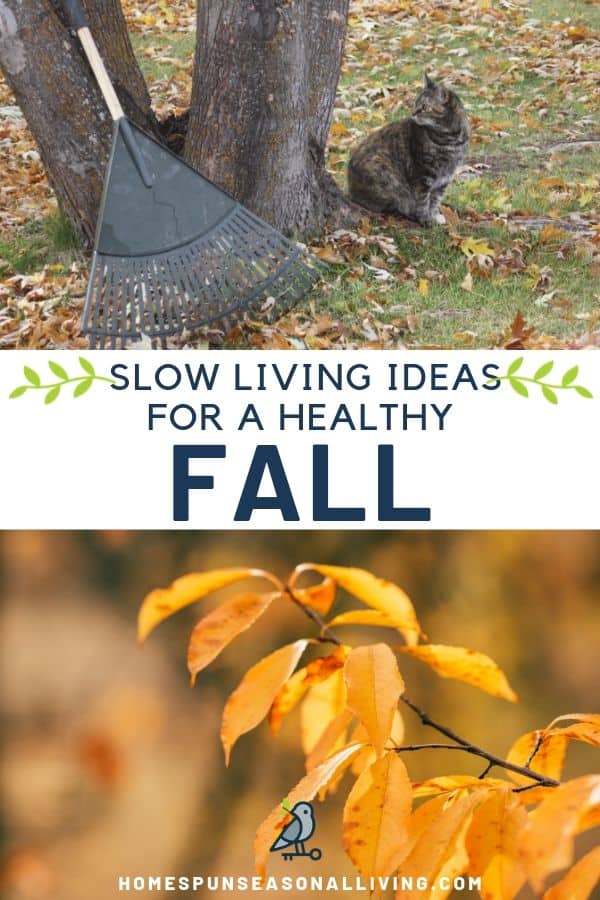 These habits aren't likely to reverse any kind of disease. Nor are they the complete answer to an overbooked and over-stressed life. However by practicing these healthy, slow living ideas you can find a little more peace and well-being in your day.